Sports
Twitter Again Trolls KL Rahul In The Most Epic Way For Scoring Just 6 Runs In 63 Deliveries
Nothing seems to go right for the Indian opener KL Rahul as once again, he is getting trolled on the social media networks. Presently, he is with the Indian cricket team in West Indies where team India has already won the T20I and ODI series and looks pretty determined to win the test series as well.
In the two test match series, India has won the first test match and it is in a strong position in the second one too. The success of opening batting pair is very important for a team in order to put good total on the scoreboard but Indian opener KL Rahul is struggling to get in good form since a long time.
There is no denying the fact that KL Rahul has been given many chances to prove his worth but other than his century which he scored at Kennington Oval last year against England, he has not done anything substantial.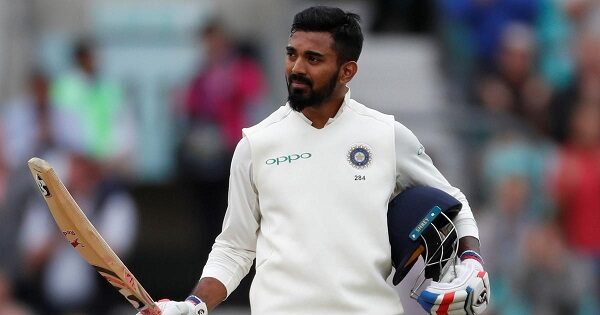 Twitter has been pretty vocal when it comes to slamming KL Rahul and in the second test match against West Indies which is being played at Sabina Park, Jamaica, the cricketer has once again disappointed everyone. In the first innings of the second test match, he was able to score only 13 runs for which he played 26 deliveries but his batting in the second innings was no less than a nightmare. He played 62 deliveries and scored only 6 runs before getting out on the 63rd delivery. What annoyed the cricket fans more was that he got out because of a loose shot, giving outside edge.
Twitter was flooded with tweets thrashing, slamming and trolling KL Rahul while there were some who criticised the Indian skipper Virat Kohli as well. It is being said that Rahul is getting a number of chances because he is Virat's friend while on the other hand, Rohit Sharma is getting totally ignored when it comes to getting a berth in the test squad.
Here are some of the selected tweets:
#1
KL Rahul has been given enough chances But He has not performed up to mark, as mechured https://t.co/ZkQuOKIL8M a fan of Indian cricket #BCCI @imVkohli Pls Pls give chances to deserving Players, I suggest @ImRo45 as opener in Test nd Ajiankya Rahane in 2nd down in ODI.

— vivek mahajan (@vivek24mahajan) September 1, 2019
#2
Me Waiting for Kl rahul 50 pic.twitter.com/yQn9IqzpVp

— S Randhawa🏏 (@Randhawa36_) September 1, 2019
#3
Indian fans asking Kohli when will KL Rahul start scoring runs. #WIvIND pic.twitter.com/3iJKXvF2sQ

— Shubh AggarWall (@shubh_chintak) September 1, 2019
#4
KL Rahul has changed the way he picks up his bat, and the extent of his trigger movement. It hasn't changed his Test-match fortunes, just yet. pic.twitter.com/49CMISIIKS

— Karthik Krishnaswamy (@the_kk) September 1, 2019
#5
Ishant Sharma scored a fifty. KL Rahul doesn't have one in his last 11 Test innings #WIvIND

— Sameer Allana (@HitmanCricket) August 31, 2019
#6
@BCCI Why Kl Rahul has been given more chance in test team despite having no fifty in 11 innings??? Rohit Sharma deserve a chance and try opening with him… Please sacked Rahul from test team….
# Aankh kholo @BCCI pic.twitter.com/FZwdzKPDX4

— Aniket Kumar Prasad (@AniketKumarPra4) September 1, 2019
#7
KL Rahul/Pujara vs. Ishant Sharma trying to score a 50 #WIvIND pic.twitter.com/QLctKJiQ4t

— Narinder Kumar (@TheRealNKumar) August 31, 2019
#8
KL Rahul's last 28 innings.
Runs – 590
Avrg – 21.85

Fans – Why KL Rahul is getting so many chances??

Virat : pic.twitter.com/FAYaxCmc9F

— Its RaNa😎 (@BeinggRana45) September 2, 2019
#9
He is no more the same consistent Rahul I watched as a 19-20 year old.
His attitude was totally different.
Had a baby face but seemed too mature of his age.

I think his beard has increased his masculinity but taken away his maturity as a cricketer.#Justjoking.

— KAKU काकू (@VIVEK2904_) September 1, 2019
#10
Where is ur bright side in team selection…KL Rahul is enough now…36 tests…why not proven batsman like @ImRo45 Rohit as opener against South Africa…Give him 5 test… https://t.co/8rlJrOFDTl

— Birju Patel (@BirjuPa98631222) September 1, 2019
#11
Still a better player than @klrahul11 KL Rahul pic.twitter.com/WJ6CXJi7mn

— Troll Kuchiku (@KuchikuTroll) September 1, 2019
#12
when u see that there is KL rahul fan club. pic.twitter.com/nDM1BGHa9k

— Dr. Guru😎 (@DGuru0) September 1, 2019
#13
KL Rahul watching Ishant's batting from dressing room be like : pic.twitter.com/WupqQOv33N

— Aditya Saha (@adityakumar480) August 31, 2019
#14
Ayyo test carrier is gone 🙄🙄🙄#klrahul pic.twitter.com/IsxMwRVDsO

— Rajesh KN (@RajeshK95331163) September 1, 2019
#15
I think kl rahul helped virat kohli for praposing anushka sharma that's why he is giving him all test matches in playing xi @BCCI #AskSportsTak @vikrantgupta73

— Aman (@Aman42989304) September 1, 2019
What is your take on this matter? Do let us know.
Share Your Views In Comments Below