Sports
Twitter Calls 'The CEO Of Sportsman Spirit' Matthew Wade 'Cheater' For Stopping Mark Wood
The England cricket team may have won the first T20I of the 3-match series against Australia by 8 runs, thanks to the wonderful batting and bowling performances of English cricketers but the first T20I will also be remembered for one more thing and unfortunately it is something that should not have happened.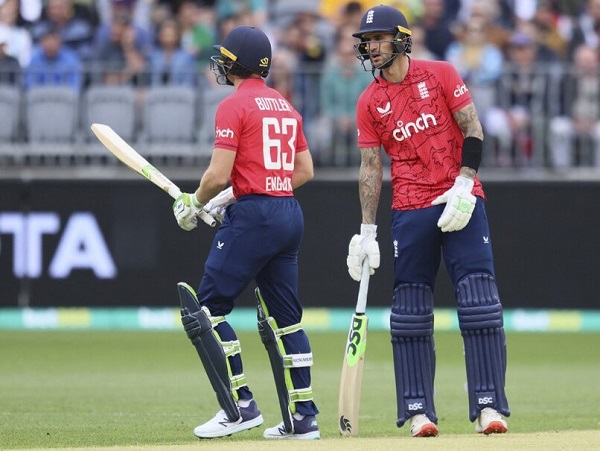 The Aussies won the toss in the match which was played at Optus Stadium, Perth, and the English cricket team batted pretty well to put up a big total of 208/6 on the score board. The skipper Jos Buttler and Alex Hales played superb knocks of 68 runs (32 balls, 8 fours & 4 sixes) and 84 runs (51 balls, 12 fours & 3 sixes), respectively and created a platform for their team to make a huge score by putting up a partnership of 132 runs for the first wicket. The English team managed to score 208 runs at the loss of 6 wickets in its stipulated 20 overs and this was certainly a challenging total even for the Australian side which has a strong batting lineup.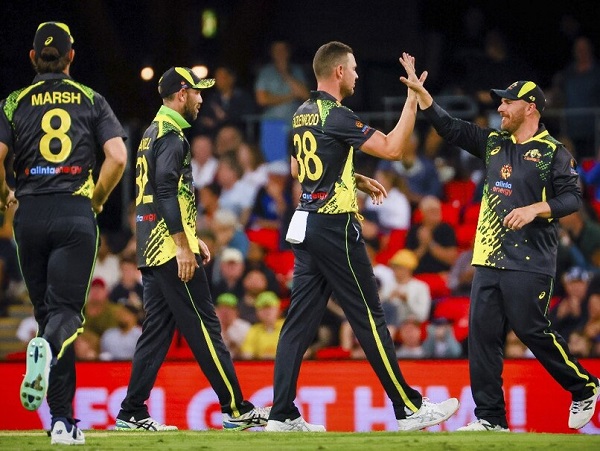 The Aussies may have lost Cameron Green early but David Warner ensured that he kept his team in the race to win the match as the left-handed batter played a blistering knock of 73 runs (44 balls, 8 fours & 2 sixes) and useful contributions were made by Mitchell March (36 runs, 26 balls, 3 fours & 2 sixes) and Marcus Stoinis (35 runs, 15 balls, 2 fours & 3 sixes) too. Matthew Wade also tried his best to take his team home as the winners but he ended up doing something because of which he got the tag of a "cheater" on social media. In the 17th over which was bowled by Mark Wood, Matthew Wade wanted to play a big shot but the ball top edged the bat and went up in the air. Mark Wood ran to take the catch but Wade obstructed him using his hand because of which Mark Wood was not able to take the catch.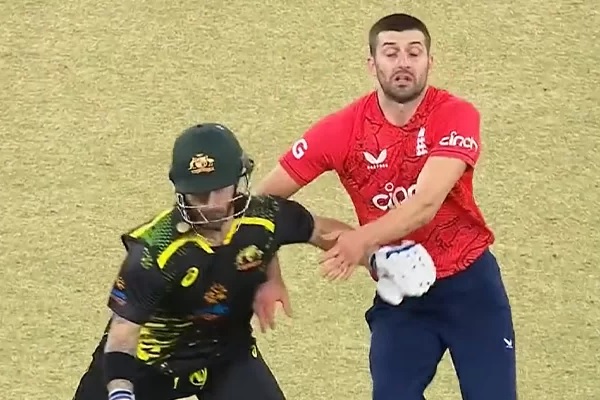 The England team didn't appeal against Matthew Wade despite the fact that he would have been given out for obstructing the field as the skipper Jos Buttler said that he was busy in watching the ball because of which he was not able to see what happened between Matthew Wade and Mark Wood. Matthew Wade soon got out on the score of 21 and the Australians managed 200/9 in their stipulated 20 overs.
Soon the social media was flooded with responses from former cricketers and cricket fans and the majority of them showed no hesitation in calling Matthew Wade a 'cheater'. There were also many who took a dig at the English cricket team over "the spirit of the game" episode.
Here are some selected reactions:
Are our English friends (the custodians of the Spirit of the Game) quiet on this? https://t.co/yseC13fSdZ

— Aakash Chopra (@cricketaakash) October 9, 2022
Nice of England not to appeal against Matthew Wade for clotheslining Mark Wood. Keeps the spirit of cricket levels high, which is, of course, the real quiz.#AUSvENG

— James Sharpe (@TheSharpeEnd) October 9, 2022
when Perry said, "dont do it, but if you wanna do it, do it against England" Matthew Wade was taking notes https://t.co/ve3UINbHIj

— s (@_sectumsempra18) October 9, 2022
Matthew Wade stopped Mark Wood from catching the ball.

England captain Jos Buttler: They asked if I wanted to appeal, and I thought, 'We're here for a long time in Australia.

In the name of 'Spirit of the Game', you can even cheat now.
😐😐😐 pic.twitter.com/c5c9c5zAs4

— Incognito 🌈🌈🌈 (@Incognito_qfs) October 9, 2022
Matthew wade be like😭 pic.twitter.com/fmqEuU90H0

— Deepansh (@darkcarnage_18) October 9, 2022
Matthew Wade saving Mark Wood from getting hit by the ball, Be like Wade 😉 pic.twitter.com/GB98DTt15W

— Rashid Lee (آرميكسي) (@Rmaxi_32) October 10, 2022
Matthew Wade showed his elite Australian mentality against Wood here. Sad he still couldn't win the game for his side. #AUSvENG | #CricketTwitter pic.twitter.com/G6c83E8gUG

— Shubham 🇮🇳 (@sokanpuriya) October 9, 2022
Shameful behaviour shown by Matthew Wade , 🤮
On other Hand
Great Gesture of Spirit Shown by Jos Buttler & Mark Wood !
Hat's off!♥️#AUSvENG pic.twitter.com/Cw3xkyqSuY

— Maria (@Cricketdewangii) October 9, 2022
No hate to Matthew wade but imagine Any Indian cricketer (men or women) did like this,
whole England would've gone crazy for so called Spirit of Game. #AUSvENG

— Pradip¶🇮🇳 (@Pradip27_) October 9, 2022
#EngvsAus #AUSvENG
That so called 'spirit of cricket' was screwed today😛

Matthew Wade happily used his left hand to ward of Mark Wood from making a easy catch

Silly umpires kept mum. #Cricket #CricketTwitter

— Advanced Apps (@WebprogrPRO) October 9, 2022
Matthew wade giving away new meme templates #AUSvENG pic.twitter.com/dnHzooALxC

— PRATH (@PSKdVic) October 9, 2022
Mark Wood : Ball is in the Air, Easy Catch

Matthew Wade : pic.twitter.com/d4YLPOQRLH

— g0v!ñD $#@®mA (@rishu_1809) October 9, 2022
Matthew Wade did this to mark wood pic.twitter.com/CwiEE8wltw

— YAMLOK (@LORDHRHITS) October 9, 2022
Matthew Wade stopping Mark wood
From taking the catch pic.twitter.com/fOGw1Ff7oC

— it's gonne be okay (@doesit_post) October 9, 2022
Matthew Wade did wrong thing, it's not spirit of the game but he did against England so i am with him #AUSvENG pic.twitter.com/HqSRDgXgUt

— Nimitt (@sarcasticnimitt) October 9, 2022
Did they switch to playing football suddenly? Wade stopping the header pic.twitter.com/lyv6kHCyCD

— Rehan Ulhaq (@Rehan_ulhaq) October 9, 2022
What is your take on this whole episode? Don't you think that England should have appealed against Matthew Wade?
Share Your Views In Comments Below