Bollywood & TV
Twitter Can't Keep Calm After Trailer Of "Kalank" Released. These Hilarious Memes Will ROFL You
"Kalank" is undoubtedly one of the most awaited movies of the year and while the teaser and songs of the flick were already making people excited for it, the trailer which released yesterday made it difficult for the fans to wait for the film to hit theatres. "Kalank" is set in the pre-independence era of 1940s and it has a big star cast which includes Sanjay Dutt, Madhuri Dixit, Varun Dhawan, Alia Bhatt, Aditya Roy Kapoor and Sonakshi Sinha.
The movie was supposed to be directed by Karan Johar and produced by his father Yash Johar as this project was very close to the heart of KJo's father but after he left the world, Karan decided to stall the venture.
Now "Kalank" is being directed by Abhishek Varman and as far as the trailer goes, it gives an idea that like other films of Karan Johar, relationships will be shown as complicated in this too and they will play a huge role in the movie.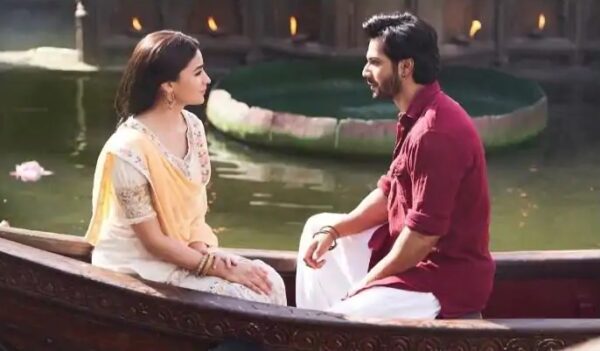 For some of the ardent romantics, the train scene was a reminder of the DDLJ train scene; however, it became the base of memes for meme creators and they got into action as the trailer got released. Some meme creators also found humor in the scene in which Alia says, "Mera pass khone ko kuch hai nahi (I have nothing to lose)". Few other scenes of the movie were also used for making memes and the netizens went crazy after them.
Check out some of the selected memes that will make you go ROFL:
#1
RBI : Don't share your banking password with anyone

Me : pic.twitter.com/haAodJGJgM

— Sagar (@sagarcasm) April 3, 2019
#2
Jaane nahi denge tujhe. #KalankTrailer pic.twitter.com/Il2IyhXBr9

— Bade Chote (@badechote) April 3, 2019
#3
#KalankTrailer
When people say "10th ke baad Science hi lunga"
Me ~ pic.twitter.com/7tTikQ7oV6

— How's The Joke !!?? (@bhale_rao_) April 4, 2019
#4
#kalanktrailer pic.twitter.com/nEX0YR6iet

— Naveen Kukreja (@NaveenRKukreja) April 3, 2019
#5
#Kalank #KalankTrailer @tripoto @TripAdvisor

Happens all the time 😭 pic.twitter.com/7Cp012OCAb

— Prachi (@chatterboxx_) April 4, 2019
#6
RCB at the end of IPL session..#KalankTrailer pic.twitter.com/jF4PkP2CaZ

— 🅰️man (@_single_ladka_) April 3, 2019
#7
#KalankTrailer
Parents : beta science le lo bohot scope he , engineering kr lena
Me : pic.twitter.com/hgbrUk2D5d

— RiTwik jaiswal (@retweetjaiswal) April 3, 2019
#8
Mahagatbandhan leaders to each other #KalankTrailer pic.twitter.com/quiGx018PN

— Roshan Rai (@RoshanKrRai) April 3, 2019
#9
Virat Kohli after 8 matches in the IPL every year. pic.twitter.com/qXzIq6GH7K

— Sunil- The cricketer (@1sInto2s) April 3, 2019
#10
Me to diet food pic.twitter.com/Ffr7Tu04au

— SwatKat💃 (@swatic12) April 3, 2019
#11
Story of every indian students.#KalankTrailer pic.twitter.com/oBvQ890ZMc

— Jayesh (@imJSuthar) April 3, 2019
#12
*After sacrificing all their comfort for their family*

Mothers to all other professionals :#KalankTrailer pic.twitter.com/cFILRyD97T

— Veeran (@time_bohat_h) April 3, 2019
#13
Every small YouTuber Ever😂😂#KalankTrailer#Youtuber @YTCreatorsIndia @YouTubeIndia @YouTubeFanFest pic.twitter.com/sRe3lx33NC

— Aditi Sharma (@_AsliAditi) April 4, 2019
#14
#Kalanktrailer
When Sharma Ji Ka beta scores more marks then you.🤦
Your Parents- pic.twitter.com/S7jcbJeRPy

— Chuski🥃 (@chuski08) April 3, 2019
#15
#KalankTrailer
Roadways Bus warning:

Kripaya apna kimti samaan gaadi ki dikki me na rakhe.

Me: pic.twitter.com/irQamKHd1f

— Anshul Mahajan (@2794_anshul) April 3, 2019
If you have not watched the trailer of "Kalank" yet, here it is:
For More Videos, Subscribe Us Now
Click to watch this video directly on YouTube
How did you find the trailer and what do you think of the flick from it? Let us know your views.
Share Your Views In Comments Below