Bollywood & TV
Twitter Can't Stop Cracking Jokes On These Two Epic Scenes From Newton
Amit Masurkar's "Newton" starring Rajkummar Rao in the lead role has constantly been making news even since it is released. The movie has garnered appreciation from viewers and critics alike and what adds to its majesty is the fact that "Newton" is India's official entry to Oscars.
The movie's two scenes featuring Rajkumar Rao and Pankaj Tripathi caught attention of netizens and meme-makers. They converted the scenes into hilarious memes which resulted in some very funny tweets!
One of these scenes was also in the trailer of "Newton", which showed Pankaj challenging Rajkummar, stating that no one would come at the polling booth. The dialogue is, "Main likh ke deta hun, koi nahi aayega (I will give it to you in writing, nobody will show up)."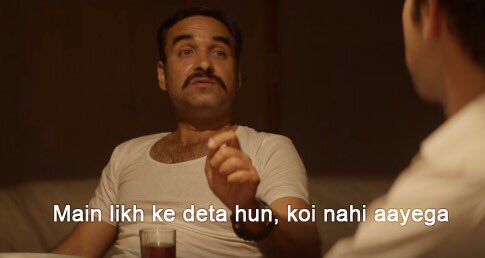 Twitterati created their own humorous situations and these tweets will leave you in splits:
Goa trip:
Friend : Let's plan a Goa trip with our school buddies.

Me : pic.twitter.com/jSUFC89Lcu

— Appurv Gupta-GuptaJi (@appurv_gupta) September 25, 2017
Work on Saturdays:
Boss: Saturdays working kar dete hai

me: pic.twitter.com/Jnmkl8KieO

— Ashwani (@Social_spartan) September 25, 2017
Anna Hazare on Kejriwal's dharna:
Arvind Kejriwal : Main dharna karunga jantarmantar par
Anna Hazare : pic.twitter.com/KkhxiBTfxj

— keh ke lo (@coolfunnypants) September 25, 2017
Ind Vs Aus:
After yesterday's #INDvsAUS match :

BCCI : We'd like to schedule more such home series in India.
ICC : pic.twitter.com/iX4L5XeZg1

— Rohit Dang (@dBigDangTheory) September 25, 2017
Mass bunk:
Friend: Bhai chal mass bunk karte hai sabne han bola hai
Me : pic.twitter.com/xR0kpd8uPu

— RCBian SJ🇮🇳 (@RealSheetal) September 25, 2017
Another scene when Rao replies, "Likh ke dijiye" is also spun into an amusing meme!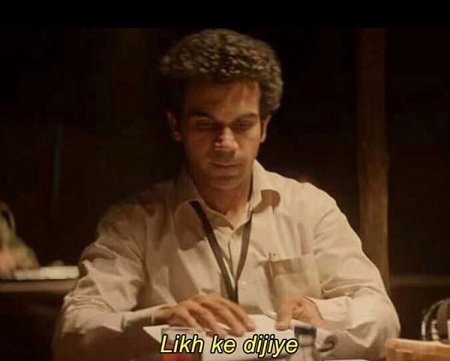 These tweets will tickle your funny bone:
Mumbaikars on rain forecasting:
Meteorological dept: It is not going to rain for the next 24 hours
Mumbaikars: pic.twitter.com/vOntN0H1vu

— Bollywood Gandu (@BollywoodGandu) September 24, 2017
Dad's reaction when you talk about gym:
Me : I'm going to start eating healthy food and will go to the gym from tomorrow morning, 6am.

Dad : pic.twitter.com/SoRcNbQbbb

— Appurv Gupta-GuptaJi (@appurv_gupta) September 24, 2017
When friend asks for money and assures to return:
Friend: Bhai Abhi tu dede mai ghar jake tujhe PayTm karta hu.
Me: pic.twitter.com/M2OUK9LtQP

— Raj Karki (@bae_wakoof) September 24, 2017
Meanwhile engineers:
Next time if someone says "Engineering kar le, Bahut scope hai" 😀
You: pic.twitter.com/btbqLnvy0I

— Subrat Saurabh (@ChickenBiryanii) September 24, 2017
When AAPtards talk about free Wi-Fi:
Aaptards – Delhi me free wifi aayega jaldi hi

Bhakts – pic.twitter.com/ubB7AlT80m

— AMIT (@AMIT_GUJJU) September 24, 2017
Steve Smith's reaction:
BCCI: from next match onwards only Kohli will take decisions, we have asked MSD to not interfere

Steve Smith: pic.twitter.com/TFek8R6OPA

— Secret Santa (@Secret_Saanta) September 25, 2017
When your crush says:
Crush: You'll find a way better girl than me
Me: pic.twitter.com/hv4Ez26Da2

— P.R. (@pr_akash_raj) September 24, 2017
Well, we must say that these memes have made the movie immortal and it will be remembered in the history of social media for a long time!! Have your own version for memes? Share with us!
Share Your Views In Comments Below