News
Twitter Flooded With Meme Fest After Mumbai Rain & Every Mumbaikar Can Relate To These Tweets
The Northern India was dealing with the heat wave for the past few days and everybody was eagerly waiting for the rainfalls so that they can get some relief from the hot and humid weather. Though the monsoon reached the western coast last month, the financial capital of India Mumbai got the first rains on Friday. What brought a big smile on the faces of Mumbaikars was the prediction made by meteorological department as per which the city was supposed to receive heavy rains in the weekend.
The prediction was proved correct and it rained heavily in Mumbai. The netizens didn't miss a moment in taking to the micro-blogging site Twitter and shared the beautiful photos of Mumbai rains.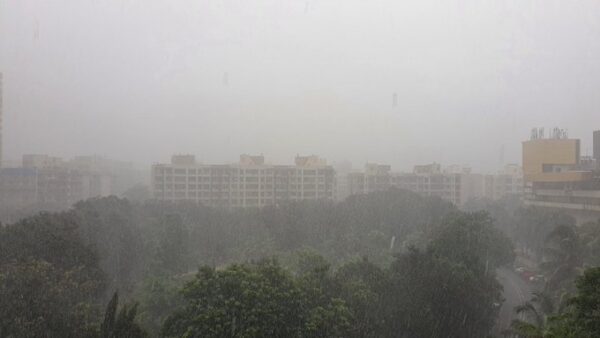 However, we all are aware of the fact that if it rains heavily in Mumbai, it brings trouble from common public as water get logged on the roads and travelling from one place to another within the city is no less than a nightmare. Some netizens also talked about the problems faced by the citizens after heavy rains while few others didn't miss the chance of making fun of the meteorological department, especially in the reference of their prediction getting right this time.
Here are some of the hilarious tweets:
#1
Mumbaikars Mumbaikars
when it when it
starts doesn't
raining stop#MumbaiRain pic.twitter.com/wGA8Wjg322

— TIIB (@kaun_mahira) July 4, 2020
#2
After state government failure
God started sanitization in #MumbaiRain pic.twitter.com/npNhbCZOMA

— Akhilesh Vishwakarma #Get_Instant_💯% FOLLOW BACK (@Vishwa_Akhilesh) July 4, 2020
#3
After long time #IMD predictions got right..

*Le #IMD: pic.twitter.com/BpeTa0Qt6q

— Ambadas M Palve (@AmbadasMPalve) July 4, 2020
#4
When it starts pouring and power isn't cut off #MumbaiRain pic.twitter.com/vB5isUQVp1

— TIIB (@kaun_mahira) July 4, 2020
#5
Most beautiful season in #Mumbai #MumbaiRain pic.twitter.com/Le9MFzKXJ9

— Samir Khan (@samirkh75387729) July 4, 2020
#6
#MumbaiRain
1.Mumbaikers when it starts to rain
2.Mumbaikers when it doesn't stop. pic.twitter.com/hheqFO4AF1

— Valar Morghulis!! (@Legendarryyyy) July 4, 2020
#7
Finally IMD predicted right.

Le me – Ab yeh barish kab rukhega IMD

Le IMD – pic.twitter.com/vGlnBA8jQA

— Bhagwan RC 🇮🇳 (@ImBhagwanRC) July 4, 2020
#8
Heavy rainfall in mumbai for 48hours😔
Dear mumbai stay safe stay home and be careful…#MumbaiRains #mumbairain pic.twitter.com/MVmsqrXSIB

— 𝕯𝖊𝖊𝖕𝖆𝖑𝖎 𝖘𝖎𝖓𝖌𝖍💎 (@KeepitDope__Dee) July 3, 2020
#9
That's the beauty of #Mumbai!
Rainbow 🌈 at #GatewayofIndia during today's #MumbaiRain

Any pro photographer has shot these pictures, then tag us #mumbaiat24am pic.twitter.com/9hb1r0LvFg

— MumbaiAt24am (@mumbaiat24am) July 4, 2020
#10
#MumbaiRain
When there is No Power Cut despite heavy rains in Vasai – Virar pic.twitter.com/21K5pabOLe

— Santosh Kamath (@BeingBewda) July 4, 2020
#11
Mandatory sticker to avoid traffic challan when #MumbaiRains #MumbaiRain pic.twitter.com/YAangHkSVw

— Sujit Mohan (@sujitmohan88) July 4, 2020
#12
Rain is just confetti from the sky.#MumbaiRain pic.twitter.com/xnkDgOZKpc

— Nadita Khushwaha (@KhushwahaNadita) July 4, 2020
#13
Scenes from Andheri Milan Subway, Mumbai!
😛
Stay Safe#MumbaiRain #MumbaiRains pic.twitter.com/3t8Stc4qo9

— KΛЯΛП BIПD (@karanbind08) July 4, 2020
#14
#MumbaiRain #MumbaiRains #MumbaiMonsoon #Mumbai #MumbaiWeather

IMD Employees in their office after their prediction turns to reality about Mumbai rainfall. pic.twitter.com/EuHgXMvsSw

— Bhagwan RC 🇮🇳 (@ImBhagwanRC) July 4, 2020
#15
It's that time of the year when Mumbai becomes Venice lite. #MumbaiRains #Mumbai #venice pic.twitter.com/qbjgeUqw2D

— Paresh Kataria (@pareshkatariaa) July 4, 2020
At least something good happened for the Mumbaikars as Mumbai is currently facing the serious situation of coronavirus and more than 1.4 lakh cases have been recorded till now while over 6K people have lost their lives.
Share Your Views In Comments Below