It has been around 10 days that the IPL 2022 has started and we have witnessed some great moments and performances on the field, while very few matches have been one-sided, in majority of the matches we have seen some tight finish. The cameramen of the tournament are also making headlines nowadays because they are not leaving any chance of capturing beautiful girls, couples, some beautiful moments, etc. in the stadium and it won't be wrong to say that they are making matches even more entertaining and interesting for the TV viewers.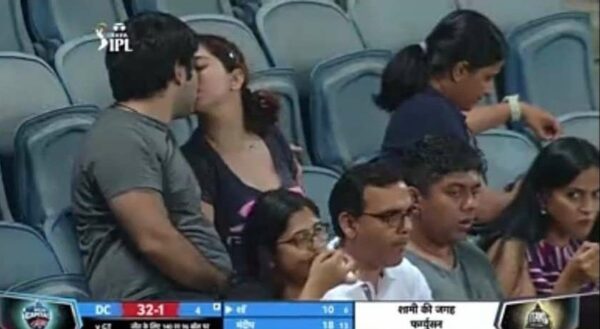 Recently during the match between Gujarat Titans and Delhi Capitals, a couple was seen kissing each other in the stadium and as cameraman made no delay in capturing them, the incident became a meme material.
The micro-blogging site Twitter was flooded with memes and jokes as kissing in the stadium is not something which is common in India. These rib-tickling memes will bring a smile on your face too:
#1
https://twitter.com/Kumarpintu12171/status/1510311944997142528
#2
This couple took the IPL Match to next level😂 #DCvsGT #IPL2022#PuneCouple pic.twitter.com/rQi3YbupGW

— Dhananjay Jha (@DhananjayHans) April 2, 2022
#3
IPL – Instant Pappi Lee

— Renish Balan (@BalanRenish) April 3, 2022
#4
Ipl may come and go bruh but this stays pic.twitter.com/yydMGaL35a

— Bhumika (@thisisbhumika) April 3, 2022
#5
Mera desh badal raha hai aaage badh raha hai 😂 pic.twitter.com/d0U7ZqXGVU

— ✨ (@Kourageous7) April 2, 2022
#6
असली मैच तो स्टेडियम के बाहर हो रहा है 🤓🤓😂😂

— Student Santosh Kumar (@StudentSantosh2) April 3, 2022
#7
Breaking: Kiss cam now introduced in IPL pic.twitter.com/bSL7GrumZy

— CA Subham Agrawal (@ca_whotravels) April 2, 2022
#8
It's not wrong and I think they are utilizing their time and after this, they will have more energy to see the match.

— Shailendra Goyal (@shailen28341024) April 3, 2022
#9
It's kPL 😉

— RR (@Ram82510220Ram) April 3, 2022
#10
https://twitter.com/BoseTurban/status/1510601300685496327
#11
— The Big Fat Panda (@cheetah52125116) April 3, 2022
#12
Awesome IPL goes there nd powerplay goes here😜😜😂

— Satyam singh (@Satyam78075151) April 3, 2022
#13
Kiss Cam ? In IPL ? Great Going Guys 😂😂😂😂, Cameraman 😂😂 #DCvsGT pic.twitter.com/VEr54yFs2H

— Smit (@Thorkabaapp) April 2, 2022
#14
Camera Man.. pic.twitter.com/IAiKpiCjM3

— Aman Singh (@A_mansingh6759) April 3, 2022
#15
A couple should support the different teams in IPL so that they can get the chance on every ball to celebrate like this. 🤣

— Dr. Deepak Motwani (@DeepakMotwanii) April 3, 2022
As far as the match is concerned, the skipper of GT Hardik Pandya was on cloud nine as his team won its consecutive second game by 14 runs. The match was played at the Maharashtra Cricket Association Stadium, Pune and DC decided to bowl first after winning the toss. GT posted a good total of 171/6 in its stipulated 20 overs with the help of Shubman Gill's 84 (46 balls, 6 fours & 4 sixes) plus the skipper also made a useful contribution of 31 runs.
DC lost its openers early and the skipper Rishabh Pant (43), Lalit Yadav (25) and Rovman Powell (20) tried their best to achieve the target but in the end, they could accumulate only 157 runs at the loss of 9 wickets in their 20 overs. Lockie Ferguson of GT was adjudged as the Player of the Match for his superb bowling (4/28) and for playing an important role in wrapping up the DC innings.
While majority of the online users were posting memes on the kissing couple, there were few who were slamming the cameraman for capturing the moment.
Well, if people don't have any problem in indulging in PDA in open and public places like a stadium where there are good number of cameras, why is it a problem in getting captured or clicked? What do you say?