Bollywood & TV
Twitter Floods With Memes As Karan Johar Announces 'Koffee With Karan' Will Not Return
Koffee With Karan which was hosted by the famous producer-director Karan Johar has come to an end and KJo himself has made this announcement on social media platforms with a heavy heart. Koffee with Karan was certainly one of the most popular talk shows and it enjoyed a huge fan following for 6 seasons.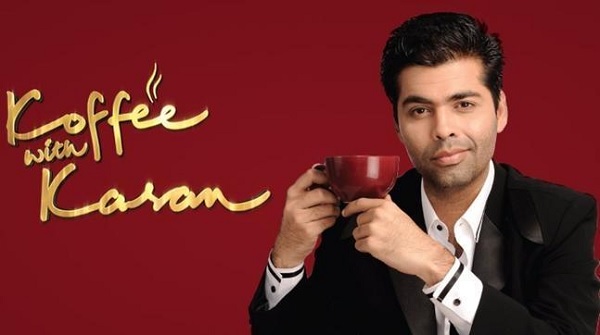 Karan Johar took to Twitter and wrote, "Koffee With Karan has been a part of my life, and yours, for 6 seasons now. I'd like to think we've made an impact and even found our place in pop culture history. And so, it is with a heavy heart that I announce that Koffee With Karan will not be returning…"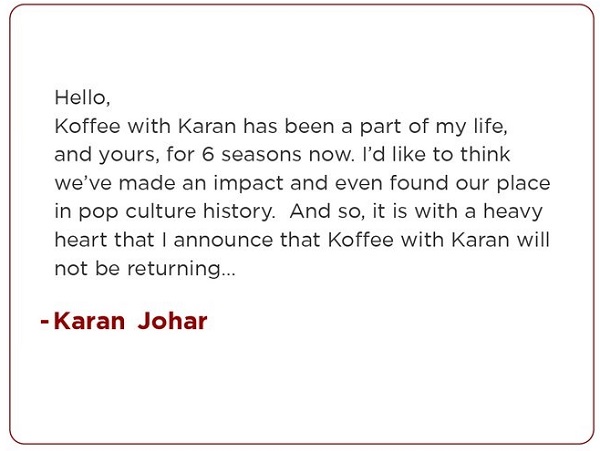 Here is the tweet made by Karan Johar:
IMPORTANT ANNOUNCEMENT pic.twitter.com/FfVbIe1wWO

— Karan Johar (@karanjohar) May 4, 2022
This show was loved by those who were interested in the gossips of Bollywood and what Bollywood stars think of the other actors of the industry. Moreover, sometimes controversies were also created on this platform, how we can forget that the Indian cricketers Hardik Pandya and KL Rahul got suspended because of the statements that they made in the show.
After this announcement, the online users started reacting and while some were happy that at last this show is over, there were few who got very upset because they loved Koffee With Karan and its format.
Here are some of the selected reactions:
#KaranJohar announced that #KoffeeWithKaran will not be return.

people be like👇😂 pic.twitter.com/KzW5W8Ep1r

— Rakesh Arora (@Rakesh14_Arora) May 4, 2022
i lived for the drama this show brought and i can't believe it's over 😭 https://t.co/0AQNQisQYW

— maisha (@somuchbolly) May 4, 2022
when all your mcq options are married and you don't have any more content https://t.co/d0Wa6Olwi7

— ☾ 🆖 (@surbrewery) May 4, 2022
Most happiest person right now https://t.co/uPpTUAV3t9 pic.twitter.com/6uA3TUtYOf

— KL Siku Kumar (@KL_Siku_Kumar) May 4, 2022
#KaranJohar announced that there will be no new seasons of #KoffeeWithKaran #kanganaranaut : pic.twitter.com/SR5BuI35X8

— Shruti (@kadak_chai_) May 4, 2022
#KoffeeWithKaran goes off air

Pandya and KL Rahul rn pic.twitter.com/NlVRPvrRX7

— SURYA (@Suryasaharan) May 4, 2022
We knw…😂 pic.twitter.com/4xwXMbZEdA

— Klaus…!! 🎨🖌️🖼️ (@__Rudraaksh_) May 4, 2022
How do you feel after knowing that Koffee With Karan is not returning? Will you miss the show?
Share Your Views In Comments Below