Humour
Twitter Has A Hilarious Reaction To Property Ad Of +0.25 BHK Homes In Pune
Advertising is all about creativity and out of the box thinking but sometimes the advertisers come up with commercials which leave people confused and perplexed.
Brands tend to promote their products on all the available mediums such as print media, electronic media, billboards, social media networks, etc. and they also provide discounts and offers to attract customers. However, a billboard advertisement related to real estate in the city of Pune became the talk of the social media networks after an online user shared the photo of the billboard ad on the micro-blogging site Twitter.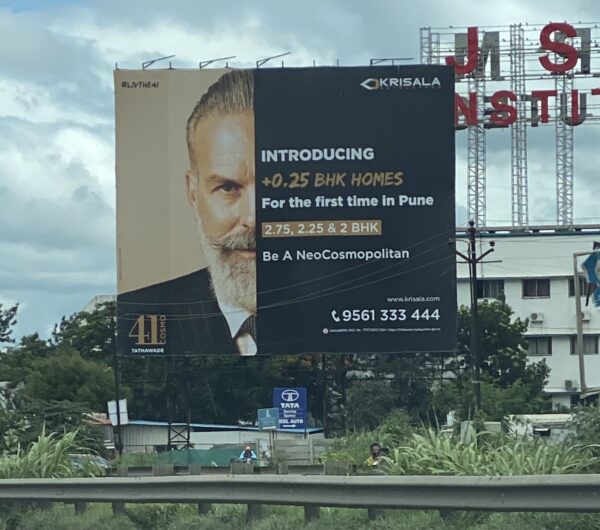 The ad was about introducing +0.25 BHK homes and it also asked the consumers to be a NeoCosmopolitan. People were also quite confused after seeing this new word; while neo means new, cosmopolitan stands for those who are influenced by cultures of other countries.
In his tweet, the online user asked about the 0.25 BHK and NeoCosmopolitan as he wrote, "What size is a 0.25 BHK home? And who is a NeoCosmopolitan?"
What size is a 0.25 BHK home? And who is a NeoCosmopolitan? #Pune #Realty #Signage #Advertising pic.twitter.com/MYNZipeNBw

— Sameer Nair (@nairsameer) July 15, 2021
Soon Twitterati started reacting and while some tried to have fun at the expense of this ad, few others tried to interpret what this ad might mean.
Here are some of the selected reactions:
#1
I believe it's the WFH thingy so there's a separate 'compact' office/ study area to work out of
Heard some builders in mumbai talk about this configuration for future construction

— atul kasbekar (@atulkasbekar) July 15, 2021
#2
Damm true, Pune uses words on an advertisement board similar to the novels of @ShashiTharoor !

I have seen many 😂

— Shivansh Srivastava (@shivansh_rocky) July 15, 2021
#3
I like the advertiser. Logically we know that this doesn't make any difference. But for the probable customer, this becomes a thing to remember. As anybody reading it first try to decode the words, and hence easy for seller to get into mind of buyer.

— Master of None (@Bishnoirajesh29) July 15, 2021
#4
Eventually That 0.25 will be given to Balcony space and all the buyers will get lured with this offer. In short C****A banaao Paisa kamaao

— Vishal Oza (@VishalOza82) July 16, 2021
#5
Punekar be like..😆 pic.twitter.com/Bds6jgNmiF

— Sagar Raskar (@Sagarthetiger) July 15, 2021
#6
0.25 BHK 😳

Like Company Quarters.

— Being Kunal (@LuckyKP16) July 15, 2021
#7
They've finally given a new name to the Guest Room

— Narayan! Narayan! (@NarayanK86) July 16, 2021
#8
It's PLUS .25 in other words it's like a pack of potato chips but you get 25% extra

— Masko Da Vama 😷 (@SridharHari) July 16, 2021
#9
0.25 is automatically increased by Mumbaikars by adding box grills to their windows😅😅😅

— Mohammed Futurewala (@MFuturewala) July 15, 2021
#10
Hahaha! Perhaps it's the beginning of Tokyo like pods?

— Rishabh Anupam Sahay (@sahaysahab) July 16, 2021
#11
Quarters is what people refer to as a small shack. Maybe, 0.25 BHK is the neocosmopolitan way of referring to a Quarters.

— Anantha Narayan (@ThisIsAnantha) July 15, 2021
#12
I guess they are bringing office cubicals at home.

— Rohits_twitts (@Rohits_twitts) July 15, 2021
#13
Parking a leg should fill up the .25 flat nicely.

— Indranil Mukherjee, Author (@indranil9) July 15, 2021
#14
Someone went over board to showcase "innovation"

— Sachiin Guptaa (@sach304) July 15, 2021
#15
This is what happens when you want to be honest about lack of space but also need marketing on point 😂 https://t.co/4BuEvDGtY9

— Rahul Natekar (@rahulnatekar) July 15, 2021
What is your take in regard to +0.25 BHK homes and the term NeoCosmopolitan? Share with us.