Sports
Twitter Heavily Slams Rishabh Pant For Irresponsible Attitude In IndVsWI, Questions His Selection
The Indian cricket team has won the T20I series against West Indies by 2-0 with one match still remaining to be played. This win will definitely boost the confidence of team India to a great extent after the disappointing exit from the World Cup 2019.
This tour is quite important for the Indian team as the former skipper and wicketkeeper-batsman M S Dhoni is not a part of the team and the team management is looking for a player who can replace him. There is no denying the fact that Dhoni is going to retire soon so the team needs to have someone who can fill his boots properly.
Rishabh Pant is on the top of the list of those players who are considered as the replacement to Dhoni but his performance with the bat in West Indies has been quite pathetic.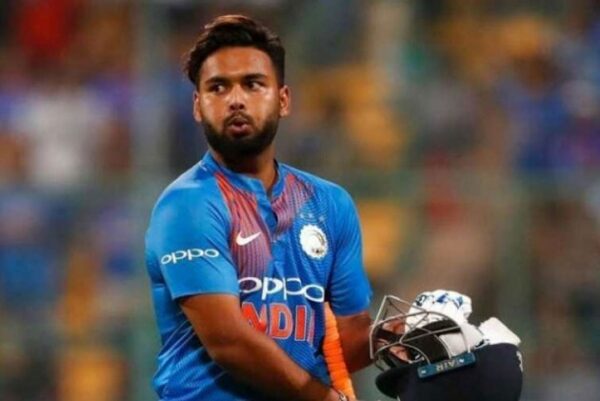 In the first T20I against West Indies, Rishabh got out at duck while in the second match, he gave a dismissal performance and got out at 4 after top-edging Oshane Thomas. He missed the chance of taking the benefit of the good start given by Rohit Sharma and got slammed on Twitter heavily for his irresponsible attitude.
Here are some reactions from the Twitter users who were frustrated after seeing batting of Rishabh Pant and some of them even questioned his selection in the national squad:
#1
#RishabhPant he is most overrated crictr in whole world right now. Basically he hits sme sixs in IPL that is why sme crickt fans gaga over him. Guys a real player is who can score in difficult situation against world-class bowling nt hit sixs in ipl #WIvIND

— vikas kumar (@vikasdapp) August 4, 2019
#2
It is a "Mystery" Why on Earth Rishab Pant still didn't "Realise" he is Playing in the "Place" of a
Legend Called MS Dhoni! #RishabhPant pic.twitter.com/VsY1pdsm2n

— Thiruvalluvan1969 (@Thiruva09112489) August 4, 2019
#3
Alright young man @RishabhPant17, if such shot selection continues the legend @msdhoni will have to extend his career till we find someone who is at least half good as him. The country has been rooting for you, but public support is short lived if you don't deliver. #RishabhPant

— Pratik Wadhwa (@thepratikwadhwa) August 4, 2019
#4
How much Years@BCCI Selectors #TeamIndia Captain
Support #RishabhPant to groom
Even he doesn't want to groom and want to throw his wicket unprofessionally ??
Is this a place to test and Development ?
India Senior Team is a place to already groomed player

— निष्कर्ष (Nishh) (@Nishkarsh1108) August 5, 2019
#5
#RishabhPant Rishabh is still wearing half Pant. Kid after all. Let him play in under 8 .

— Hope. (@kannan_andheri) August 5, 2019
#6
It seems that Rishabh Pant has already decided.

The day he keeps well, he won't bat well, and vice versa 🤪#INDvWI #RishabhPant

— Akshara (@Akshacriccrazy) August 5, 2019
#7
Frightens me even to think Rishabh Pant is being groomed to fill MS Dhoni's boots across all formats. #WIvsIND #RishabhPant

— Samrat Chakraborty (@samratNDTV) August 4, 2019
#8
BCCI— Rishabh Pant will replace Dhoni And he is the next Adam Gilchrist.
Me —-#INDvWI #WIvsIND #RishabhPant pic.twitter.com/kKziY8NHln

— Ravi Pandey (@BABLIBHAI8) August 4, 2019
#9
Rishabh Pant Right now! 😭#INDvsWI #rishabhpant pic.twitter.com/S4cPtZ5zUE

— N A S E E M (@naseemakram100) August 4, 2019
#10
#Pant is not helping his case !! Talent has its worth but the real value lies in scoring runs and that too consistently. I hope he is aware there are quite a few waiting in the line !! #WIvIND #RishabhPant

— Mikkhail Vaswani (@MikkhailVaswani) August 4, 2019
#11
Just for satisfying their own ego(of being dropped during the transition period) , some of the former players have forcefully induced an overrated & a half baked player into the team. Thankfully they cannot blame MSD for 56 from the last 7 overs today!! #INDvWI #RishabhPant

— Mayank Arora (@mayankarora404) August 4, 2019
#12
@RishabhPant17 is now definitely a confirmed idiot. Don't push your luck too much boy. There have been hundreds like you who have shone for a few innings,then never found again. Get a doctor to treat your pathetic condition. You are not playing street cricket anymore #RishabhPant

— Rakesh Malik (@rakesh1198) August 4, 2019
#13
Rishabh Pant's strategy while going out to bat pic.twitter.com/p9h73mg7gA

— Sir Yuzvendra (parody) (@SirYuzvendra) August 4, 2019
#14
@RishabhPant17 you beauty..!

If throwing own wicket is Art.
Then Rishabh Pant is Picasso..!#IndiavsWindies #IndiaTourofWestIndies

— Mehul Roy (@themehulroy) August 4, 2019
#15
@BCCI rishabh pant not deserves in this Indian team . Not understand why giving him chance every time

— Dipesh Tongaria ® (@Dtongaria) August 5, 2019
There are some other national cricketers such as Sanju Samson, Ishan Kishan, etc. who will love to take the place of M S Dhoni but the Indian skipper Virat Kohli is quite supportive of Pant. Kohli admits that Dhoni's experience has played an important role and he will be missed big time but it is also a big chance for the youngsters to show their capability and talent. Virat also said that Rishabh is a talented player and we all want to see him perform consistently.
Let's see whether Rishabh will utilise these opportunities properly or not. What do you think? Share your views with us.
Share Your Views In Comments Below