Sports
Twitter Hilariously Trolls Fawad Alam For Getting Lbw Out On His Open Batting Stance
There was no cricketing action all over the world for the past 4 months due to the coronavirus pandemic, however now cricket is getting resumed in a safe environment and fans are pretty happy with it.
Pakistan and England are clashing against each other in a three test match series in which the first test has already been won by the hosts (England) by 3 wickets. In the second test match which is being played at Southampton, the Pakistanis have already lost their 5 wickets at the score of 126 runs by the end of Day 1. But what makes this test match special is the return of Pakistani cricketer Fawad Alam in the national team after a gap of almost 11 years. This is the fourth test match in which Fawad is representing his country, earlier he was a part of the team in 2009 when Pakistan played three test match series with New Zealand. In that test series, Fawad averaged around 41 runs.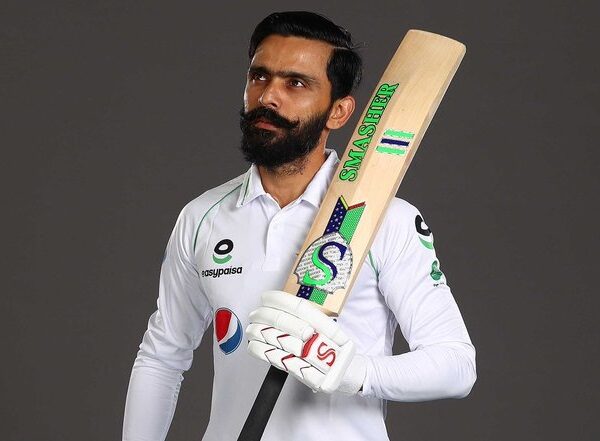 After the defeat in the first test against England which was played at Manchester, Pakistan brought Fawad Alam in the team in place of Shadab Khan, the leg-spinner. The 34 years old cricketer has been performing quite brilliantly in domestic cricket and in the Quaid-e-Azam Trophy 2019, he even scored a double ton against Southern Punjab while playing from Sindh. The selectors were compelled to give him one chance as he played some wonderful innings at the domestic level but his return in the national team was quite disappointing as he got out for a duck after playing four deliveries.
Fawad has an unusual open stance and Twitterati got berserk after Fawad got lbw out even on this stance. The English team appealed for Fawad's dismissal when the delivery bowled by Chris Woakes hit Pakistani batsman's leg but the on-field umpire gave the decision against the English team. It was then that England went for review and Fawad was given lbw out.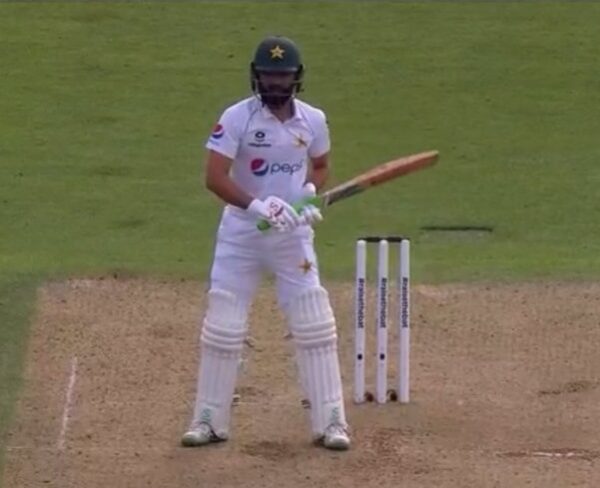 Fawad must be very unhappy with himself as he was not able to take benefit of the opportunity that came to him after so many years. On the other hand, various memes and jokes started circulating on the Internet and social media after Fawad got lbw out.
Here are some selected tweets:
#1
Fawad Alam right now
😬 pic.twitter.com/rhUZxscE9p

— Muhammad Awais (@alwaysignoredd) August 13, 2020
#2
English bowlers looking at fawad Alam's batting stance 🙄 pic.twitter.com/vzFaZygrWR

— Granger❤️ (@muski_sm) August 13, 2020
#3
fawad alam after showing his cool stance which he invented in 10 years : pic.twitter.com/hEIGCuc03I

— Izhar Jabbar (@itx_izhaar) August 13, 2020
#4
Fawad Alam's stance surely borrows from this woman's broom technique. #bbccricket pic.twitter.com/rV7opE0d3q

— Mark Burt (@MJBurt1) August 13, 2020
#5
#ENGvPAK
Watching fawad Alam batting 😭 pic.twitter.com/pVxPqZixeK

— A² (@meremadadkro) August 13, 2020
#6
Fawid Alam's stance reminds me of when Smart car owners park the other way round #BBCCRICKET pic.twitter.com/xHvEbJE432

— Jack Sears (@Jacks_ears) August 13, 2020
#7
Fawad Alam on the Crease🤦🏽‍♂️ pic.twitter.com/XDiXDf5kmP

— Shk Talha Mehmood (@shykhtalha1) August 13, 2020
#8
Chance pe Stance …!

Fawad Alam #ENGvsPAK pic.twitter.com/AYgCDhc94e

— Khushamtweet! (@XitijNanavaty) August 13, 2020
#9
My excuse when i got out for 0 runs: Yaar cricket chory saal ee ho gaye.
Fawad alam could say the same😂 pic.twitter.com/G6NHHKqjXi

— Khajoor 🇵🇰 (@Humerus_Yarr) August 13, 2020
#10
Fawad Alam what are you doing with that stance pic.twitter.com/cwlgAJZO4h

— London Baggies (@LondonBaggies) August 13, 2020
#11
After waiting so long to see Fawad alam bat and here he goes on duck Fawad Alam pic.twitter.com/R2D5BQvSyc

— Kashif Waheed (@KashifW32688497) August 13, 2020
#12
After watching #fawadalam peformance today:
🙄😑 pic.twitter.com/JIC8wqAghf

— Lalalala (@hein_sachi) August 13, 2020
#13
Just came here to share the pain 💔 #fawadalam #ENGvPAK pic.twitter.com/GdvIZwLAbI

— Sameena E. (@TheSERalways) August 13, 2020
#14
Close Enough😅#fawadalam #engvspak pic.twitter.com/3u77MYxOmD

— Mohsin Azeez🔸 (@m0hs1nAz33z) August 13, 2020
#15
#fawadalam
Fawad's fans right now pic.twitter.com/NZvb8tRnR1

— praDeepkumar (@ItsPradeepKr) August 13, 2020
Let's hope that the veteran Pakistani cricketer can do something good in the second innings because not many people get second chance after such a long gap.
Share Your Views In Comments Below