Sports
Twitter Hits Out At Virat Kohli For Taking Wrong DRS During India Vs New Zealand 2nd Test
The Indian cricket team is going through a difficult phase as the manner in which it is playing, there are pretty good chances that it will lose the two-test match series to New Zealand as the hosts are already leading by 1-0 and in the second match also, the Indians have gotten out for a meager score of 242 in their first innings.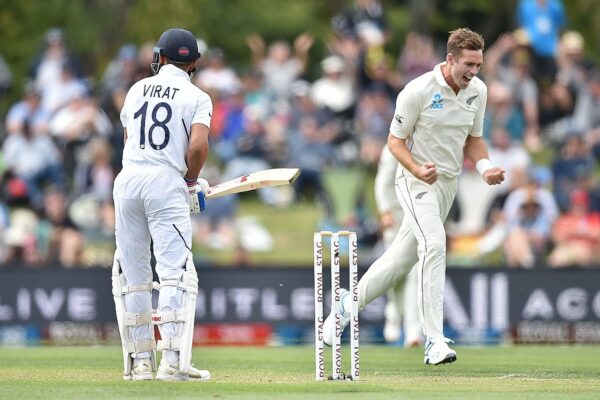 The 2nd test match is being played at Hagley Oval and New Zealand invited the visitors to bat after winning the toss. India didn't get a good start as Mayank Agarwal departed early at the personal score of 7; however, Prithvi Shaw and Cheteshwar Pujara stabilized the innings. When the situation seemed to be getting better, Prithvi got out at 54 and Indian skipper Virat Kohli came on the pitch.
Virat Kohli has not been in a good form during this New Zealand tour; though as per him, he is in a good phase but his scores are not matching with his words. He once again got out early after scoring 3 runs but it was his decision to take DRS which irritated the Indian cricket fans.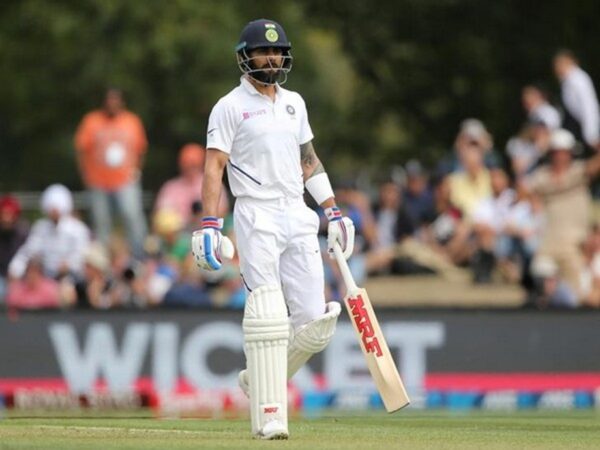 Virat was adjudged LBW out on the bowling of Tim Southee and it was such a clear LBW that Tim didn't even look at the umpire before starting to celebrate his wicket. Even with naked eye, it was pretty clear that the ball would have gone at the middle stump and taking DRS for this decision was certainly not needed. The Indian fans were certainly not happy with the attitude of the Indian skipper as he wasted a review while 7 wickets were still remaining.
Here are some tweets in which the Indian fans expressed their annoyance:
#1
Selfish Kohli…Let others also use the reviews..He is letting down himself as well as the team#NZvIND

— Shreesh kadur (@shreesh_kadur) February 29, 2020
#2
Getting out when your not in form is acceptable but wasting a review will hurt the team further..

Kohli 🥴#NZvIND

— Jameshubert  (@ImJames_) February 29, 2020
#3
You just can't waste a review like this even if you are Virat Kohli.#INDvsNZ #INDvNZ

— 2.0 (@AlmostCommunal) February 29, 2020
#4
Umpire out bola to baat ego pe le lete Hain.. he be like.. I'm Virat Kohli, who the hell is he to give me Out

That's how reviews are wasted😄 #INDvsNZ

— Abhishek (@ImAbhishek7_) February 29, 2020
#5
Why would #Kohli review that? It was plumb. Team had already lost one review. 7 wickets still remaining. Team is 0-1 down, not the thing that you would expect a captain to do. And is Pujara watching girls in the stand? Why he didn't stop Kohli? #NZvIND

— Harshit Anand (@imHarshitAnand) February 29, 2020
#6
@bhogleharsha…don't you think it is indeed high time that India seriously reviews the way it "reviews"….DRS. The non-striker needs to show more conviction here and not get influenced by who is being reviewed.Pujara succumbed to Kohli while Shaw was being just nice to Mayank.

— Sundar (@sunsuji17091) February 29, 2020
#7
Selfish act from Kohli. Being a captain he shouldn't have taken that review. I hope it doesn't affect us. #NZvIND

— Ashish Das Biswas (@abis3067) February 29, 2020
#8
Pujara : Bhai review mat lena, vahape Boult bhi has raha hai. Plumb tha.

Kohli : Chup saale , vahi tho mai chahta hoon, Kane Williamson bhi vahape khush ho jayega. Cricket baadme bhi khel lenge pehle Gentleman bannjaa. #NZvsIND pic.twitter.com/R4lEcCfOxY

— Adish Shetty (@AdishShetty18) February 29, 2020
#9
Quite simply. #Kohli shouldn't take review if he doesn't think it's a howler. https://t.co/f9l4GuUcNt

— Harshit Anand (@imHarshitAnand) February 29, 2020
#10
Kohli going through the most desperate phase of his career? Or has he already seen and surmounted worse? The review was pure desperation. https://t.co/AHYrDPZZIF

— Mohamed Zeeshan (@ZeeMohamed_) February 29, 2020
#11
Virat kohli given out LBW and he review that without consulting pujara.. and ball hitting middle of middle..this is how you have to waste your review and ensures that other batsman don't get option of DRS .
Great selfish player for some reason#INDvNZ

— my Name is CAA (@bagga_daku) February 29, 2020
Before losing the first test match, team India also lost the ODI series to Black Caps by 3-0; nevertheless, the Indians managed to whitewash the 5-match T20I series. Winning this test match is quite important for the Indian team as it will also affect the points tally of ICC World Test Championship.
What is your take on Virat Kohli's decision of taking DRS?
Share Your Views In Comments Below