Sports
Twitter Reacts With Hilarious Memes As Rohit Sharma Wins Two Tosses Back-To-Back
Rohit Sharma's captaincy career has got to a flying start as the Indian cricket team under his leadership has already taken an invincible lead of 2-0 in the three match T20I series against New Zealand by winning the first two matches played at Jaipur and Ranchi. Hitman has led the team earlier also in the absence of Virat Kohli but this is the first series in which he is playing as a full-time captain.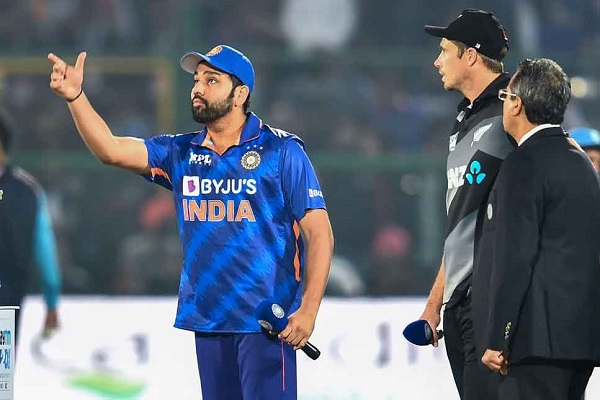 However, the Indian cricket fans are also happy about one more thing and that is winning the tosses. In both the matches, Rohit Sharma won the toss, something which rarely happened in case of Virat Kohli who was pretty unlucky as far as toss was concerned in view of the fact that he won only 20 tosses in the 50 T20I matches in which he led the team.
The social media users went crazy after Rohit Sharma won the toss in the second T20I too and soon Twitter was flooded with memes and jokes. While some users took a dig at Virat Kohli rarely winning the toss, several others suggested that BCCI should have sent Rohit just for toss and for the rest of the things, Virat had been perfect.
Here are some of the selected reactions:
#1
Holy crap! Sharma wins the toss, again 😁😁😁#IndVsNz

— Nakuul Mehta (@NakuulMehta) November 19, 2021
#2
Ab Toss Jeetne ki aadat dal lo #India kyunki ab kohli nhi Rohit Captain h 😎 #INDvsNZT20 #INDvsNZ

— Kapil 🇮🇳 (@BiasedKapil) November 19, 2021
#3
When it comes to coin toss…@ImRo45
Is already doing far better#INDVsNZT20 #BCCI
# pic.twitter.com/EF4JMj00JZ

— Rohit Ahlawat (@rohitahlawat) November 19, 2021
#4
Virat Kohli after knowing Rohit won the toss in two consecutive matches. ,🤣 pic.twitter.com/d7MvqcLwSg

— Abhishek Kumar (@iamabhishekk005) November 19, 2021
#5
In the T20 world cup Kohli should have sent Rohit just for the toss. Rest he could have handled well @T20WorldCup @BCCI

— vamsi krishna (@vamsi_anupoju) November 19, 2021
#6
All Sharma Ji ka betas set the benchmark! Rohit with the toss here.

— 𝒟𝓇.🅁 🄺 🅅 (@coincidentaldoc) November 19, 2021
#7
Rohit Sharma after winning back to back toss as a Captain pic.twitter.com/CL4XCjoCOa

— Abhishek Panwar (@iamAbhi_9) November 19, 2021
#8
Rohit Sharma won the toss & chose to bowl..
Le Kohli ji : #INDvNZ pic.twitter.com/aMkabOMToh

— Nidhi Surana (@Nids_surana) November 19, 2021
#9
Match ka pata nahi, par jabse Rohit aaya hai, toss toh apna hai

— Sumitman😷 (@Extra_anxiety) November 19, 2021
#10
BCCI made Rohit captain because he wins Toss 😉🤣.not serious just for fun guys don't take seriously he is best captain in history of IPL. Time to prove at international level. 🤩

— Prasad (@prasad_abc) November 19, 2021
#11
Virat Kohli's reaction after Rohit Sharma won back to back toss. #INDvNZ pic.twitter.com/Hab5We6arQ

— RK (@Rakeshk72798087) November 19, 2021
#12
Back 2 back toss wins🤦🏻🤦🏻😂😂 Rohit Lucky Sharma..😬😂#INDvNZ

— 🅱️🅰️🅱️🅰️ Ⓜ️SDian 🆙7⃣0⃣ (@vikshi1311) November 19, 2021
#13
Kohli : Not winning toss , Not winning match , not winning hearts.

Rohit : Winning toss , Winning matches , winning hearts.

My captain 😍 #Indvsnz

— Lakshman (@Rebel_notout) November 19, 2021
#14
One thing has definitely changed for india after Rohit becoming captain it's the Toss results 😂😂😂

— Desi_Senpai (@sledge_hammer2o) November 19, 2021
#15
Kohli shouldn't have give up Captaincy he should have just sent Rohit for toss everyday.

— 🔔 (@AishuMSD7) November 19, 2021
While Venkatesh Iyer made his debut in the first T20I match of the series, Harshal Patel got the chance to make his debut in the second T20I. Harshal who plays for Royal Challengers Bangalore in the IPL was the Purple cap winner in the IPL 2021 as he took 32 wickets in the tournament. In his debut match against New Zealand, the medium pacer was adjudged as the Player of the Match for his superb bowling performance as he took 2 wickets in the 4 overs that he bowled and gave away 25 runs.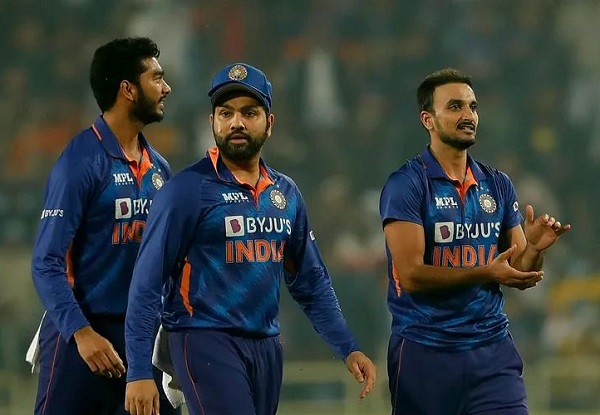 The third and the final match of the series will be played tomorrow at Kolkata and while India will like to clean sweep the series, the Kiwis will look to save some respect by winning the last match.
This good performance of the Indian cricket squad has certainly brought smiles on the faces of many Indian cricket lovers who were very upset with the disappointing performance of team India in the recently concluded ICC T20 World Cup 2021.
Share Your Views In Comments Below