Humour
Twitter Roasts Team India With Hilarious Memes After Embarrassing Defeat Against New Zealand
The batting line-up of team India which is considered as one of the strongest in the cricket world failed for the second time in the ICC T20 World Cup and this time it was against New Zealand. Though the Indian team management brought Ishan Kishan in the squad and he was made to open the innings with KL Rahul, he also failed in giving a good start to the Indian side.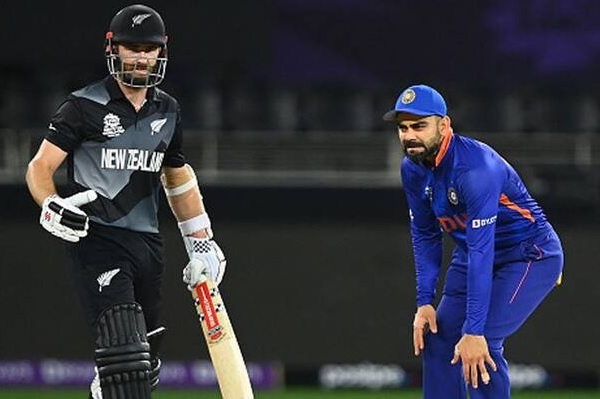 The senior cricketer Rohit Sharma who was demoted to number 3 was also not able to score big and in this match, the Indian skipper Virat Kohli too got out on the score of 9 runs for which he played 17 deliveries. At one fell swoop, it also deserves to be mentioned that the useful innings played by Hardik Pandya (23) and Ravindra Jadeja (26) made India cross the three digit mark.
As the Indian batting crumbled, netizens began to troll team India by making memes and jokes on the players. Cricket lovers have also taken a jibe at the Indian cricketers, saying that they play like champions in the IPL but when it comes to the World Cup or other big tournaments, their energy goes down or it appears to be an entirely different team comprising of unskilled players. Here are some of the selected reactions:
#1
Meanwhile the dew waiting for Indian bowlers #INDvsNZ pic.twitter.com/HdCGH2bTce

— Sand-d Singh (@Sand_In_Deed) October 31, 2021
#2
If this made u laugh than Retweet #IndiaVsNewZealand#INDvsNZ #panauti #BanIpl pic.twitter.com/SyParUmUWY

— Sidharth Shukla FC (@Sidharth_BB14) October 31, 2021
#3
#IndiaVsNewZealand #INDvsNZ Indian cricket fans searching for boundaries today pic.twitter.com/2YWtyyDgQx

— Jagadeesh RAJU (@ursyjk) October 31, 2021
#4
This 🤣🤣🤣🤣🤣#INDvsNZ pic.twitter.com/S8M0kPWT4A

— Spirit of Congress✋ (@SpiritOfCongres) October 31, 2021
#5
#INDvsNZ
Dhoni in dressing room : pic.twitter.com/zTnJufp7YV

— Sumit Kumar (@sumit_k6497) October 31, 2021
#6
Kohli has finally turned Team India into RCB 🙏#INDvsNZ pic.twitter.com/DcOCUJeOZ6

— Troll Kohli (@ChokerKohli) October 31, 2021
#7
1st pic Indians in ipl
2nd pic Indians in world cup #IndiaVsNewZealand #T20WorldCup21 pic.twitter.com/5Vn7Mpu6hZ

— Amogh Porwal (@imamogh4) October 31, 2021
#8
Nz after watching target 🤧😷#INDvsNZ pic.twitter.com/mbz4m4AmZ8

— Pranjal 1.0 (@RealPranjal93) October 31, 2021
#9
#INDvsNZ #BCCI #ICCT20WorldCup2021
Indian Team to Newzealand Right Now – let's Catch Practice boys pic.twitter.com/ip5uai8uYM

— Bobdeya dada😎 (@Bobdeya__dada) October 31, 2021
#10
Me and whole nation after watching how India has played today and till now in this tournament.
#INDvsNZ #TeamIndia #T20WorldCup
#RohitSharma || #virat || #MentorDhoni pic.twitter.com/JwkxzmUHEK

— عرشی🇮🇳 (@arsi_bankwi) October 31, 2021
#11
Indian cricket team during
IPL: World Cup: pic.twitter.com/JscrLNuawi

— Greeshma Shukla🏹🚜 (@GreeshmaShukla) October 31, 2021
#12
#IndiaVsNewZealand
Indian Cricket Team
Ganguly
BCCI#BanIPL #INDvsNZ pic.twitter.com/weMnF3jiG2

— Pankaj (@Innocent_PW) October 31, 2021
#13
Watching today's match and remembering last week match 🤐#indvsnz pic.twitter.com/svSg81CYg8

— Roshni 🇮🇳 (@ConfusedRoshni) October 31, 2021
#14
Every Indian watching the match in the stadium rn : pic.twitter.com/4gQflqc3Wg

— Palak bhatia (@palakwithpaneer) October 31, 2021
#15
After watching India's batting
#INDvsNZ pic.twitter.com/SBaaBiRMZR

— Lady Gemini (Ebad ka bday 6 NOV🎂) (@_Pyarii_hun_) October 31, 2021
#16
Now i know how he felt that day
#INDvsNZ pic.twitter.com/WH90cdxNSw

— Chai-Shai (@aashishsarda07) October 31, 2021
#17
After seeing "Indian team" batting:#INDvsNZ pic.twitter.com/IxqkjkEtFc

— Ayush (@ApDonaDona) October 31, 2021
#18
Two different formats, but emotions are still the same.🥲🥲#INDvsNZ pic.twitter.com/IXqv5KUTOD

— श्रावक CA  (@ShravakC) October 31, 2021
#19
"God is with Indian team today."
God: pic.twitter.com/RbIGawYTpe

— greaser (@salingerous) October 31, 2021
#20
the real GOAT #INDvsNZ pic.twitter.com/cEmWlqAHHD

— Rehaan ツ 🇮🇳 (@rehaanastic) October 31, 2021
As far as the match is concerned, New Zealand achieved the target of 111 runs in just 14.3 overs with 8 wickets in hand and kept its hope of reaching the semi-finals alive. On the other hand, India is at the fifth position in its group which comprises of 6 teams, even Namibia is ahead of India in the points table.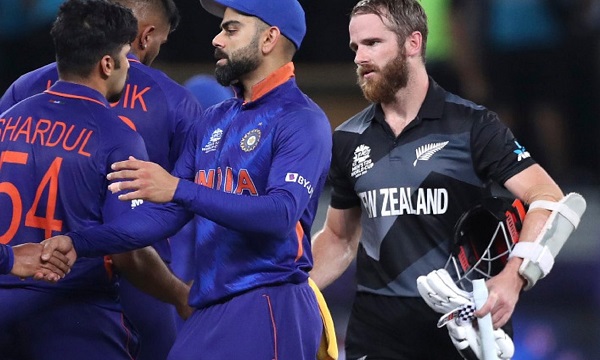 Earlier, India lost its first match of the tournament to Pakistan and that too was a big defeat as Pakistan won that game by 10 wickets. In fact, this was the first time that Pakistan was able to win any match against India in the World Cup.
Though Virat Kohli has stated that there is lot of cricket remaining in the tournament, the chances of India making it to the semi-finals are pretty low now.
Share Your Views In Comments Below