Humour
Twitter Sparks With Hilarious Meme Fest Over South African President Ramaphosa's Mask Goof-Up
Almost the whole world is under lockdown due to the COVID-19 pandemic as it is a life-taking virus and we need to be very cautious to stay safe in present times. There are some measures which we should take in order to keep ourselves safe such as staying at home, washing hands and face regularly, going out only if very necessary, maintaining social distancing and wearing mask whenever we go out.
South Africa is also under lockdown and recently the President of the country, Cyril Ramaphosa addressed the nation and talked about the relaxations in lockdown which will be effective from the next month. During his live speech, the President also talked about the importance of wearing a mask as he wanted all the citizens to wear masks whenever they go out of their house.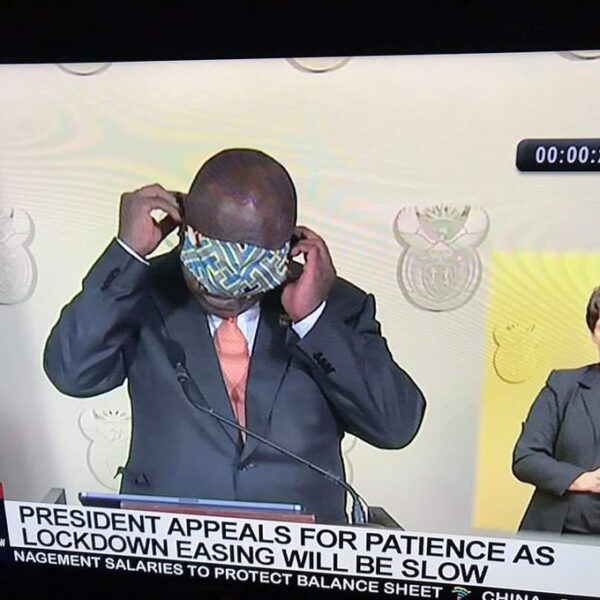 However, he made a goof-up when he tried to show the South African citizens how to wear a mask as he struggled to put both the ends of the mask in his ears. While in one try, the mask falls from his face, in another try, he got his eyes covered instead of mouth and nose.
Here is the video of the incident:
For More Videos, Subscribe Us Now
Click to watch this video directly on YouTube
There is no denying the fact that it is just human to make such mistakes but online users were not in the mood to miss this chance of having some fun and the social media networks were flooded with memes and jokes.
Check out some of the hilarious tweets that will tickle your funny bone:
#1
We've been wearing the masks wrong this entire time…
Thank you president for showing us our errors!#Ramaphosa pic.twitter.com/IiTLGgl4u7

— El Solo Lobo (@LangiweMwale) April 23, 2020
#2
#maskchallenge leadership pic.twitter.com/Mts3qO6q4G

— proudly_Venda (@Venda_son) April 23, 2020
#3
#Ramaphosa
Her: Be honest do you see us together in the future?
Me: pic.twitter.com/kZwcNUri0g

— B-Smirk (@callmesmirk) April 23, 2020
#4
Me trying to unsee our Presidents struggle to put the mask on#Ramaphosa pic.twitter.com/4VdwmCOeeW

— Mez_Inspired 💖 (@Mez_Inspired) April 23, 2020
#5
president was playing peekaboo👀#RamaBillion#lockdownextension https://t.co/cEsBfBjRk2 pic.twitter.com/gY5wJ2fCce

— Van der velde 🇿🇦 (@Lan_downer) April 23, 2020
#6
This one takes the cup😂😂😂🤣🤣🤣 #maskchallenge pic.twitter.com/ySF7UX22Bg

— Nkosazana yakwa Xhosa (@nkosazana_the) April 23, 2020
#7
If I can't see the virus, the virus can't see me🤷🏽‍♂️ simple!!! Dankie the Mask

#Ramaphosa#lockdownextension pic.twitter.com/lRJi5SRH5g

— Lekau (@Ntsako_Shibambo) April 23, 2020
#8
😂😂😂 When they say "clarity is not clear to see"#Elaine#RamaBillion #lockdownextension pic.twitter.com/dM6CnFhlRX

— Sandile Moepeng (@_melaninxrown) April 23, 2020
#9
President trying to warn us about Level 7 of Corona #ramaphosa pic.twitter.com/ishW4PBmnF

— The Instigator (@Am_Blujay) April 23, 2020
#10
Who did this 😂🤣😂#Ramabillion pic.twitter.com/ORbyWqVMMR

— Siyolisi (@Siyolisi2) April 23, 2020
#11
Wearing Mask Challange. Mr President Started it😂😂🤣Did you see how ungovernable that Mask Was?? #SouthAfrica #ramaphosa #ramabillion pic.twitter.com/yIAweyR8z7

— Dj Skeelo (@dj_skeelo) April 23, 2020
Talking about the situation of the coronavirus pandemic in South Africa, 87 people have lost their lives while around 4,500 people have been found infected with it.