Sports
Twitter Trolls Shoaib Akhtar & Reminds His Stats As He Calls James Anderson 'Medium Fast Bowler'
The biggest problem that a pace bowler faces is how to keep himself free from injury so that he can play more and more for the country. The fast bowlers are prone to injury more than the spinners because of which the pacers play less matches in comparison to spin bowlers. Till now, there was no pace bowler who has even crossed the 600 wicket mark in the test cricket while the record of taking the highest number of wickets in test cricket is in the name of Sri Lanka's Muttiah Muralitharan who has taken 800 wickets.
In fact the remaining two slots from the top three slots in the list of bowlers who have taken the highest number of wickets in test cricket are also secured by spinners – Australia's Shane Warne (708) and India's Anil Kumble (619). However, things have changes now and the England pacer James Anderson has become the first pacer to cross the 600 wicket mark. He is also the second quickest in terms of the number of balls taken to reach 600 mark, the first quickest being Muttiah Muralitharan.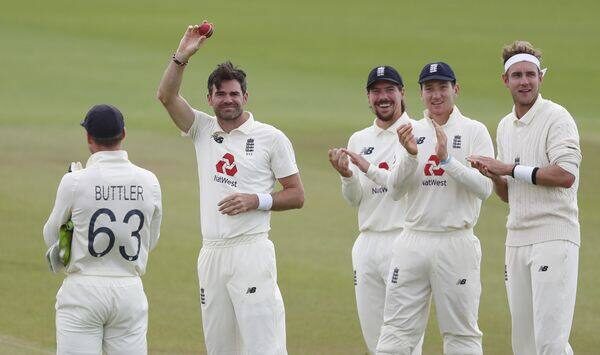 38 years old James Anderson achieved this feat in the third test match of the three-match test series which is being played between England and Pakistan. This match was the 156th test match of Anderson's career and he reached the 600 wicket mark when he took the wicket of the Pakistani skipper Azhar Ali. The match which was being played at Southampton got drawn and England clinched the series by 1-0 as they have won the first test match while the remaining two got drawn.
The cricket lovers and the former cricketers took to the social media networks to congratulate James Anderson on his huge achievement. The former Pakistani pacer Shoaib Akhtar also congratulated James Anderson but at the same time, he also tried to take a jibe at the English bowler by calling him a medium fast bowler.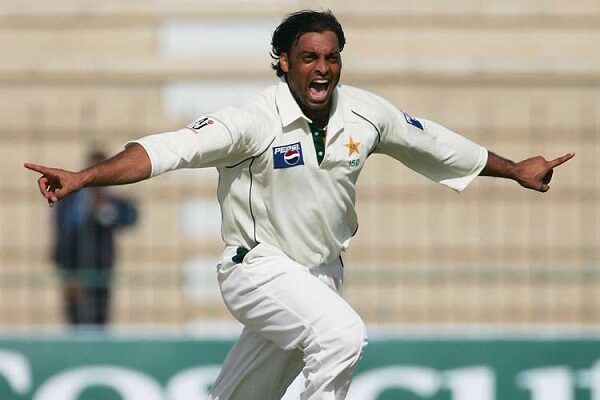 Shoaib tweeted, "Incredible 600 by @jimmy9 . What an amazing achievement. Playing 156 Test Matches for a medium fast bowler is no less achievement. Cheers mate."
Incredible 600 by @jimmy9 . What an amazing achievement. Playing 156 Test Matches for a medium fast bowler is no less achievement. Cheers mate. #JamesAnderson #600TestWickets #England pic.twitter.com/dVFMqPvuwA

— Shoaib Akhtar (@shoaib100mph) August 25, 2020
As far as Shoaib Akhtar is concerned, he played for Pakistan from 1997 till 2007 and in this period, he played only 46 matches in which he took 178 wickets. The specialty of Rawalpindi Express was his pace as he holds the record of bowling the fastest ball at the speed of 161.3 km/hr.
Twitterati soon noticed that Shoaib Akhtar called James Anderson a medium fast bowler and they started trolling him. Here are some of the selected tweets:
#1
You can't even compliment someone properly. 'Medium Fast Bowler'. He lasted 20 years, with less talk. Took 600 wickets. A bit of grace won't hurt.

— Jigson Lawrence (@JigsonLawrence) August 25, 2020
#2
Jimmy Anderson for me always been a fast bowler. Even now he is considered a fast bowler. Even Wasim and waqar lost pace In the later years of their career. Have some respect shoaib. Its not always about you.

— Tee (@mr_notorious_t) August 25, 2020
#3
Once again proving how self obsessed Shoaib is !! Can not digest the fact that someone could do better than him. What an absolute disgrace @shoaib100mph !! Shame !!

— Pottermaniacc (@Pottermaniacc) August 26, 2020
#4
This is poorly structured text.@DrNaumanNiaz once made McGrath angry by calling him "medium fast" on live show. No 1 knws from wher u guys brought this "midum fast", "fast" & etc terminologies. If u wanted to appreciate then should hav done it wholeheartedly.

— Fiaz Ahmed Badar (@Fiaz_badar) August 26, 2020
#5
@shoaib100mph if you call your self very very fast bowler but you not reach at least 450 international wicket. You stopped on 444 wicket and @jimmy9 has 600 in test only and called him " MEDIUM FAST BOWLER " 🤣🤣

— Dipan Desai (@CAdmdesai) August 26, 2020
#6
140 se upar daal Raha bhai 38 me.. medium fast? Not at all..he is a fast bowler..✌️👌❤️

— Debashis Sarangi (@Plumb_infront) August 26, 2020
#7
I m pretty sure that being a Fast bowler u weren't able to take 600 wickets in ur whole career
he is medium fast bowler but he is a great bowler. At the age of 38 still he is contributing for his team while our bowlers wants to play in leagues & u R running youtube channel

— King Khan (@KingKha39152437) August 26, 2020
#8
He is fast bowler!! Heights of illiteracy and complex. You Should consult psychologist. He never complaint that his peak years has gone and his board didn't give him chance when he had pace etc.

— Omar Mahmood (@OmarMahmood6) August 26, 2020
#9
Very sad !! Shoaib sab he bowls over 140+ and i guess that's not a medium pace its not express pace but a good pace .
It looks like you taking a dig .

— Naaz Shafqat (@itsjustNazo) August 25, 2020
#10
Chutiya medium fast. Atleast he would not throw the ball on people's faces (dhoni) after getting hit for 4 consecutive fours. Apni aukaat dikha letae hai. Neech cockroach pic.twitter.com/FTzCnzFYnM

— Rohit Bachani (@MerlinRohit) August 26, 2020
#11
No matter "fast medium" or "medium fast" but he has played almost as many matches as your total wicket tally in Tests. So he will be counted as a legend while you will be remembered for a 161.3 KM/H fluke. It's not always about you!!

— Prakash Singh (@Prax_Nayal) August 26, 2020
#12
Shoaib if u were play 156 match then u couldnt taken even 500 wicket
Jimmy is not medium fast ..he is fast bowler
Once you bowled 160 doesnt mean u r only fast bowler
Jimmy is all time best bowler
Jimmy is best and greatest
Salute Sir ANDERSON @jimmy9

— Ronak Patel (@RonakPa94331899) August 27, 2020
#13
Haha like how you use "medium" fast bowler,you always keep yourself in mind

— Insaaf (@vasista_manu) August 25, 2020
#14
Medium or fast he's better than you to be honest

— Fariz mo (@Faris74997605) August 25, 2020
#15
Tarrif kar rahe hoo yaa taunt mar rahe hoo medium fast bowler he stills bowl 140+ naseem aur shaheen se toh abhi bhi aacha hai #chiefselector

— navab786 (@chirag30015) August 25, 2020
What is your take in this regard? Do let us know.
Share Your Views In Comments Below