Sports
Twitter Turns Virat Kohli's Pitch Inspection Scene Into Hilarious Memes
The three match T20I series between India and Sri Lanka started on a very disappointing note as the first match which was scheduled to be played at Barsapara Stadium, Guwahati, was abandoned due to rain. The Indian skipper Virat Kohli won the toss and invited the visitors to bat first but just fifteen minutes before the start of the game, it started raining.
When the rain stopped, everyone was hoping to see some action as the outfield was pretty good but it was the pitch that was affected the most. The ground staff covered the pitch when it started raining but the covers had holes because of which water got leaked and there were wet patches on the pitch.
The ground staff tried to dry the pitch by using hair dryers, steam iron, etc. but the damage had been done and the umpires decided to call off the day after inspecting the pitch.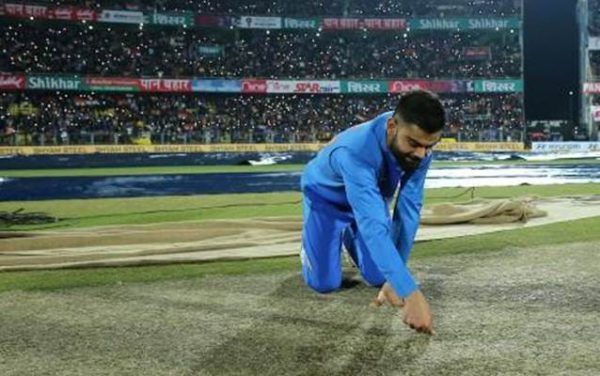 It was quite disheartening as the cricket fans had to return without even seeing a single ball being bowled. But one thing that is in abundance in Indians is creativity and they put it to use when Virat Kohli was seen inspecting the pitch sitting on his knees.
The social media networks are flooded with memes in this regard and here are some of the hilarious ones:
#1
Crush – I like Rangoli Art .
Me – *trying to impress her*#INDvsSL pic.twitter.com/gPBOcMNPQt

— Barkya Official (@Barkya_official) January 6, 2020
#2
Ok i fixed it 😎#INDvsSL pic.twitter.com/5SLSOrChOC

— kαppαα ♡ (@being_kappaa) January 6, 2020
#3
One Step Towards Mankind By Virat Kohli.#INDvsSL #GoGreen pic.twitter.com/zZkO0YvcBk

— Medico Bhaiya (@BhaiyaMedico) January 6, 2020
#4
#INDvsSL #INDvSL
Simple way to dry this pitch 🔥😎

Why these people wasting their time with using hairdryer & ironbox? pic.twitter.com/AwsacroTiu

— Kᴀʀᴛʜɪᴄ_R₇ (@Karthic_7) January 5, 2020
#5
No one:

HR department: #INDvsSL pic.twitter.com/1GX3gP9RAt

— 🇮🇳 sir-kid (@ooobhaishab) January 5, 2020
#6
— Anpadh educated (@PRINCE3758458) January 6, 2020
#7
Girls before marriage : I would get married in a family where they would let me be independent and also let me be myself.

Girls After Marriage : pic.twitter.com/AeAFlHHCmR

— N I T I N (@theNitinWalke) January 5, 2020
#8
Let's grow some crops till Guwahati gets another international match. #INDvsSL pic.twitter.com/KwiZBOHtj3

— Mrutyunjay Mohanty (@MartianTapu) January 5, 2020
#9
Waiting for the pitch to dry like :#INDvSL #INDvsSL pic.twitter.com/uKpJFFcwsu

— OM Rajpurohit (@omrajguru) January 5, 2020
#10
Who did these 😂😂😭#INDvsSL #ViratKohli #INDvSL pic.twitter.com/VRThuNOkTZ

— 𝐒 𝐇 𝐀 𝐑 𝐔 𝐊 𝐇 𝐌 𝐒 𝐃 🏏 (@SharukhMSD_) January 5, 2020
Both the teams will meet each other on January 7 in Indore for the second match of the series and we sincerely hope to see some action over there.
Share Your Views In Comments Below