Humour
Twitter User Asks Use Of Divider In School, Replies Are Hilarious & Will Make You Nostalgic
School days are certainly the best days of our lives as we not only learn a lot of things but also enjoy some of the most amazing moments with our friends. Among many subjects, there used to be a subject called Geometry which is nothing but a branch of mathematics that deals in angles, sizes, space and dimensions of objects. It is a pretty interesting subject and a mathematician who works in the field of geometry is known as a geometer.
One thing that each one of us must have remembered is that for studying geometry, we needed a geometry box which was separate from the regular pencil box that we used to carry to our schools. This geometry box comprises of ruler, set squares, sharpener, compass, protractor and divider.
Divider was one item in the geometry box which was not used by many of us and recently, the online users started a discussion over the purpose of divider in the geometry box.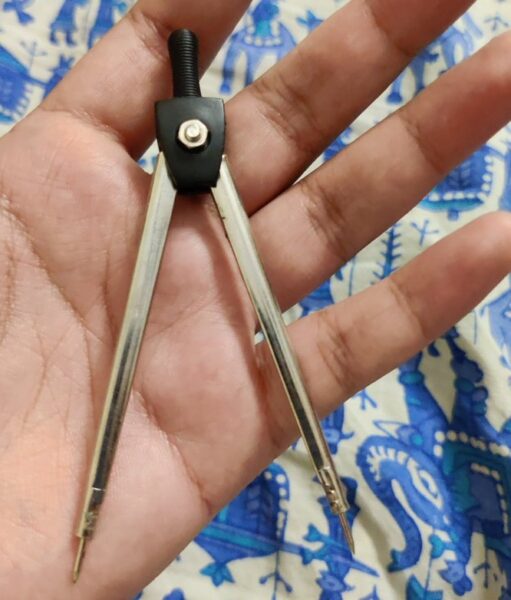 It all started when a Twitter user shared a pic of divider and asked netizens what purpose it is used for:
okay but what the FUCK is this for? pic.twitter.com/Lz68k2LmDy

— poha (@pohahub) June 2, 2021
While some actually tried to give genuine answers, there were many who joked about its usage and tweeted funny stuffs that will make you go ROFL. Check out some of the selected reactions:
#1
its for writing ur crushes name on ur hand when she says no

— sike !♡ (@4kedin) June 2, 2021
#2
Ek baar meri 10 rupaye wale frooti ki pipe nhi mil rhi thi isi se dabbe me ched kiya tha

— Amritesh Bharadwaj (@AmriteshBharad1) June 2, 2021
#3
to protect urself from goons pic.twitter.com/niKpAXrhEJ

— B.TANAV REDDY (@reddy_tanav) June 3, 2021
#4
This is used to measure the length between two points accurately.

— Yaman (@Oye_lambu) June 3, 2021
#5
That is for scratching whitener frm ur desk.

— Ojaswini 💭 (@Oja18554270) June 3, 2021
#6
It's a bonus tool to help you pretend that you're doing something on the notebook when the teacher does the rounds. No one including you and the teacher knows what're you doing though

— Cubbi_Bear (@CubbiBear2) June 3, 2021
#7
to play the 'stab between fingers game' where you place your palm down w fingers apart on a table and try to stab in the finger spaces like a magician

— mirudhula (@mirxluh) June 2, 2021
#8
To tie the supplements to the main answer book wdym

— puss in boobs (@gaarphield) June 2, 2021
#9
This is a Pen to write your and your crush's name behind class furniture. 😁

— River of January 🏹 (@river_january) June 3, 2021
#10
It's protector ,used for protection if someone tries to steal your box ,I guess

— Chitrang Kadam (@ChitrangKadam) June 2, 2021
#11
It was a device used in the 90's to be kept on the chair of some1 who didn't bring your choice of tiffin or didn't bring it at all or brought the same boring tiffin for 2days in a row or didn't help in class tests or did their homework in time etc
No use in boring online classes

— k z (@kmzaidi) June 3, 2021
#12
To threaten the teacher into letting you go to the washroom between the test

— adith🇵🇸 (@rasputinforeal) June 2, 2021
#13
This is self defense tool….
But stationary manufacturers hidden this fact

— राधे फैन : ईवान (@Lyfismessy) June 3, 2021
#14
To write your name on the desk so when you come back years later it's still there

— Siddhant (@SiddhantRander) June 2, 2021
#15
I used to stretch it all the way and use it as a wand and sometimes poke people with it.

— Tumtum // covid help (@tumtumOG) June 2, 2021
The schools have been closed for around a year now because of the coronavirus pandemic and the kids must be pretty bored sitting at home as they are able to attend classes online but meeting their friends is something that might not have been possible on a daily basis.
Well next time you meet a school going kid who is studying geometry, don't forget to ask him about the use of divider and if he is not able to tell the correct answer, ask him to get the correct answer from his teacher. By the way, do you know for what purpose a divider is used?
Share Your Views In Comments Below