Technology
Twitter User Shares Pics Of Baking A Cookie On MacBook Charger, Twitter Goes WTF
Electronic devices such as laptops, smartphones, chargers, etc. getting heated while getting used is not new; in fact we have also come across unfortunate cases in which these devices have caught fire and caused serious injuries to the user. But have you ever thought of baking cookies on these devices?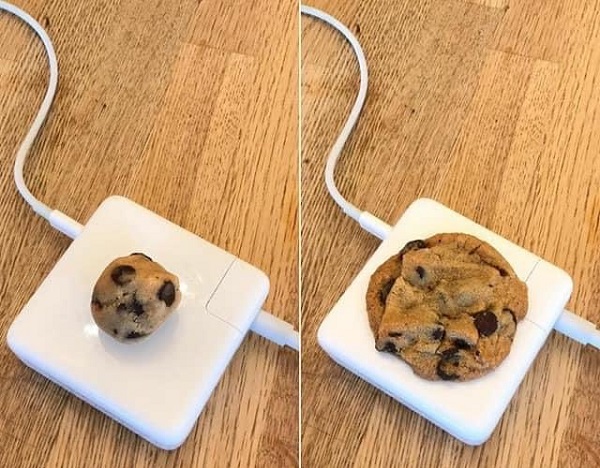 Well, one Twitter user shared two photos to explain how much the MacBook charger gets heated up. In the first photo, a ball of cookie dough is placed on top of the charger while in the second image, a choco-chip cookie is seen on the charger. The user claimed that the MacBook charger produces so much heat that a cookie can be baked on it and soon Twitter was flooded with reactions.
— mea (@MIA_mea_) January 13, 2021
The other users also talked about their devices heating up and some of them also claimed to use them as a heating pad for the purpose of getting relief from cramps and also for getting warmth during the winters. However, there was no one who had used it for the baking purposes. Here are some of the selected reactions:
#1
Free cookie maker pic.twitter.com/CI07YyevVN

— Mylodon The Spring (@Raym0nd_B) January 15, 2021
#2
Next time, place a piece of parchment paper under the dough. It'll make clean up super easy and won't leave your charger greasy. Just sayin'!

— Rish Rhymes with Wish (@RishKhimji) January 14, 2021
#3
That's what my laptop does after the 6th meeting of the day 😭😭😭 students pain

— Nahomy (@Nahomy84152228) January 15, 2021
#4
This is what my Mac charger can do! Apple is a genius.😛 A portable oven, who would have thought! 🤯

I definitely accept these cookies. Hahaha https://t.co/1Dfo2Sp2Hb

— Jay from sumHR (@jaythaker) January 15, 2021
#5
100% will be trying after 12 straight hours charging

— danni🥺🔪 (@DanniDolphin) January 15, 2021
#6
Wow I've been using my charger wrong all this time https://t.co/0WLG520Stz

— trav (@traviieeyoo) January 15, 2021
#7
Next Apple will sell a plate that attached to your charger to cook cookies but will cost 79.99

— Spudz (@Spudz000Spudz) January 15, 2021
#8
Burnt into my new couch once pic.twitter.com/mzZMlMe8ZX

— rose (@sacredrose_) January 15, 2021
#9
The price of charger will now go higher
It will state "Portable Oven cum Charger"
For just$499

— Sarthak Mishra (@sarthakmishra22) January 16, 2021
#10
Funny af cause it definitely be hot as hell. 😭 https://t.co/nlwYS1W3p4

— 🎃 (@mtariee) January 15, 2021
#11
So no one's alarmed by the fact that these things get hot enough to bake a cookie? 😂😳

— Grimace & Grumpus 🇺🇸🏳️‍🌈✡️🦷🩸 (@TripTLFantastic) January 14, 2021
#12
I used my charger as a heating pad for my cramps…. damn https://t.co/9GQiqaRvYR

— Harley (@harlaylaymarie) January 15, 2021
There were also few who felt that the photos are fake:
These are two different cookie doughs. The one on the left is rolled in a ball, while the one on the right came from a package that's cut into squares.

I knew making store-bought cookie dough would some day pay off!

— Casual Costumer (@CasualCostumer) January 15, 2021
It's fake. the first photo is cookie dough in a ball but the second shows the flaw. The cookie still has the remnants of a square shape because whoever baked them didn't ball them up first: they bought pre-made dough and put it in the oven. The square wouldn't happen to the ball

— the infinite inefficiencies of my brain (@yourinner80sgay) January 15, 2021
Your device must have also heated up while in use but have you used it for other purposes as well? If yes, share with us.
Share Your Views In Comments Below