Sports
Twitterati Cracks Baby Sitting Jokes On Rishabh Pant After His Amazing Test Ton. It's Hilarious
Indian cricketer Rishabh Pant created a lot of buzz recently as he turned babysitter for Tim Paine's kids. It all started when both the cricketers had an interesting exchange of words with each other on the ground and it got recorded by the on stump mic.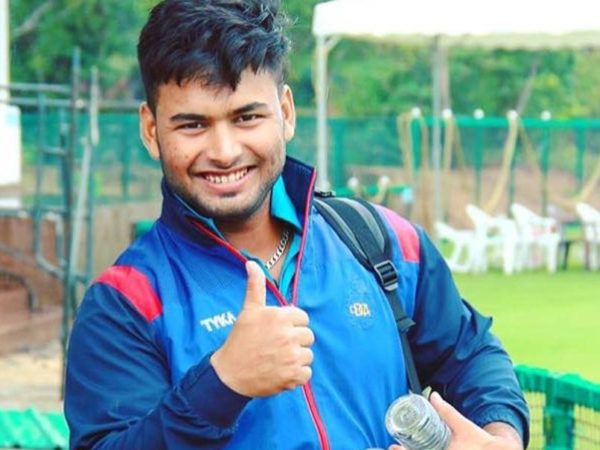 Later during the meeting with Australian PM, Pant shared an adorable moment with Paine's kids and it finally got him a tag of a babysitter.
Recently, when Pant delivered an interesting second century and scored 159 runs everybody was praising him. He became the first Indian wicket-keeper to score a Test ton in Australia but the most interesting part is netizens cracking babysitting jokes on him.
A lot of people on Twitter cracked jokes on Pant and said that babysitting got the best out of him. Have a look at some of the tweets-
#1
Babysitting is new mantra to success. #AusvInd

— Krishna (@Atheist_Krishna) January 4, 2019
#2
Babysitting has helped Rishabh Pant.😂🏏
Babies have brought him some test match calmness, resulting into a composed innings.🙂#AUSvIND #AusVsInd #AusvIndia #AusvsIndia #pant @BCCI @RishabPant777

— Sanket D. Patil (@San4u8793) January 4, 2019
#3
From Babysitting to Batting… Rishabh Pant can do it all! 😎👏

ps not to forget his exploits behind the stumps n stump mike. 😉#AusvInd #INDvAUS

— Sanskari Bhediya (@pkg_lonewolf) January 4, 2019
#4
If Babysitting can create that much difference in @RishabPant777 (didn't take risk) then I request @tdpaine36 and Bonnie Paine to ask "Rishabh Pant" if he could do it more often😂#AUSvIND #INDvAUS #INDvsAUS pic.twitter.com/noB5XF1Mw9

— Rohan Thakur (@baelessPurush) January 4, 2019
#5
Not just @tdpaine36 's kids, young Rishabh Pant is babysitting entire Australian team with mammoth records! #AUSvIND

— अमित श्रीवास्तव Amit Srivastava ॐ 🇮🇳 (@AmiSri) January 4, 2019
#6
Rishabh Pant babysitting Australian Bowlers. #AUSvIND #INDvAUS

— $@(#!n (@tweetysachin) January 4, 2019
#7
@RishabPant777 before babysitting 0 50's in 6 innings, after babysitting heading towards 150 in his first innings.
🤔🤔
Something is fishy 😂 @tdpaine36
What did he do while babysitting?? 🤔#AusvInd #IndvAus #AUSvsIND #Pujara #RishabhPant 😂

— Abijith Kishan Kotamarthy (@abijith__kishan) January 4, 2019
#8
Babysitting is good for patience…

— Sourabh Sharma (@sourabhindia) January 4, 2019
#9
After Rishabh Pant babysat Tim Paine's babies, he went on to babysit his boys.

And they behaved. #AusvInd

— Gaurav Sethi (@BoredCricket) January 4, 2019
#10
Paine-Pant conversation

Paine : Pant can you do babysitting.

Pant : ofcourse but after my 100 because your children's expecting that ton more from me then you 😁😁#RishabhPant #TimPaine #IndiaVsAus #SydneyTest #bleedblue

— यश (@sarcastic_ca) January 4, 2019
Isn't that hilarious?