Bollywood & TV
Uday Chopra Makes A Big Confession That He Is Not Okay. Later Deletes His Tweets
Uday Chopra is one of those unlucky Bollywood actors whose career could never sale through. Despite making his debut in a big film like Mohabbatein and than starring in Dhoom series as well, he never managed to make it big in the industry.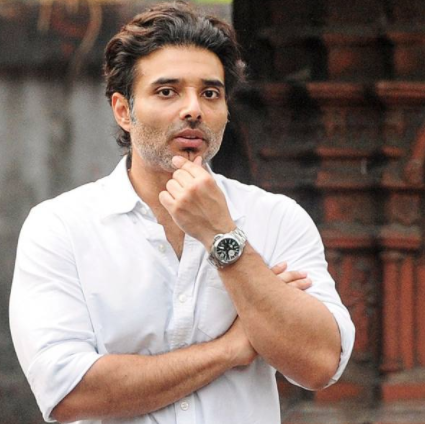 Apart from getting no luck professionally, Uday has been unlucky personally too. The bachelor Bollywood actor has been in news earlier for his affair with actress Nargis Fakhri. Reportedly, both actors were briefly in love with each other before they broke up.
Ever since the breakup reports of Uday and Nargis have come, the former has expressed the sadness in his life openly on Twitter. He took to Twitter on multiple occasions and shared his thoughts. Have a look at some of his past tweets-
#1
You cannot truly ever "not care". The very idea of not caring is a version of caring in itself. So to really "not care" you have to stop caring about not caring, which is a bit like not thinking about thinking #CannotBeDone

— Uday Chopra (@udaychopra) February 12, 2019
#2
I wish I could love with the same intensity I used to love a few years ago. There was this girl and I felt alive just loving her. I've lost that now. I just want that passion back. Maybe that's all I need.

— Uday Chopra (@udaychopra) August 12, 2018
#3
If you or a loved one is suffering from a mental illness get help.
Remember you cannot will it away. You cannot just "think positive" or "shake it off" or "be strong"
It's the same as asking a person with a broken leg to just walk it off
There is no shame in it; help is available

— Uday Chopra (@udaychopra) June 9, 2018
#4
Depression, Anxiety, Social withdrawal, behavioral changes, over-indulgence in food, alcohol, drugs etc these are all signs. If they continue for a longer period of time then there could be an issue. Most importantly do not judge them for it, instead try and understand them.

— Uday Chopra (@udaychopra) June 9, 2018
Uday Chopra recently took to Twitter again to make a confession that he is not okay. In a couple of tweets which Uday made and then deleted, he wrote-
Confession: I am not ok! I am trying but so far I'm failing.
In another tweet, he wrote-
For a few hours, I De-activated my twitter account. It felt as close to death as I could get. Was phenomenal! I think this is a good good option to suicide. I might be doing it permanently soon.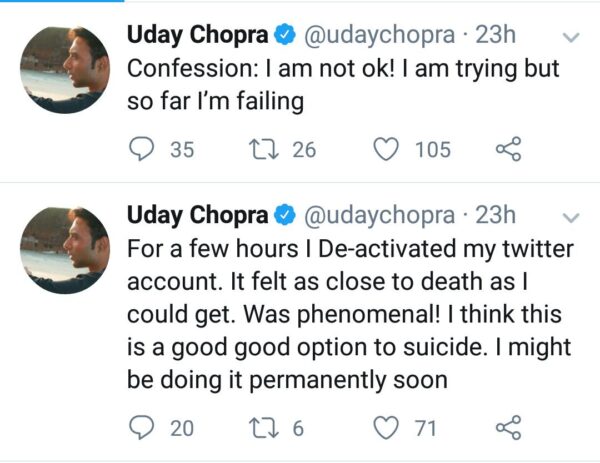 We hope Uday gets well soon.
Share Your Views In Comments Below