Bollywood & TV
Unhappy & Disappointed Fans Trolled "Kalank" With The Most Hilarious Memes Ever
The much-hyped movie "Kalank" finally hit the theatres on Wednesday and the period drama which has been directed by Abhishek Varman and produced by Karan Johar is getting mixed reviews by fans and critics alike.
The flick is set in the pre-independence era of 1940s and portrays the complexity of human relationships. The music has been liked by the audiences and due to Madhuri Dixit's presence in the film, some breathtaking dance sequences are obviously one of the main attractions that lured fans to watch "Kalank".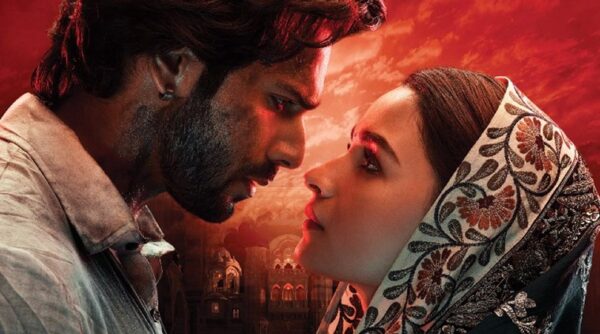 What's more, audiences got to watch Sanjay Dutt and Madhuri together in a movie after many years and at one fell swoop, it again brought together the hit pair of Varun Dhawan and Alia Bhatt. Other than these stars, the film also features Aditya Roy Kapur, Sonakshi Sinha and Kunal Khemu in important roles.
While the expectations were really high from "Kalank", it seems as if the viewers are left disappointed because some of them have termed the movie as boring and predictable. Twitterati lost its cool soon and #KalankReview started trending on the micro-blogging site pretty soon.
Meme makers also got back to their jobs and a number of hilarious jokes and gags surfaced on social media. Here we have brought some really cool and funny ones for you:
#1
#KalankReview pic.twitter.com/MBhXlH313w

— Bollywood Gandu (@BollywoodGandu) April 17, 2019
#2
#KalankReview
Audience during interval of Kalank👇 pic.twitter.com/cEPFt5gSqa

— IamAtheist (@NikhilB15338339) April 17, 2019
#3
Audience after watching Kalank. #KalankReview @sagarcasm pic.twitter.com/sgihs7zIrp

— Prashant (@prashant_7_) April 17, 2019
#4
Audience to Karan Johar, after watching Kalank:#KalankReview #kalank pic.twitter.com/tn9gBdJSmW

— 🔅 (@Kashyap_ocean) April 17, 2019
#5
* My friend who went to watch Kalank in PVR *
Me : Kalank Acha laga Kya ?
Friend :#KalankReview pic.twitter.com/kGEoUkQqGT

— ㅤ ㅤ ㅤ ㅤ ㅤ ㅤ ㅤ ㅤ ㅤ (@theesmaarkhan) April 17, 2019
#6
Bollywood is improving day by day now they are telling us the review of movie in title itself. First Zero and now Kalank #KalankReview

— Rishabh Srivastava (@AskRishabh) April 17, 2019
#7
Audience just after watching movie for 5 mins.#KalankReview pic.twitter.com/gto9nt09EQ

— Gulshan Laassi (@gulshanlassi) April 17, 2019
#8
How's film ? #KalankReview

Audience after watching – pic.twitter.com/sTAsgIEH54

— SharmaJi ka ladka (@Pranjultweet) April 17, 2019
#9
Entire bollywood industry after seeing a big production movie flop: pic.twitter.com/X2ZwEYBzEk

— Jay Salia (@JaySalia997) April 17, 2019
#10
Audience reaction to Kalank pic.twitter.com/vKbfOzbGCO

— NaMo (Nayan Mongia ) (@Original_Namo) April 17, 2019
#11
Audience looking for the climax in the movie.#KalankReview pic.twitter.com/mT39U99TB4

— Rahul Kumar (@rk5444) April 17, 2019
#12
Pic 1: Expectation
Pic 2: Reality#KalankReview pic.twitter.com/gQey2wYZHM

— Satyam Singh (@MyFreakyTweets) April 17, 2019
#13
Audience in theatre: #KalankReview pic.twitter.com/cdD93CUqEv

— Bwoy Bakchod (@bwoybakchod) April 17, 2019
#14
After #KalankReview review

KJo be like… pic.twitter.com/TuQvF28VMg

— Kundan Banrasi (@Imbanarasi) April 17, 2019
#15
Audience after watching Kalank. #KalankReview pic.twitter.com/FxGps5Bb2y

— Sagar (@sagarcasm) April 17, 2019
Do let us know your opinion about the movie if you watch it.
Share Your Views In Comments Below