Humour
UP Man Caught Red-Handed By Lineman While Crawling To Cut Illegal Power Cable, Video Went Viral
Electricity is certainly one of the necessities for living in the modern day world as our lives are now completely dependent on the devices that work on electricity, such as computer, microwave, television, fans, coolers, air conditioners, etc. However, what some people don't like is the fact that they have to pay the bill for the electricity that they use and sometimes they resort to theft of electricity for saving money.
Electricity is stolen by joining a cable to the power source and this is happening in India despite the fact that everyone knows it is a crime for which they can either be sentenced to jail or get heavily fined. Though the electricity officials carry out surprise raids in different areas on various occasions and many people get caught and punished as well, people still don't learn from such instances and keep on stealing electricity until they themselves get caught and face the consequences.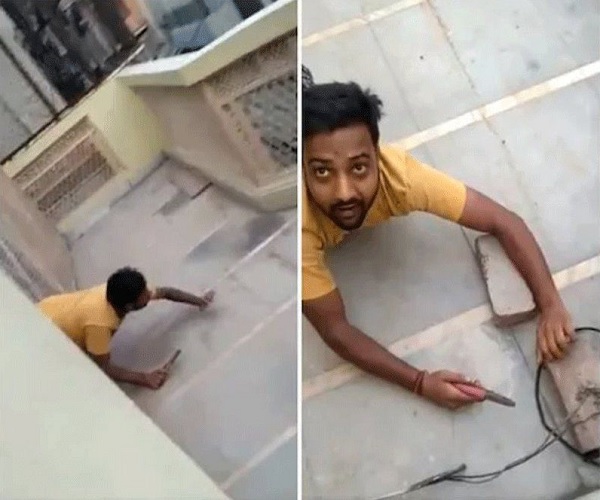 A video is going viral on the Internet and social media sites in which a person is seen crawling in his balcony as he is moving towards the cable which he has joined with a power source in an illegal manner. This incident reportedly took place in the city of Ghaziabad, Uttar Pradesh, and the video was shot by an electricity official who was standing on the neighbour's terrace when the concerned person came crawling.
The man was not aware of the fact that he was being shot while he was trying to eliminate the evidence of the theft. In the video, the electricity official is heard telling the person that he is standing right over there.
Check out the video:
Hilarious: when anti-power theft squad arrived, a man crawled stealthily in his balcony to snap wire he had connected to steal electricity from power source, only to be caught out on camera !! Bijli Chor ka fuse udh gaya !! #Ghaziabad #Muradnagar #UttarPradesh @ndtvindia @ndtv pic.twitter.com/bGCLJPJWUE

— Uma Sudhir (@umasudhir) July 13, 2021
मामला मुरादनगर का बताते हैं। इस घर में बिजली चोरी हो रही थी। चेकिंग टीम इस व्यक्ति को दरवाजा खोलने के लिए आवाज लगाई, परंतु दरवाजा नहीं खुला। बिजली चोरी संदेह होने पर लाइनमैन को बराबर वाले घर पर चढ़कर वीडियोग्राफी कर रहा था। फिर देखिए क्या हुआ!!@ankushtofficial pic.twitter.com/f7gLyhXyJK

— sanjay tripathi 🇮🇳 (@sanjayjourno) July 13, 2021
Soon reactions started pouring in and people satirically praised for man for being talented to do illegal stuffs like this and then making attempts to remove the evidences. Here are some selected tweets:
#1
Bhaiyon ise fauj mein sikhai gai Bandar chaal ka Sahi prayog kahate Hain… Shikari hai

— Harish siddhu (@Harshsiddhu7) July 14, 2021
#2
— Sahil Kundu (@SahilKundu1309) July 13, 2021
#3
टैलेंट की कमी नहीं है यूपी में.. 🤣

— अशोक मिश्रा (@ashokmisra2) July 13, 2021
#4
लुका छुपी 😂 दे धप्पा 🤣

— Manish Ramesh Mishra / मनीष रमेश मिश्रा / منیش (@manishm358) July 13, 2021
#5
क्रांतिकारी बहुत ही क्रांतिकारी

— Er. NeeRaj (@nrj_dev) July 13, 2021
#6
ये भाई तो रेंगने में सर्प को भी फेल कर दिये 🤣🤣🤣🤣,

— Mamta Tripathi (@MamtaTripathi80) July 13, 2021
#7
वाकई में बोहोत तेजस्वी लोग है हमारे पास ! 🤣🤣🤣

— Haris (@Haris13989604) July 13, 2021
#8
Aisey crawling toh nda /ota pass out cadets bhi nahi kr patey
👍😁

— Sagar 🕉 (@Indiansagar03) July 13, 2021
#9
😬 खेला हो गया भाई के साथ। इसको कहते हैं एकदम रंगे हाथों पकड़ना।

— Amrit Yaduvanshi (@AmritYaduvanshi) July 13, 2021
#10
— झहीर शेख (@thezaheershaikh) July 13, 2021
We request our readers not to indulge in such activities!