Humour
UP Police Gave Warning To Notorious People Through A Hilarious Meme. Twitter Is Enjoying
The police of various states have started showing their presence on social media networks as it is also a very effective medium of connecting and interacting with public. However, this has also resulted in showing the funny side of Indian cops as memes are posted to warn the wrongdoers on a regular basis.
Unfortunate incidents that take place because of the fake news circulated through social media and messaging platforms are among the biggest problems faced by the Indian police. Many people have suffered due to such fake news and police find it difficult to stop them from spreading as almost everyone has a smartphone with messaging apps and the fake news is shared immediately on a huge scale.
Police is trying a lot to make people aware and understand that they should first check the authenticity of the news before believing it and should never share it if they are not sure about its truth.
UP Police recently posted a meme which features a scene from Netflix show Sacred Games showing Nawazuddin in an injured state with the caption, "अपुन इधरिच है" "(I am here only)".
Check out the meme: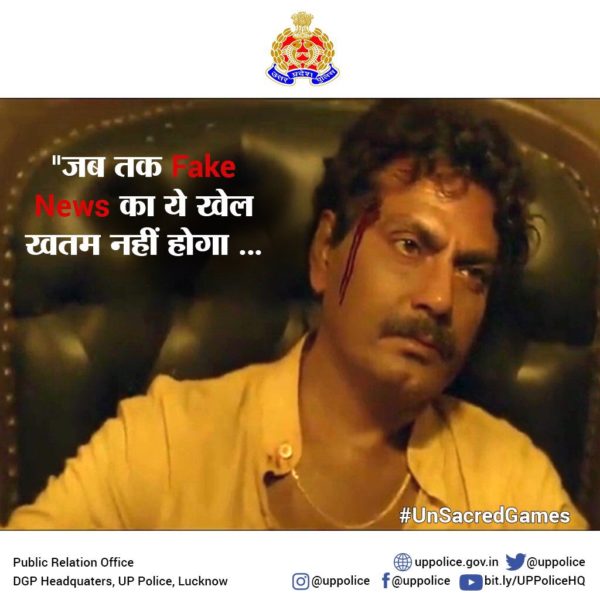 Here's the tweet:
अपुन इधरिच है । #UPPolice #FakeNews #DontFakeGetReal pic.twitter.com/WOjjODXEcJ

— UP POLICE (@Uppolice) July 23, 2018
Twitter has given mixed reactions on this tweet of UP Police:
#1
Fake news wale bhi इधरिच है 😂😂😂

— Gaitonde alfie (@alfie_solo) July 23, 2018
#2
— Am¡t* (@misfit_xeno) July 23, 2018
#3
@MumbaiPolice u got competition here….. From encounters to meme creations

— Vivek Tiwari (@VivekTivari) July 23, 2018
#4
corruption ka, black money ka fake news ka sabka badla lega re tera @Uppolice#DontFakeGetReal

— Shahaen shah (@shahaen) July 23, 2018
#5
Me: Sir woh meri bike chori hogyi hai?
Constable: Toh?
Me: Toh FIR krni thi
Constable: Abhi nhi ho skti
Me: Kyu
Constable: Sahab abhi meme bna rhe hai
😭😭😂😂

— The Hood (@Shubhanallah_) July 23, 2018
#6
😂😂😂😂Kabi kabi thane main bhi baith liya karo. ……
Kafi Kand hote ha UP main

— राजा जी🚩 (@RowdyHindu) July 23, 2018
#7
@nt_d_grlnxtdoor sab meme meme khel rahe 😂😂

— SubbuS (@Subbu_06) July 23, 2018
#8
Bhai tum log kaam karo apna…..meme banane ki vacancy khali ho toh mereko batana

— Anmol (@Anmol_India) July 23, 2018
#9
Tum idhar ich ho isilye shahar me itne crime ho rahe hain.

— ㅤ ㅤ ㅤ ㅤ ㅤ ㅤㅤ ㅤ ㅤㅤ ㅤ ㅤ ㅤㅤ (@ParloTweets) July 23, 2018
#10
What a way to go! Tight slap on the face of fake news peddlers! #JaiHind

— પ્રયાગ ગાંધી (@prayag) July 23, 2018
#11
Ha ha 😅, I like & we also cooperate n support 👍

— Rohit Chalwadi (@Rohit72189999) July 23, 2018
What do you have to say about UP Police's style? Let us know.
Share Your Views In Comments Below