News
UP Police's Startling Revelation About Suspicious 'Egg-Shaped Shells' Makes Twitter Go ROFL
The Internet has become a great source of entertainment and recently, a video became the talk of the town as it created a lot of curiosity among online users. The clip is about the mysterious egg-shaped shells which have been found in Bilhaur village of Kanpur district, Uttar Pradesh.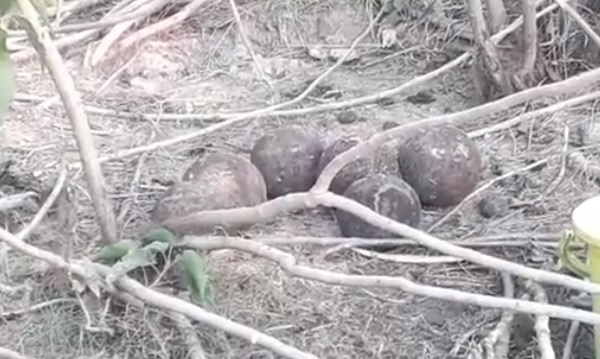 The online user whose profile reads that he is a journalist posted the video with the caption, "कानपुर के बिल्हौर के एक गांव में मिले अंडेनुमा गोले… ग्रामीणों में तरह-तरह की चर्चा… पुलिस के पहुंचने पर हुआ चौकाने वाला खुलासा." (Egg-shaped shells found in Bilhaur village of Kanpur, various speculations doing rounds among the villagers, police made some shocking revelations after arriving on the spot).
कानपुर के बिल्हौर के एक गांव में मिले अंडेनुमा गोले… ग्रामीणों में तरह-तरह की चर्चा… पुलिस के पहुंचने पर हुआ चौकाने वाला खुलासा. @NavbharatTimes @Uppolice pic.twitter.com/bf99OK8UOE

— Sumit Sharma (@sumitsharmaKnp) December 11, 2022
The video soon went viral but the journalist got trolled mercilessly after the Police Commissioner of Kanpur responded on his video and revealed what it actually is. While the journalist tried to sensationalize the matter, Police Commissioner dismissed it as nothing but feces of any animal and it left netizens in splits.
Here is what Police Commissioner of Kanpur tweeted, "कुछ भी संदिग्ध नही है, किसी जानवर का मल है।"
कुछ भी संदिग्ध नही है, किसी जानवर का मल है।

— POLICE COMMISSIONERATE KANPUR NAGAR (@kanpurnagarpol) December 11, 2022
Here is how Twitterati reacted after this response from Police Commissioner:
Dear @NASA kindly cancel your tickets, case solved by Up Police 😂😂😂

— अविनाश राय (@raisaahabpatna) December 11, 2022
Dekh rahe ho Binod , Gol Gol Bomb Jise bataya wo Mal Nikla hain

— Durg Singh Rajpurohit (@BarmerDurg) December 12, 2022
— Faucet twirl (@faucetwirl) December 11, 2022
लगता है जानवर को Constipation है!!🤔

— Anil Mishra (@anilmishra7) December 11, 2022
सुमित जी इसे सुबह शाम एक एक गोली गर्म पानी के साथ लीजिए नई शक्ति आजाएगी

— Rahul (@ligmarahul69) December 11, 2022
Savage max 😂😂🔥

— Vivek Verma🇮🇳 (@coolbudy1998) December 11, 2022
— Imsandy (@SandipRanakoti) December 11, 2022
— Saurabh (@saurabh_19_) December 11, 2022
— Sharry (@Sharrypunjab) December 11, 2022
जानवर का नाम भी बता देते। किसने ऐसा हग दिया की न्यूज ही बन गया और पुलिस बुलानी पड़ी।

— Atheist (@mahender5781) December 11, 2022
जंगली जानवर: pic.twitter.com/ldy10D81ov

— 🕉अभिषेकानन्द जी महाराज ✡ (@KatiyarSAAB) December 11, 2022
— PRANAV (@_pranavahuja_) December 11, 2022
The police departments have become quite responsive on the social media platforms, especially Twitter, and we have to admit that nowadays they give us many chances to smile by trolling users or by providing useful information in a funny, creative or witty manner.
What do you think of this trolling style of UP Police? Share with us.
Share Your Views In Comments Below