News
US Vlogger Se*ually Assaulted In Delhi. Narrates Her Horrific Experience On YouTube
India is a country known for its rich culture and moral values. Everyone considers it their job to make others realize to not do anything which is considered wrong. There are restrictions on what you should wear and how much you should express but still, se*ual harassment and r*pe is prevalent in the society.
Being in India, we learn about r*pe cases every day. This is a problem against which we all should come together but there's hardly any stop to it.
A US Vlogger visited India recently to cover the cultural and heritage beauty. While she loved what she saw, she also got a shock of her life when a few people tried to se*ually harass her. There were different and several se*ual harassment attempts made against the girl by the hotel staff itself and that too in the presence of her boyfriend.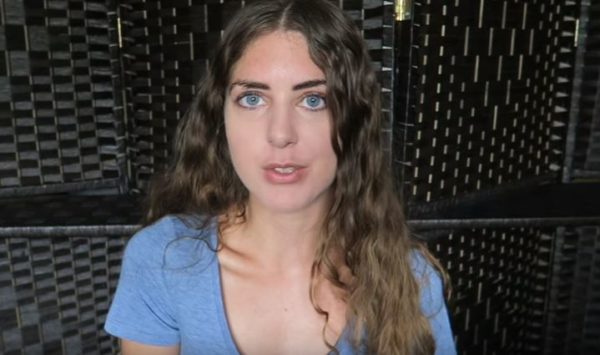 The girl who was obviously shaken by the whole experience decided to narrate it through a Vlog which she posted on her YouTube channel. The video titled "This Happened In India // Se*ual Assault" is really moving in itself.
In the video, the girl has explained how she was followed, received creepy calls from the hotel staff and other weird stuff. She also told that the hotel staff banged her door. This was not it as her details were also shared by the staff when she stayed at a 5 star hotel. Watch the video-
For More Videos, Subscribe Us Now
Click Here to watch the video directly on YouTube.
Later she shared the details of the hotels in the YouTube comment section. It was mentioned that one of the hotels she stayed in was of OYO. Have a look-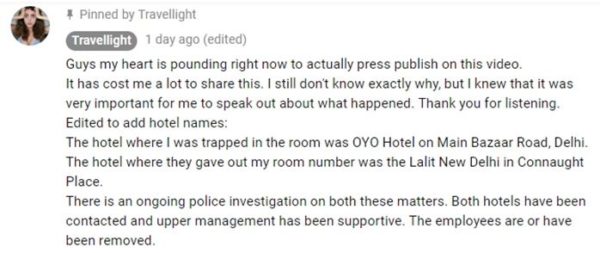 She had to answer some questions as well-

Meanwhile, OYO Rooms has confirmed that they are investigating the matter.
#1
Hi! We are aware of this shocking incident and are in touch with the guest to obtain the information required to conduct a detailed investigation. 1/2

— OYO4U (@OYO4U) September 9, 2018
#2
Guest safety is our top priority and will take the strictest of action against the partner hotel involved in this incident. Appreciate your concern. 2/2 ~AK

— OYO4U (@OYO4U) September 9, 2018
Isn't this really shameful?
Share Your Views In Comments Below