Bollywood & TV
Uttar Ramayan Finale Left Twitter In Tears, Fans Thank Ramanand Sagar For The Grand Emotional Epic
There was a lot of buzz when the Indian government announced that some old shows of the Indian television including Ramayan will be re-run as the whole country is under lockdown and it will help the citizens in passing their time at home.
However, nobody expected the type of response that Ramayan got as it has become the most watched entertainment show of the world by receiving the viewership of 77 million on the night of 16th April, 2020. Uttar Ramayan was also loved by the audiences as it tells what happened in the lives of Ram and Sita after they returned to Ayodhya post Vanvaas.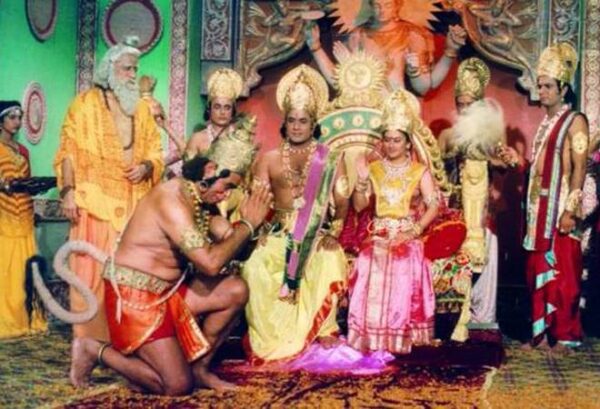 Many times Uttar Ramayan made people emotional as the separation of Ram and Sita was heart-wrenching and the performances of the actors were so impeccable that people could feel their pain. However, the limelight was stolen by the kids of Ram and Sita – Luv and Kush, especially when they started singing Ramayan written by their Guru Valmiki.
The finale episode of Uttar Ramayan was telecasted last night and it won't be incorrect to say that only a heartless person would not have cried after watching it, particularly when while singing, Kush and Luv tell Ram that they are his sons and the scene in which Mata Sita departs with the Mother Earth.
While the youngsters enjoyed watching the show first time, many people relived their past by watching it again. During the re-run many times, characters like Vibhishana, Kumbhkarna, etc. also trended on the micro-blogging site Twitter which clearly explains that this show had a great impact on audiences.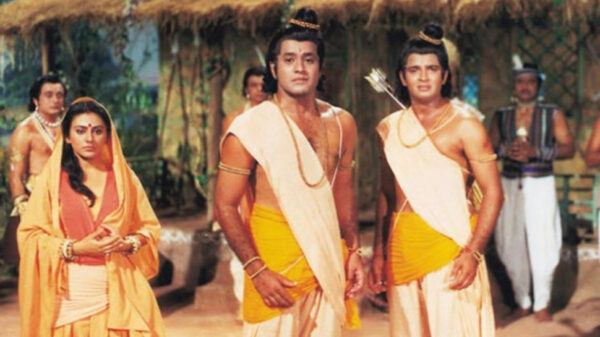 Ramanand Sagar's Ramayan was first telecasted in 1987 and at that time also it was loved by viewers and this time again, people have showered their love and appreciation with open heart. Many Twitter users thanked Ramanand Sagar for bringing Ramayan on the small screen and here are some of the selected tweets:
#1
The Nation will always be indebted to Ramanand Sagar for enriching our life with this great #RAMAYAN

Thank you @DDNation for great memories and life learning lessons🙏🙏#UttarRamayanfinale pic.twitter.com/BKyGbGPipC

— K. Ankit Kumar அன்கிட் குமார் (@ankit_kalkotwar) May 2, 2020
#2
No VFX!
No Six pack abs Heroes!
No tattooed Artist!

Still #Ramayana has just hit a world record of viewership in this digital era.

Thank you #ramanandsagar & @DDNational #MorePowerToYou
#जय_श्री_राम #RamayanOnDDNational pic.twitter.com/fbi1bIUgTm

— CK Tiwari (@imcktiwari) May 2, 2020
#3
#Ramanandsagar Man Behind Creating History on Indian Television and Creating RAMAYAN Masterpiece..Thankyou So Much Sir..!! pic.twitter.com/nFg05jYrki

— हर्षल हिंदू (Logout Corono) 🇮🇳 (@harshalhindu) May 2, 2020
#4
Jai Jai Narayana
Thank you Ramanand Sagar for directing this epic.. It was great to relieve the child memories once again.
Jai Shree Ram! 🙏🙏#UttarRamayanfinale#ThankYouRamayan #जय_श्री_राम #AskArun #Sita #Ramayana pic.twitter.com/sTv018UCqm

— TJ (@IamTarunJoshii) May 2, 2020
#5
Just an appreciation tweet for a legendary singer, music composer and lyricist Mr. Ravindra Jain . Sir , you truly made #Ramayana More beautiful with your Voice also thanks to all cast and #RamanandSagar ji for this epic 🙏 #जय_श्री_राम pic.twitter.com/lpodTIlez0

— SelfIsolated Saraswat (@jr_saraswat) May 2, 2020
#6
As #Ramayana comes to an end today, let us take a moment to thank the genius of #RamanandSagar,the man who brought to life our greatest epic.

Despite attempts to get it off air,there was something about the show,that it became so popular.Truly blessed by the gods.

जय श्री राम l pic.twitter.com/NBk8Rlg9nS

— Ajay Kashyap (@AjayKashyap_) May 2, 2020
#7
#Ramayan is not a story it's a glory of lessons in life like, Trust, Faith, Compromise, Respect, Emotions, Behaviour, Mutual Understanding and "True Love", we can learn everything from here.
Thanks #RamanandSagar and team for bringing the memories back.#JaiShriRam pic.twitter.com/fp20rcigQx

— Mohit Gour. (@MohitGour24) May 2, 2020
#8
This lockdown has been very productive for me.

I found my inner self in these days. Thanks to #Ramayan.

Will always be grateful to #RamanandSagar and his cast & crew for blessing us with their work.#UttarRamayan #UttarRamayanfinale #AskArun #ThankYouRamayan #जय_श्री_राम pic.twitter.com/VIxcGLRUYs

— हर्ष श्रीवास्तव (@HSrivastava186) May 2, 2020
#9
What a lovely show #UttarRamayan #RamanandSagar hats of to the team who made this show successfull even when technology wasn't developed. Everything was so real. pic.twitter.com/qs1aEFqAdC

— हर्षल हिंदू (Logout Corono) 🇮🇳 (@harshalhindu) May 2, 2020
#10
This is one of the best episodes of #Ramayana & most heart touching&emotional moment😢 This is where kids , adults , legends basically everyone cried😭 hats off to #RamanandSagar Ji..
#LuvKush #RamayanSetsWorldRecord
जय श्री राम 🙏 pic.twitter.com/xEQNVV8mFh

— Shubham (@proud_CA_soon) May 2, 2020
#11
Watching #Ramayana with family, Thank you for teaching life lessons and rejuvenating our generation again with your blessings. This will be missed#JaiShriRam
Feels as if Satyug is here,
#Uttarramayanfinale #जय_श्री_राम #ThankuDDforRamayan TY Sagar arts and #RamanandSagar pic.twitter.com/xwkryvrhcY

— Nikhil Ladha. (@nick_aquacool) May 2, 2020
#12
If you cried watching Maa Sita's final goodbye, believe that she sacrificed herself to teach us mortals to respect and protect the dignity of all women, everywhere. Let this be a lesson for all generations alive today. 🙏 #UttarRamayanfinale pic.twitter.com/6B4p1PXROd

— Anjali B. (@TheWayfarerSoul) May 2, 2020
#13
No one in our history has sacrificed as much as Maa #Sita did.
The True epitome of feminine power in human form who has enlightened all the generations to respect and adore women as they are.
Jai Sita Maa 🙏#Ramayan #UttarRamayan pic.twitter.com/eAfPvSD1VW

— Rahul Dogra (@rahulsimpact) May 2, 2020
#14
This moment has a separate fanbase 😭😭 ❤❤#Ramayana #RamayanOnDDNational #UttarRamayan pic.twitter.com/lFM7WgAfoI

— sharmaji ka ladka (@chotesharmajii) May 2, 2020
#15
One last time, one last episode#Ramayana joined the all the family members together and gave us many lessons

We d generation are quite lucky 🙌
Next generation will miss watching #Ramayana on DD national

Gonna miss this so bad 😭

Thanks to #Ramananadsagarji 🙏 pic.twitter.com/8XcLxsUnfH

— Shikha Sharma (@ShikhaS41456582) May 2, 2020
It is quite painful to realise that the show has ended now as watching it was the best thing that happened during the lockdown! A big salute and thanks to all the Ramayan team!