Bollywood & TV
Varun Loved A Meme On Anushka So Funny That He Couldn't Stop Himself From Sharing. Even She Replied
There is no denying the fact that Varun Dhawan and Anushka Sharma starrer "Sui Dhaaga" is one of the most talked about movies on social media and all the credit for the same goes to creative meme makers.
Needless to say, Anushka has always been a favourite of trollers but ever since the trailer of "Sui Dhaaga" has been released, she has become a preferred choice of meme makers too who leave no stone unturned in imagining her everywhere; yes, just everywhere!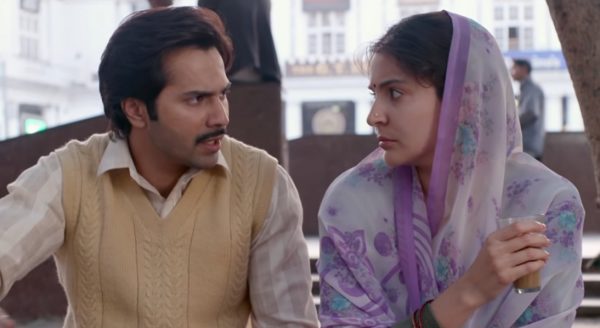 It's the story of a small town Indian couple and their dreams. Varun Dhawan has played the character of Mauji while his wife Mamta is portrayed by Anushka. One day when she sees her husband getting insulted at his employer's hands, she motivates him for doing something on his own. The flick shows how the couple faces all the problems and attains victory at the end.
The movie is slated to hit theatres on 28th September this year and it's indeed good for makers as well as actors that the film is getting promoted for free, thanks to a variety of hilarious memes that are doing rounds on social media, especially Twitter and Instagram.
Check out some of the funny tweets:
#1
Anushka trying to escape from her memes 😂😂 @AnushkaSharma pic.twitter.com/JlePa6uuFd

— Gutthi (@AapKiGutthi) August 25, 2018
#2
— Global Guruji (@Globalgurujii) August 21, 2018
#3
This is true love,❤❤#Respect #AnushkaSharma #ViratKohli pic.twitter.com/l8Frvof4bV

— Mr. BSF (@Mr__BSF) August 23, 2018
#4
To the next level @AnushkaSharma 😂😂 pic.twitter.com/p0T2cVquD8

— Babaji Ka Thullu (@BabajiKaThullu4) August 23, 2018
#5
The latest Anushka Sharma memes are EVERYTHING! 🤣 pic.twitter.com/vzTxxLm6MI

— Vishaka 💫 (@AbeyGetLost) August 19, 2018
#6
Anushka sharma after checking all the memes on her. pic.twitter.com/3qb5hQUA53

— Mask ishan (@Mr_LoLwa) August 22, 2018
#7
Somebody please stop her. She's everywhere 😂😂 @AnushkaSharma pic.twitter.com/kEI2u16Vfy

— Gutthi (@AapKiGutthi) August 25, 2018
#8
So Anushka Sharma's face in Sui Dhaaga's trailer has become a legit meme.
I don't think I've laughed this hard in a long time. #Ronalisa pic.twitter.com/dIKUzN0rKB

— Zainab Sikander (@zainabsikander) August 20, 2018
#9
RT when you see it #India #Memes #MondayMotivation #AnushkaSharma #SuiDhaaga pic.twitter.com/5EZzsLK08k

— Robin Jagal (@robinjagal) August 20, 2018
#10
Pic 1 reaction when my followers increase to 28 from 27

Pic2 reaction when my followers back to 27#AnushkaSharma #anushkameme pic.twitter.com/zG1aIoeXJO

— Niranjan Hire (@niranjan_hire) August 30, 2018
These are just drops from the ocean but there was one tweet that grabbed the attention of even Varun Dhawan.
Check out the tweet:
Kya dushmani hai Anushka se 😭 pic.twitter.com/D3mEyaX0zd

— Suhavi (@brandonfIynn) August 28, 2018
Click here to watch it directly on Twitter
Varun saw the tweet and couldn't stop himself from reacting on it, "#MEMESkirani #mamta hhahaha"
#MEMESkirani #mamta hhahaha https://t.co/vtaLSUf1lP

— Varun MAUJI Dhawan (@Varun_dvn) August 29, 2018
It's creditable on the part of Anushka that instead of getting angry or upset, she took all the trolling sportingly.
Here's what she responded on Varun's tweet, "😆😆👏 superbbbb !!"
😆😆👏 superbbbb !! https://t.co/bwuq4p1hwT

— Anushka Sharma (@AnushkaSharma) August 29, 2018
Let's hope that the movie entertains audience too the same way as these memes are doing!
Share Your Views In Comments Below