Humour
Video Of Bengali Bride Challenging Wedding Ritual Goes Viral. People Are Praising Her.
Across the globe we have many traditions and customs that we follow, without even knowing why. These norms are never questioned and remains a strict part of our culture throughout.
Now, recently a video is going viral for obvious reasons. In that video a newly wed bride can be seen refusing to abide by the rules of Hindu traditions.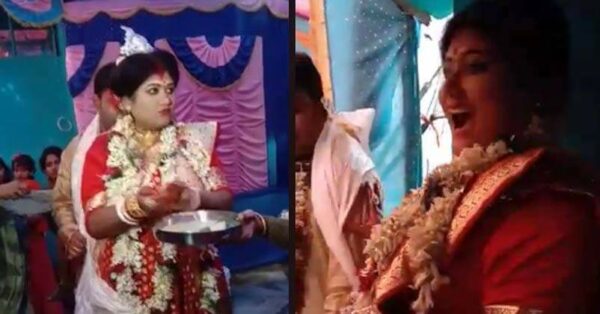 In Hindu marriage ceremonies, there is a tradition known as Kanakanjali, where the bride is suppose to repay her parents' debt by throwing some rice, before leaving for her in laws' house.
This bride is brave enough to defy that. When asked by the relatives to do so, she says that no one can ever repay their parents' debts.She leaves her parents' home smiling and promises to return whenever she will feel like coming.
This statement by the bride has been applauded by all. Everyone agreed with her honest statement and praised her heartfelt opinion on customs.
#1

#2

#3

#4

#5

#6

#7

#8
So, what do you think? Are you also with her on this? Share with us.
Share Your Views In Comments Below