Entertainment
Video Of Boy Dancing With His Teachers To SRK Songs Is The Perfect Women's Day Tribute We Need
It's International Women's Day today, and people around the world are offering tributes to the women who have made a difference in their lives. But this is unique, and struck a chord with us.
Our teachers form an integral aspect of our lives, especially since without them, our formative years would be incomplete. From correcting us when we're wrong to applauding us when we shine, our teachers hold our hands every step of the way.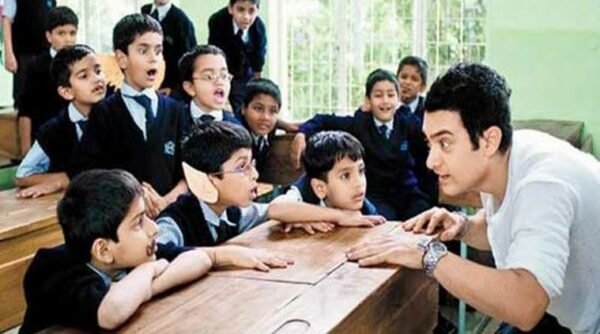 Yet, it's only on one day of the year when we actually offer a tribute to our teachers – Teachers' Day. But clearly, this boy knew that his teacher deserved to be treated in a special way every single day of the year.
A video has recently gone viral on the internet, and for all the right reasons. In the video, a young boy can be seen dancing to SRK songs with his teachers.
From what we can make out, it is their farewell, and the boy decided to mark the occasion by dancing with his teachers and showing them what they really mean to him.
Most of the teachers in the video are female, and are surrounded by students. This boy seems to be dancing to "Tujh mein rab dikh ta hai" from SRK's Rab Ne Bana Di Jodi.
Whoa, this video just served as a massive throwback to my own farewell and I'm not ashamed to admit that I almost teared up a little. Check it out here:
Via Whatsapp. God knows frm where in India, but apparently a 12th standard student dancing at his class's farewell and saluting his school teachers. Lovely moment when a teacher joins in the dance. Took away all my stress of the day! pic.twitter.com/ewogwLr3Uj

— Sonal Kalra (@sonalkalra) March 7, 2019
And Twitterati is loving it:
#1
Really nyc dance i also miss my school days i think school days better than clg days

— Ayush Solanki (@AyushSo20593391) March 8, 2019
#2
Already viral in Fb !! This boy should now get a tag of #NationalCrush !! 😊😊

— Shivani Mahajan (@Shivani9mahajan) March 7, 2019
#3
Beautiful. It brought out the SMILES captive in me.

— Salman Rashid (@odysseuslahori) March 8, 2019
#4
I cried ! There so much madness on social media that these simple warm videos make u emotional! God bless them

— jagmeet singh (@jagmeet81) March 8, 2019
#5
Seriously Mam This Is A
Stress Buster Video .. 😍😍Reminded Me Of My Engg Days..
See The Boy Dancing First Touched Feet Of His Teachers .. That's The SANSKAR Of An Indian & Again The Teacher Dancing With The Boy Shows A Why "Guru Devo Bhava " Still Intact ..
Proud To Be Indian

— [email protected] N Only🇮🇳 (@DareDevilAnupam) March 8, 2019
This is adorable. What do you think?
Share Your Views In Comments Below