Entertainment
Video Of BSF Soldier Singing 'Sandese Aate Hai' Goes Viral, It Is Winning Hearts All Over
If you ask me, one of the most memorable films of my childhood was Border. If anything, Sunny Deol should be proud of being a part of such a film which to say the least, is a landmark movie in Indian cinema.
Do you remember the song from Border, "Sandese Aate Hai"? The very thought of the film is enough to give me goosebumps.
I was quite young when the film came out, and all that stayed with me was this song. Every time the song came on TV, I would smile and hum along. Songs come and go, but these memories remain.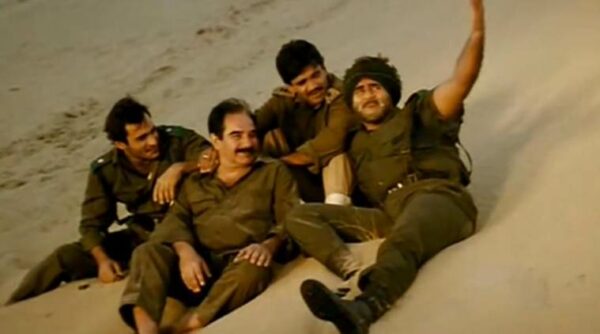 Think about the army guys on duty. They spend their days away from their loved ones, braving the harsh conditions, and for what? So that you may sleep peacefully at night!
You know, it's not just the song that strikes a chord, it's the emotions hidden behind it. The harsh reality, conveyed through a soul stirring melody.
"Sandese Aate Hain
Humein Tadpaate Hain
To Chitthi Aati Hai
To Poochh Jaati Hai
Ke Ghar Kab Aaoge
Ke Ghar Kab Aaoge
Likho Kab Aaoge
Ki Tum Bin Ye Ghar Soona Soona Hai"
Now, a video of BSF soldier singing the song has gone viral.
मैं एक दिन आऊंगा……जय हिंद🇮🇳
Awesome voice of the @BSF_India solider.#FridayFeeling @gauravcsawant @majorgauravarya @DuttYogi @SunielVShetty @iamsunnydeol @TheSatishDua @atahasnain53 @AdityaRajKaul pic.twitter.com/YiXOlZowW8

— Anita Chauhan (@anita_chauhan80) January 11, 2019
It is not just his voice that has us mesmerized. It is the feeling, the sentiment hiding in his voice, and those listening to him sing which has hit us right in the heart.
And we aren't the only ones. Check out how Twitter reacted:
1.
Legend doesn't need any caption @BSF_India Salute to you sir

— Budania (@kulkuldeep143) January 12, 2019
2.
Wah!

— Lt Gen Satish Dua🇮🇳 (@TheSatishDua) January 11, 2019
3.
i got goosebump while listening to him…so beautifully he sang that song..

— Sunil Kumar Nayak (@fabsunil) January 12, 2019
4.
The other & better side of soldier….
The song itself was ahead of its times in late 90's…well sung.
Jai Hind 🇮🇳🇮🇳🇮🇳🇮🇳

— reachaj (@reachaj1) January 11, 2019
5.
Lovely. Wish you all lot many happy times. All forces

— Sarita Naswa (@NaswaSarita) January 11, 2019
6.
Proud of you sir. BSF jai jawans.
U people r the real heros of this nation. What a song I am in tears.

— gangarahul (@gangarahul) January 13, 2019
7.
जय हिंद साथियों जरूर आना और मैडम जी आप भी आना

— Chetan chouksey (@chetan_chouksey) January 11, 2019
8.
Jawans sacrificing their everything for us, proud of you sir. But people of this country makes more popular of a movie trailer than ur performance. Ashamed. We love you INDIAN ARMY. BSF we salute you pic.twitter.com/Vo9lvWM9GZ

— gangarahul (@gangarahul) January 13, 2019
9.
क्या बात है.. जियो मेरे शेर… Jai Hind.. 🇮🇳

— CHANDRASINH 🌜🦁 (@dhadhal) January 12, 2019
10.
He would be the TRUE one and his co brothers to have FELT each words they sang! Vande Mataram!

— Venky (@Venky3812) January 11, 2019
We feel the same way. What about you?
Share Your Views In Comments Below