Entertainment
Video Of SRK Hugging His Differently Abled Fan Goes Viral. Fans Are Loving It.
Bollywood superstar Shah Rukh Khan enjoys super stardom all over the world, even according to BBC, he is the most popular actor on earth. He has a superb global fanbase including international icons like DJ Snake and Chris Martin. For his fans and followers SRK is an emotion and not just their favorite actor.
Recently, during the Indian Premier League (IPL) match in Kolkata's Eden Gardens, between Sun Risers Hyderabad and Kolkata Knight Riders, a video went viral where King Khan is hugging one of his special fan. King Khan was there along with actress and co-owner of KKR, Juhi Chawla, cheering his team towards victory.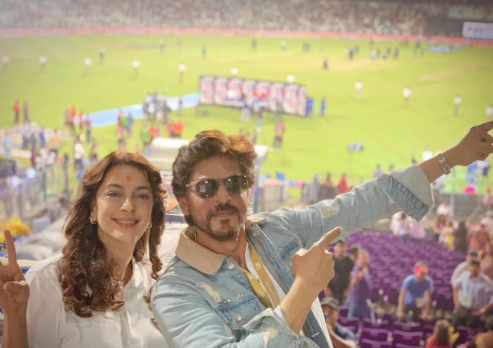 Here he met a differently abled fan, Harshul Goenka who happens to be his fan and a great cricket enthusiast as well. King Khan made a small appearance on the big screen, where he was giving his enthusiastic and happy fan a sweet kiss on his forehead. Even in that video, SRK's happy fan was heard saying 'I Love You' multiple times.
King Khan @iamsrk with our special Knight Rider, @harshulgoenka1 after an amazing win at Eden Gardens! 🤩#KKRvSRH #KKRHaiTaiyaar 💜 pic.twitter.com/FSlqCXJJ0u

— KolkataKnightRiders (@KKRiders) March 24, 2019
Shah Rukh Khan's gesture won hearts all over. His fans are loving it.
According to sources, last year also Harshul was seen cheering for his favorite team when SRK himself met him and also clicked pictures with him. SRK Universe donates Rs 5000 towards Harshul, everytime his favorite team wins. Even cricketer Dinesh Karthik donated Rs 1 lakh to him, earlier.
#1
Such an angel our Shah is ♥️

Makes me so emotional seeing his meetings with Harsh! May Allah bless our special Knight Rider and bless our King Khan always 💕 pic.twitter.com/bPKIcRS2ev

— Samina ✨ (@SRKsSamina) March 24, 2019
#2
This kind of love…😭😭😭 Shah you are truly an inspiration…n this is why you are SHAH RUKH KHAN ❤️❤️ @iamsrk sir….ye Dekh k…sar Aapne aap jhuk jata hai izzat mein..😭😭😭😭😭😭

— Aishwaryya sinha (@Aishwaryya17992) March 25, 2019
#3
Such an emotional video again of SRK and Harsh❤️

— Sanjana Paul (@sanjanapaul28) March 24, 2019
#4
Lots of love and hugs to srk the king of Bollywood. Respect 😍😎

— SRINATH (@SRINATH1012) March 24, 2019
#5
This is @iamsrk king khan…humara shaan,humara jaan😘😘😘😘😘

— Chowkidar Abhishek Bhattacharjee (@Abhishe60302449) March 24, 2019
#6
This is a golden hearted man

— Arkab Das (@ArkabDas) March 24, 2019
#7
Respect the King🙌❤

— 🇮🇳Sauraver AK🇮🇳 (@Sauraver1) March 24, 2019
#8
If you want to learn what is insaniyat learn it from srk #ab_ki_baar_kkr_ki_sarkar

— all about cricket (@layek_sohan) March 25, 2019
#9
So nice to see it– keep it up SRK

— shahid (@shahidomer5) March 25, 2019
#10
Srk is king of harts thats way his king of the world he know how to win people harts love you srk forever

— Satish (@Satish10066145) March 25, 2019
Isn't he just perfect?
Share Your Views In Comments Below