There is no denying the fact that marriage is quite an important moment of our lives and equal importance should be given to the first night as well. Nobody will like to do anything which spoil these special moments that will never come again but there are few people who indulge in doing things which seem completely inappropriate for the moment.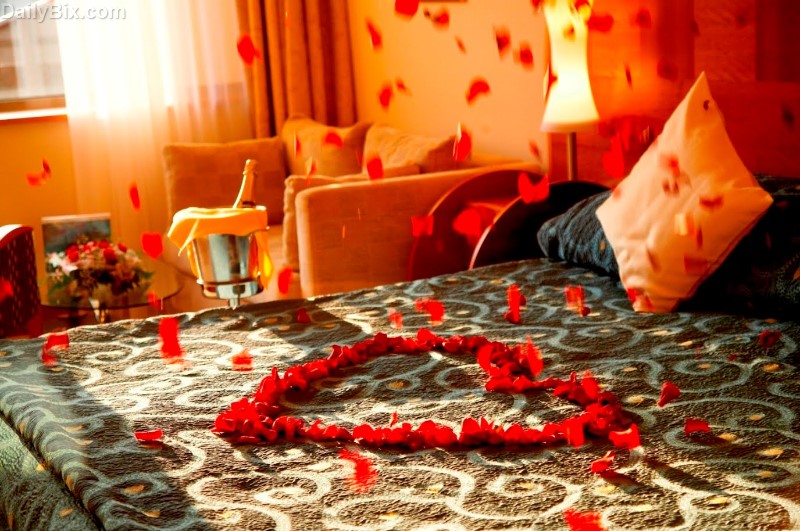 While majority of people plan to make these moments more special by using unique concepts in their marriage or making their partner happy with precious gifts, several others spoil the fun by drinking too much liquor or by behaving in a rude manner with some guest.
However, a photo is going viral on the Internet in which the groom is seen working on his desktop computer while the bride is waiting for him sitting on the bed. Both of them are dressed in traditional attire and the bed is also decorated with flowers, perfectly ready for the couple to enjoy their first night. Undoubtedly, the bride is not in a good mood because of the antics of her hubby and social media users have also lost its nerves over the behaviour of the groom.
First of all, take a look at the viral pic: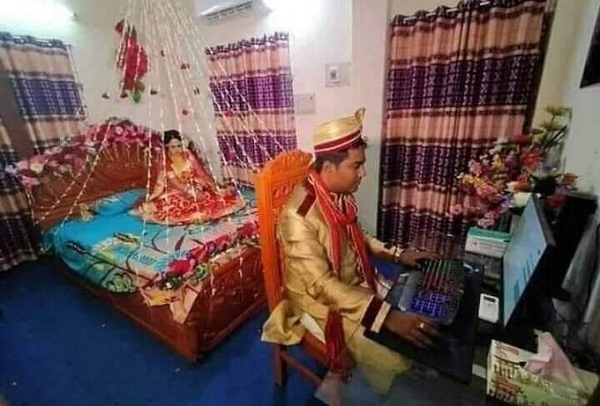 The photo has been titled as "Hold on babe" and people are making various memes and jokes on it. Check out some of the selected reactions:
#1
Hold on babe… Let me check any NEET update first.. pic.twitter.com/oPfHQnlpjk

— Aditya Singh (@AdityaSynthase) February 11, 2021
#2
hold on babe first lemme watch a youtube tutorial on suhaagraat pic.twitter.com/IIzyUoNPTi

— isy (@isynnr) February 9, 2021
#3
https://twitter.com/klyxni/status/1359218803507253249
#4
Hold on babe….let me update the relationship status on SM….. And make friends jealous……😂😂🤓 https://t.co/uD29YW5sPw

— ऋतु (@drreetusharma) February 10, 2021
#5
Hold on Babe, let me check on the status of those pills I ordered pic.twitter.com/6jFega3Xoc

— Rohan (@rohanmonteiro) February 10, 2021
#6
Hold on babe let me check the stock market pic.twitter.com/keBADlNaS2

— Rius (@yourboisad) February 10, 2021
#7
"Hold On Babe" Let me post a meme. pic.twitter.com/EuYvpcziAg

— 𝑅𝒶𝓋𝒾 𝒟𝒶𝓈 // 🍁 (@DaSarcastic) February 10, 2021
#8
Hold on babe, lemme delete my account on dating apps. pic.twitter.com/BbMHMEodAA

— Shreosi Biswas (@shreosi_biswas) February 11, 2021
#9
https://twitter.com/slut4spence/status/1359204319925444608
#10
Hold on babe, can you believe Kangana just compared herself to Meryl Streep! pic.twitter.com/VrfZKQBLlm

— Prashant (@prshnt_here) February 9, 2021
#11
hold on babe , let me delete my search history pic.twitter.com/PTCtOK2vya

— lee (@shinigamihelloh) February 9, 2021
#12
https://twitter.com/clayytonbiggsby/status/1359154583671615502
#13
Hold on babe, let me post our first night DP.
🤣🤣😂😂#jokes pic.twitter.com/EKeSuLYMDo

— jitendra singh (@jitendra161) February 11, 2021
#14
"hold on babe let me check my twitter notifications first" pic.twitter.com/Fz9qjDrKj9

— paneer (@albertkamuh) February 9, 2021
#15
"Hold on babe. I have a deadline" https://t.co/ZlG89XQbwF

— Nanuma Subba (@asewaro) February 9, 2021
This is not the first time that such a thing has happened, last year a bride was seen working on her laptop while sitting on the stage dressed traditionally with her groom looking bewildered. While some praised the bride for her dedication towards her company, few slammed the company for overburdening the employee so much that she was not able to enjoy her own marriage.
Jokes apart, reaction of bride once the groom finished his work on computer and came to her on the bed would surely have been pretty interesting!
By the way, what caption will you give for this "hold on babe" photo? Do share with us.