Sports
Viral Video Of Hardik Pandya Allegedly Abusing Rohit Sharma Sets Twitter On Fire
Hardik Pandya, the Indian all-rounder is certainly enjoying his time in the middle of the field and he is not just scoring runs at a good rate but tasting success with the ball as well. He made a great comeback in the IPL 2022 after remaining away from cricket for a long time due to injury and fitness issues.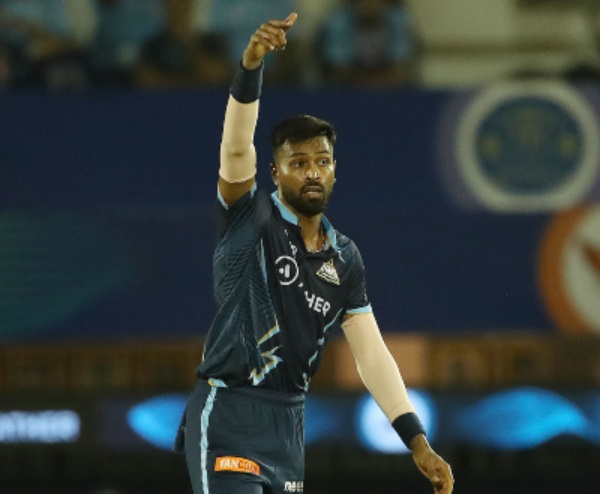 Hardik Pandya led the new IPL team Gujarat Titans in the tournament and made the team win its first IPL title in its debut season and then in the series against South Africa and Ireland, he once again performed well. In the first T20I against England, Hardik Pandya shined with both bat and ball and won the Player of the Match award for his superb performance. He scored 51 runs and took four wickets in the match and with this, he became the first Indian to score a fifty and take four wickets in an international match.
However, the Gujarat cricketer is in the centre of controversy at the moment as a video clip is going viral from the second T20I in which the stump mic caught Pandya Jr. using abusive language for a teammate. The clip gives a general view of the Edgbaston cricket ground and the abusive words of Hardik Pandya are heard.
Here is the video:
Meanwhile
Paper captain getting abused by own players

When I'm bowling, listen to me & not to that motherf….r(Rohit)#HardikAbusedRohit
pic.twitter.com/HC7Fgz1gXf

— Samir Shaikh 🇮🇳 (@Samir68681627) July 10, 2022
Click to watch this video directly on Twitter
Though it can't be said clearly as to whom Hardik Pandya is talking to, soon #HardikAbusedRohit started trending on the micro-blogging site Twitter and people expressed their opinion in this matter. Hardik Pandya got slammed left and right as Rohit Sharma, the skipper of the Indian cricket team enjoys a huge fan following and whoever Hardik Pandya may have addressed yet his behaviour and mannerism are certainly not acceptable.
Here are some selected reactions:
Dravid to Indian players:#HardikAbusedRohit pic.twitter.com/eYJ5rWiUUS

— Agent Chai (@1GingerTea) July 10, 2022
After listening hardik pandya clip😑#हार्दिक_पांड्या_भडवा_हैं pic.twitter.com/Em7g3qtq9X

— A.J. (@beingabhi2712) July 10, 2022
Hardik pandya after seeing this trends#HardikAbusedRohit #हार्दिक_पांड्या_भडवा_हैं pic.twitter.com/f053LoKSt0

— @vkgoat18 (@goat18fc) July 10, 2022
#HardikAbusedRohit : Just by winning one ipl trophy hardik pandya is abusing the man who is five times winner in ipl and playing for india since 2007 and by the way he has shown this before with his another senior shami . pic.twitter.com/0zRnYnINwA

— ishwar dutta (@editor_Ishwar) July 10, 2022
Scenes After Yesterday's Match#INDvsENG#हार्दिक_पांड्या_भडवा_हैं pic.twitter.com/f3t4qcXZx6

— Gay Shah 😎😎 (@gayshah_popa) July 10, 2022
Meanwhile cricket lovers
#HardikAbusedRohit pic.twitter.com/m5dik1Umn9

— SupDup (@JokerSupra) July 10, 2022
#HardikAbusedRohit
During the #T20 Match over DRS
And #RohitSharma fans started trend #हार्दिक_पांड्या_भडवा_हैं

Now #HardikPandya be like:- pic.twitter.com/blAyv68xTi

— Green Earth (@OnlySinghIndian) July 11, 2022
After #HardikAbusedRohit

BCCI be like 👇 pic.twitter.com/CcG3uHhQ61

— Anjali  (@__Anjali____) July 11, 2022
hardik pandya abusing Rohit Sharma incident is a a true example of how BCCI is inefficient to control this mf attitude @hardikpandya7#HardikAbusedRohitpic.twitter.com/u8iCP4jEVh

— HITMAN 🌹 LOVER 🌹PANT (@ILoveYouJanu69) July 10, 2022
This is your okat

#हार्दिक_पांड्या_भडवा_हैं pic.twitter.com/jBNxlGEPYv

— Gaurav (@GAURAVS13255733) July 11, 2022
This incident of hardik pandya openly questioning & abusing Rohit Sharma shows that Even players don't rate the new captain #HardikAbusedRohit

— Yashvi (@BreatheKohli) July 10, 2022
However, there were some online users who were of the opinion that Hardik Pandya abused Virat Kohli; here is the tweet and reactions related to that:
A fielder was looking at Virat Kohli when he was dancing at Mid on .

Hardik Pandya to that fielder ;
"Mere time pe mujhe dekho, maa Chu**ane gayaa wo kya bol rhaa hai ."

It's an absolute shame that these Chhaprii like Pandya is playing for our nation.#हार्दिक_पांड्या_भडवा_हैं pic.twitter.com/VZCOp1dCFc

— 𝐇𝐲𝐝𝐫𝐨𝐠𝐞𝐧 (@Hydrogen_45) July 10, 2022
Kohli is the star of our country and no Chapri like Hardik can abuse him this way #हार्दिक_पांड्या_भडवा_हैं pic.twitter.com/jzrkxTJgjC

— Kaygee18 (@Kaygee1803) July 10, 2022
Yes Kohli is not scoring runs for Rohit
Yes Kohli is scoring ducks
Yes Kohli is like a Black shadow in middle order
Yes Kohli is destroying the career of Hooda

But that doesn't mean Hardik Pandya should abuse Virat Kohli .

It's totally unacceptable.#हार्दिक_पांड्या_भडवा_हैं pic.twitter.com/tn9tKycXQo

— 𝐇𝐲𝐝𝐫𝐨𝐠𝐞𝐧 (@Hydrogen_45) July 10, 2022
Meanwhile Kohli who backed Hardik Pandya during 2017CT ,19 WC and 2021 WT20 pic.twitter.com/GIeVTmpoLc

— Uncertified Journalist (@JUncertified) July 10, 2022
On the other hand, there is one more story which is doing rounds. A video is going viral in which the senior sports journalist Vikrant Gupta is seen claiming that Hardik Pandya didn't abuse Rohit Sharma and as they were talking about DRS, Hardik told Rohit that he should listen to him when he (Pandya) is bowling and should not listen to someone else for whom Hardik used the abusive words.
Here is the video of Vikrant Gupta:
The Truth of Abusive Language By Hardik Pandya !! #हार्दिक_पांड्या_भडवा_हैं #HardikAbusedRohitpic.twitter.com/z7VZnrgwPT

— ᴘ ʀ ᴀ ᴛ ʜ ᴍ ᴇ s ʜ⁴⁵ (@45Fan_Prathmesh) July 10, 2022
Click to watch this video directly on Twitter
As far as the series is concerned, India has won the series by 2-1 as the hosts won the third and the final T20I by 17 runs. The match was played at Trent Bridge and the hosts went to bat first after winning the toss. England scored 215 runs at the loss of 7 wickets with the help of brilliant knocks of Dawid Malan (77 runs, 39 balls, 6 fours & 5 sixes) and Liam Livingstone (42 runs not out, 29 balls, 4 sixes). The Indian batters excluding Suryakumar Yadav found it difficult to score runs on bowling of the England bowlers and the Indian team managed to score only 198/9 in its 20 overs. SKY played a sensational innings of 117 runs for which he faced just 55 deliveries and his innings included 14 fours and 6 sixes; however, he wasn't able to save his team from losing the match.
Hardik Pandya, Bhuvneshwar Kumar, Ishan Kishan and Deepak Hooda were rested in the third T20I.
What is your take on this controversy? Share with us.
Share Your Views In Comments Below