Entertainment
Virat Is Paid Way More Than Dhoni. Check Out Revised Salary Of Cricketers In 2018
Needless to say, cricket is not just a sport but a religion in our country and there are countless people who adore and worship their favourite cricketers like Gods. In fact, it won't be wrong to say that several Indian cricketers are counted among the world's highest paid cricket players. At the same time, BCCI (Board of Cricket Control in India) is among the planet's richest cricketing boards and there is no wonder why cricketers are paid such high amounts.
Many people in India want to make a career in cricket and hence, the competition to make it to the final 11 is indeed cut-throat. Taking this into consideration, we must say that the players who have made it to the team actually deserve to be paid high because they work very hard for maintaining the required fitness level.
This year, the cricketers' pay structure has been revised by BCCI and the annual salary of Top 5 players has almost doubled up. Additionally, they have added a new category 'Grade A+' to 'Annual Player Contracts' and the players who play for India in all the three formats are kept in this category.
Top 5 cricketers Virat Kohli, Rohit Sharma, Shikhar Dhawan, Jasprit Bumrah and Bhuvneshwar Kumar have made it to Grade A+ and will be paid a whopping annual salary of Rs. 7 crore while MS Dhoni is in Grade A with the annual salary of Rs. 5 crore.
Here's the complete list:
Grade A+ Players: Annual Salary – ₹7 crore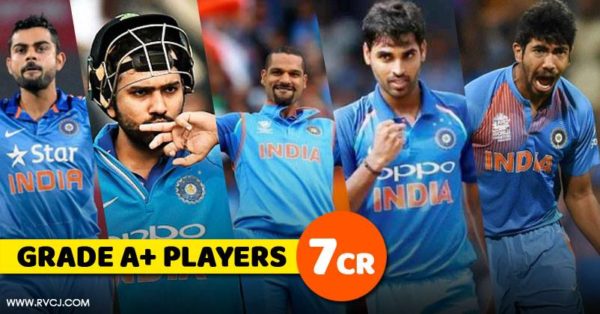 1. Virat Kohli
2. Rohit Sharma
3. Shikhar Dhawan
4. Bhuvneshwar Kumar
5. Jasprit Bumrah
Grade A Players: Annual Salary – ₹5 crore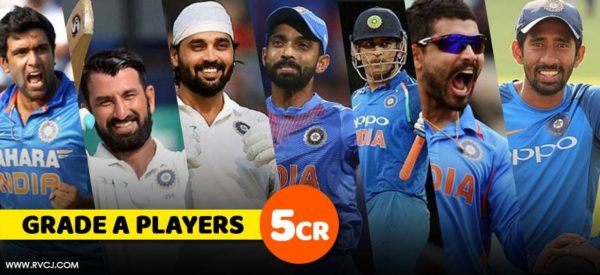 6. MS Dhoni
7. Ajinkya Rahane
8. Murali Vijay
9. Cheteshwar Pujara
10. Wriddhiman Saha
11. Ravichandran Ashwin
12. Ravindra Jadeja
Grade B Players: Annual Salary – ₹3 crore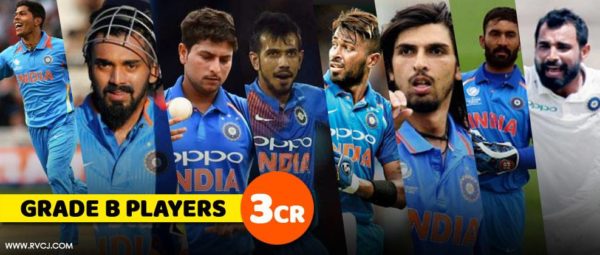 13. Umesh Yadav
14. KL Rahul
15. Kuldeep Yadav
16. Yuzvendra Chahal
17. Hardik Pandya
18. Ishant Sharma
19. Dinesh Karthik
20. Mohammed Shami
Grade C Players: Annual Salary – ₹1 crore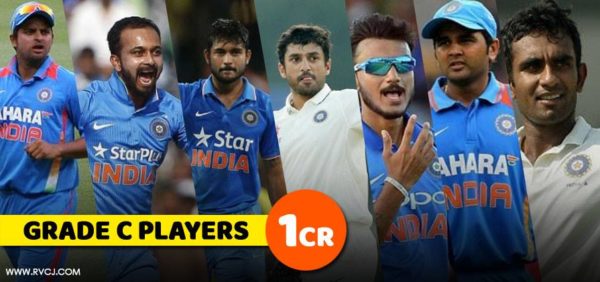 21. Suresh Raina
22. Kedar Jadhav
23. Manish Pandey
24. Karun Nair
25. Axar Patel
26. Parthiv Patel
27. Jayant Yadav
We congratulate all the cricketers for the significant increase in their annual salaries and hope that they will prove their worth.
Share Your Views In Comments Below