Sports
Virat Kohli Has A Hilarious Comment On Hardik Pandya's Latest Instagram Post. Even Hardik Replied
The Indian cricketer Hardik Pandya has been out of the Indian squad for quite some time now, earlier his injury kept him away from the cricket field and now when he was all set to show his skills in the IPL 2020, the coronavirus pandemic spoiled all the plans. Hardik who attracted huge controversy after appearing in Karan Johar's chat show Koffee With Karan is now a family man and he and his partner Natasa Stankovic are expecting a baby.
Recently, Hardik Pandya shared a photo on his Instagram account in which he is seen playing carom with his brother Krunal Pandya, Shubham Agarwal and Parth Dave.
Here is the photo: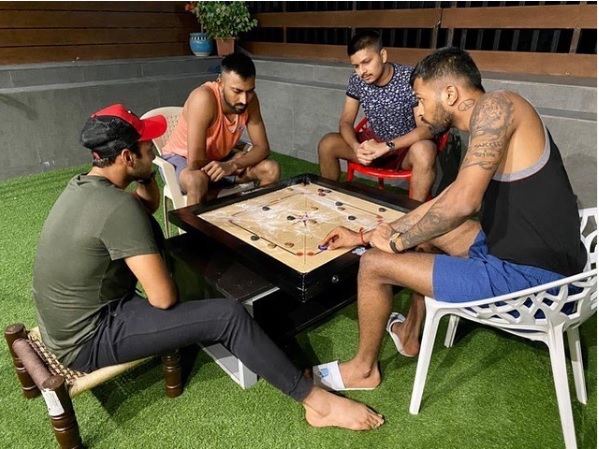 The caption that he wrote was, "Nothing like a great game of carrom with my brothers. Brings back a lot of memories #PandyaBrothers".

Check out the Instagram post:
However, there was something which was noticed by the Indian skipper Virat Kohli and he didn't fail to mention it in the comments. In the image, Hardik is seen ready to play his move but instead of focusing on the board, he is looking at his brother Krunal.
Virat wrote, "Waiting for your turn or trying to intimidate Krunal first? Haath board par aur aankh Krunal par (hands on board but eyes on Krunal)".

Hardik Pandya also responded to Virat's comment and wrote that he is trying to keep an eye on everyone so that no one cheats. His comment read, "hahaha bruh have to see no one cheats so keeping an eye".

The Pandya brothers were all set to play for Mumbai Indians in the IPL 2020 while Virat Kohli was supposed to lead the Royal Challengers Bangalore but the league got postponed due to the COVID-19 outbreak. Though the government has permitted the opening of stadiums, the entry of spectators is banned so even if the IPL 2020 takes place this year, there is very high probability that the matches will take place without spectators.