Sports
Virat Kohli Shares A Message For Critics After Being Targeted For Dhoni Revelation
Virat Kohli, the Indian cricketer, stirred a controversy once again by bringing up the matter of captaincy saga in the press conference which he attended after the India-Pakistan cricket match which India lost by 5 wickets.
Virat said that when he gave up his test captaincy, it was only former Indian skipper MS Dhoni who messaged him and no other player with whom he played messaged him despite the fact that many people have his number.
While Kohli gave up his T20I captaincy citing workload issues, he was pretty much interested in leading the team in ODIs and test matches but the Board of Control for Cricket in India (BCCI) had other plans and they removed him from ODI captaincy and appointed Rohit Sharma as new skipper. The statements which were made by Virat at that time made it clear that he had some issues with the board and the selectors. Later on, he also gave up his test captaincy after India lost the test series to South Africa and Virat Kohli was also slammed for his behaviour on the field during this series.
The "no one messaged" statement from Virat hasn't been received well by the former Indian cricketers as Sunil Gavaskar questioned what message Kohli wanted to receive and further asked whether he wished to get encouraged but for what because his chapter of captaincy was over. Sunil Gavaskar added that Virat Kohli should also have revealed the name of the cricketer from whom he wanted to receive messages otherwise it is difficult to get whom he is talking about.
After Sunil Gavaskar, former Indian cricketer Madan Lal has questioned the timing of this statement because the Indian team is playing in the Asia Cup 2022. Madan Lal says that it is great Virat has returned in form but the team is in the middle of the tournament and it has to play important matches for qualifying for the finals. While speaking on a show, Madan Lal says that if a person is in trouble, he has to work on it even if anyone calls or not.
Amidst criticism for his statement, Virat Kohli made a post on his Instagram story in which he wrote, "Notice the people who are happy for your happiness and sad for your sadness. They are the ones who deserve special places in your heart".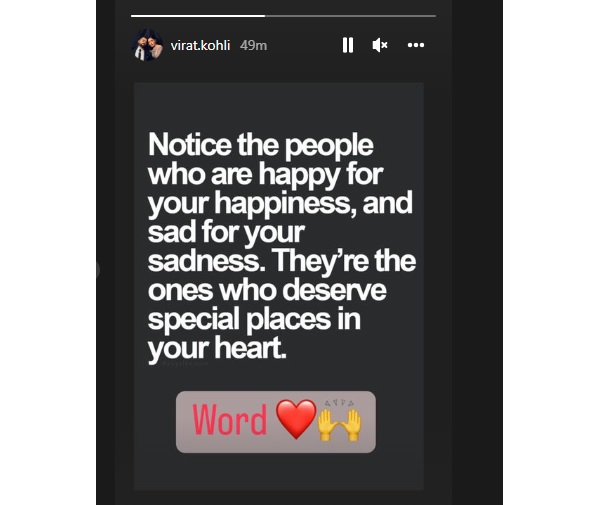 Virat Kohli was going through a lean patch for a long time and it won't be wrong to say that he received immense support from the team management, coach Rahul Dravid and skipper Rohit Sharma despite the fact that many former Indian cricketers openly demanded his ouster from the team.
What do you think of this whole episode? Let us know.
Share Your Views In Comments Below