Bollywood & TV
Virat Kohli Shares Beach Pic With Wife Anushka, Twitter Users Troll The Couple In The Funniest Way
The Indian cricket will be pretty high on confidence when they will face South Africa at home as they had a wonderful tour of West Indies. The Indian team won the test match series, T20I series and ODI series in West Indies and we are quite sure that they will like to repeat their performance against South Africa as well. The matches will start from September 15 and till then, the Indian team is enjoying their time with their families as they have got a two-week break from the board.
Anushka Sharma, the beautiful Bollywood actress and wife of Indian skipper Virat Kohli, was with her husband for quite some time during the West Indian tour. Many photos were shared by the couple in which they were seen together and along with other players of the team as well.
Recently, Virat Kohli posted one more photo in which he is seen with his wife Anushka and they both can be seen chilling and having a great time on the beach.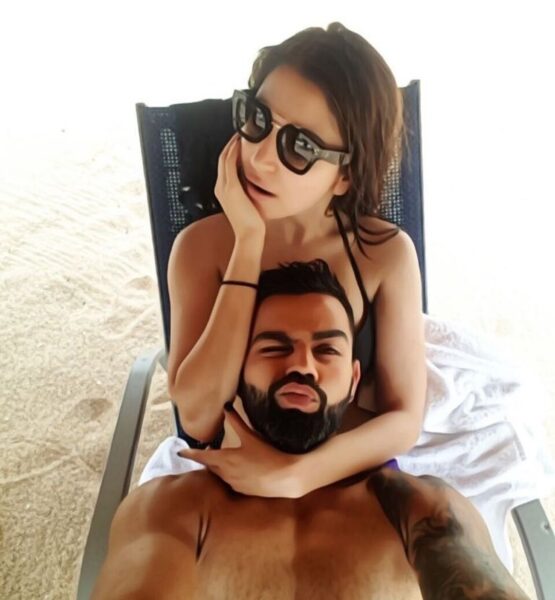 Virat shared it on the micro-blogging site Twitter with a heart emoji. Check out his tweet:
— Virat Kohli (@imVkohli) September 11, 2019
It is not known where they have clicked this photo but still the fans are going gaga over their favourite couple while some are also making funny comments such as despite being so rich, they don't have money to buy decent clothes whereas some held them responsible for the reason of textile slowdown.
Here are some of the selected reactions:
#1
Virat not wearing clothes is the reason for slowdown in Textile industry , stop Blaming the GOVT. #SayItLikeNirmalaTai

— Nеhr_who (@Nehr_who) September 11, 2019
#2
Batao yaar, Virat Kohli aur Anushka Sharma jaise crorepatiyon tak ke kapde utar gaye. Economic slowdown ka isse bada sign aur kya hoga?

— THE SKIN DOCTOR (@theskindoctor13) September 11, 2019
#3
chikoo bhai textiles industry mein slowdown chal raha hai, help our finance minister plz or we will #BoycottMillennials

— Rofl Gandhi 2.0 (@RoflGandhi_) September 11, 2019
#4
Look at these poor people, they have no clothes to wear.
If this is not economic slowdown then I don't know what it is!

— Chowkidar Nirav Modi (@niiravmodi) September 11, 2019
#5
अगर क्रिकेट में पैसे नहीं है तो हमारे गाँव आजाओ…
कुछ न कुछ जुगाड़ करके नौकरी दिला देंगे…
ढंग के कपड़े पहनो भाई

— Ordinary Person (@Ordinar1Person) September 11, 2019
#6
बहुत भयंकर मंदी आई हुई है भारत में आजकल
इनके कपड़े भी उत्तर गए ☺☺

— Pooja Tripaathi 🇮🇳 (@PoojaTripaathi) September 11, 2019
#7
Disha Patani : pic.twitter.com/gXCEmWGigr

— Harsh 2.0 (@imHarshThakur7) September 11, 2019
#8
A millennial couple explains through their lifestyle why Textile industry is going thru a slowdown..#NirmalaSitharaman 1
Millennials 0#SayItLikeNirmalaTai #BoycottMillennialshttps://t.co/jncQuZkLq0

— Vinay Kumar Dokania | विनय कुमार डोकानिया (@VinayDokania) September 11, 2019
#9
Bhai kapde kahan hai

— Moti Rajpurohit (viru) (@MotiRaj122) September 11, 2019
#10
Maine Rohit ko pakad liya hai, ab ye captain nhi ban payega pic.twitter.com/dvrdi9vAXs

— ☣SaŤaN☣ (@66Beelzebub) September 11, 2019
#11
Ben Stokes… Single Logo Par Kya Bit Rhi Hai 😂 😂

— Raghuveer Siyol45🇮🇳 (@SiyolRaghuveer) September 11, 2019
#12
This could be us
But mujhe Indian Textile Industry ka production km nahi krwana . pic.twitter.com/039GD9zRoM

— (درویش) दरवेश (@TwoOOTwo) September 11, 2019
#13
हर एक की बीबी को अपने हजबंड का गला दबाने का मन करता है । चाहे वो विराट की बीबी क्यो ना हो।
😜🏃‍♂️😛

— Sushildatta Shinde ℹ (@sushildatta) September 11, 2019
#14
Biwi se bachna mushkil hi nahi namumkin bhi hai😂😂

— सत्यसंकल्प (Satyasankalp) (@BeoharVikalp) September 11, 2019
There is no doubt that these two are giving us relationship goals big time. How did you find this pic of the couple? Let us know.
Share Your Views In Comments Below