Sports
Virat's Fans Target Wrong Nitin Menon After Kohli's Controversial Dismissal, Poor Man Reacts
The Indian cricket team has defeated Australia by 6 wickets in the second test match which was played at Arun Jaitley Stadium, New Delhi, and now India has taken an unassailable lead of 2-0 in the 4-match test series which is being played under the Border-Gavaskar Trophy 2023.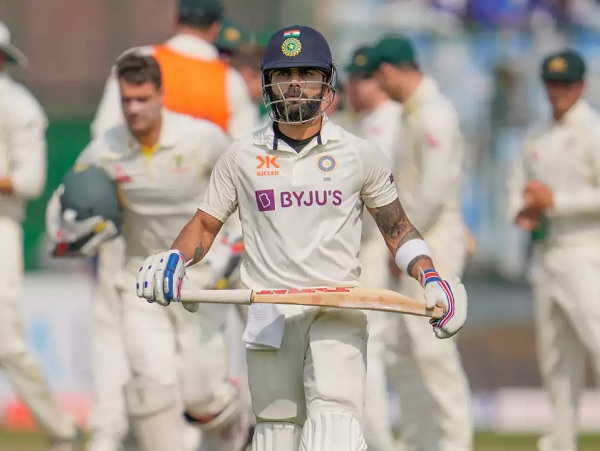 However, there was a moment when cricket fans and few former Indian cricketers lost their cool during the match and a person who had no association with the match was slammed and trolled mercilessly by social media users. We are talking about the controversial dismissal of former Indian skipper Virat Kohli in the first innings, the on-field umpire Nitin Menon gave him lbw out on the bowling of Matthew Kuhnemann but Virat went for a review as he was sure that the ball touched the bat as well. Even after watching many replays, the third umpire Richard Illingworth wasn't able to confirm whether the ball hit the bat first or the pad first and then he went for ball tracking which suggested that the ball would have brushed the outer side of the leg-stump. The decision of the on-field umpire was upheld by the third umpire and the Indian cricketer's frustration was clearly visible on his face as he was batting pretty well on the score of 44 runs.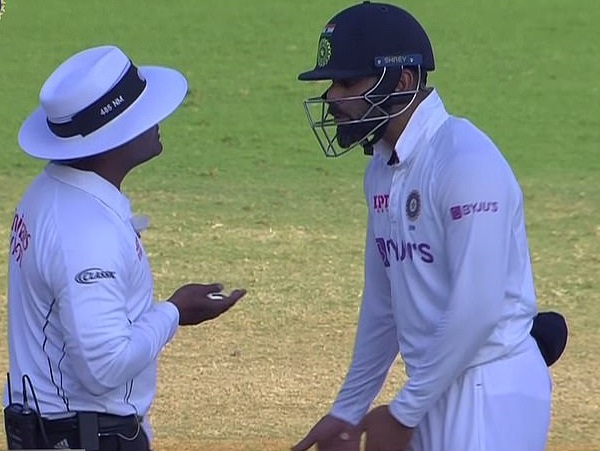 Many former Indian cricketers including Wasim Jaffer were unhappy with this decision as they felt that if there was no clear proof of ball hitting the pad first and if the bat was also involved, then the benefit of doubt should have been given to the batter.
Wasim Jaffer tweeted the photo of the incident with the caption, "That wasn't out to me. Too much doubt in there. #INDvAUS #ViratKohli"
That wasn't out to me. Too much doubt in there. #INDvAUS #ViratKohli pic.twitter.com/wrYGg1e1nT

— Wasim Jaffer (@WasimJaffer14) February 18, 2023
If we talk about the rules of the game, then in event of ball touching the bat and the pad simultaneously, the ball touched the bat first should be considered.
Well, the Indian social media users were very unhappy and angry with Nitin Menon for giving Virat Kohli out in the controversial manner and some of them started slamming him by making abusive comments on his Instagram account. However, the Instagram account on which netizens were making abusive comments was not of umpire Nitin Menon but of some other Nitin Menon and that other person had to make a post on his Instagram story in order to make people realize that he is not the on-field umpire who gave their favourite cricketer out.
The other Nitin Menon wrote on his Instagram story, "I am not the umpire Nitin Menon who gave Kohli out. Don't ruin my posts with abuses."
Here is the post: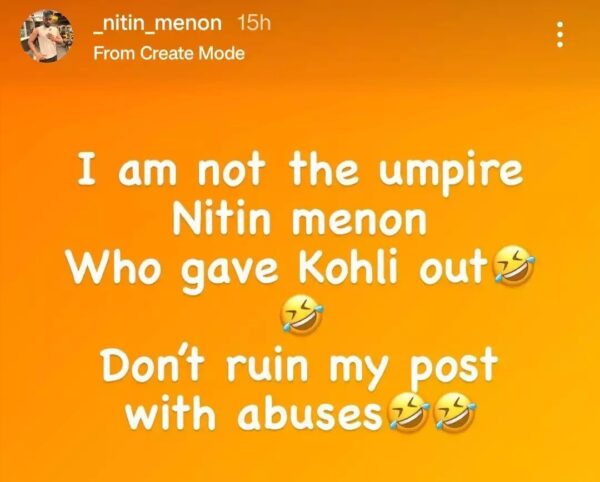 Poor man, we feel sorry for him!
Share Your Views In Comments Below