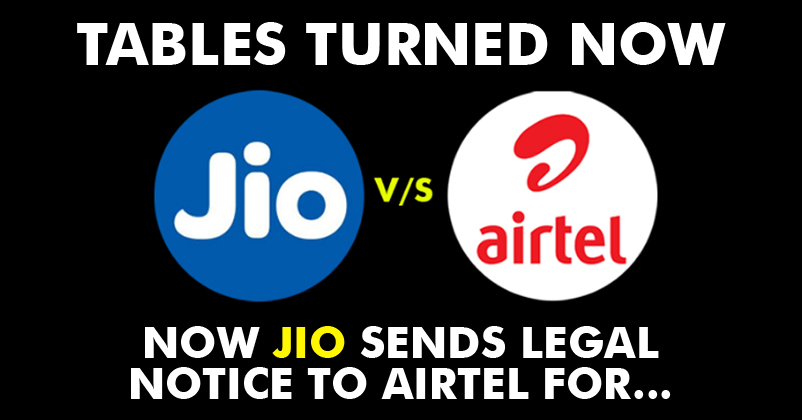 The intense war between Jio and Airtel just doesn't seem to end. After Airtel complained to TRAI about Jio's promotional offer, Jio thought of taking revenge.
Of late, Airtel has rolled out too many ads about the "Fastest" speed of its internet and Jio has a problem with the same.
Now, there are reports that Jio has lodged a complaint with ASCI i.e. Advertising Standards Council of India against Airtel's false claims. It has appealed to the Council to take action against the new ad of Airtel, in which in claims it is "Officially India's fastest network."
In the ad, Airtel has also cited Ookla LLC, the company which uses Speedtest (Popular speed testing app), for testing the speed of a particular network. It is said that in February, Airtel had got the "Fastest mobile carrier award" from Ookla on the basis of Speedtest results in Q3 and Q4 of 2016.
In the complaint, Jio stated that since Ookla isn't recognized by Department of Telecommunications or TRAI, the word "Officially" can't be used.
A spokesperson of Jio says,
"We are aware of the material flaw in Ookla Speedtest and have also raised it with them in the past. In spite of acknowledging this flaw, we are surprised that Ookla has gone ahead and released misleading results. We have initiated suitable actions at appropriate forums."
Jio believes that Airtel has played an important role in manipulating the results; further, it says that Ookla and Speedtest have decided the results on the basis of the award.
On the other hand, a spokesperson of Airtel said,
"Airtel has been rated as India's fastest mobile network by Ookla—the global leader in broadband testing and web-based network diagnostic applications. This is clearly mentioned in the ad. Ookla's findings are based on analysis of millions of internet speed tests logged on 'modern devices' by mobile customers across India using its popular Speedtest app. The results include all mobile tests, regardless of connection technology."
In Q2 and Q3, Ookla had given this award to Jio. The company has also submitted those video leaks as a proof, in which it is claimed that the speed that's being shown, is of Jio's, but the credit is being given to Airtel.
In reality, the speed of the internet is determined on the basis of country code and mobile network. For instance, if the handset has 2 SIM slots; the results would be declared in favor of the first slot only. If your mobile has Airtel as SIM 1 and Jio as SIM 2, the results will be in favor of Airtel.
Currently, the complaint of Jio is being reviewed and will be processed soon. In the legal notice, Jio has demanded the following things;
1. Whatever reports Ookla has posted after 6th of October 2016, should be removed from everywhere.
2. Ookla should notify on its website and everywhere else on the internet that the award that was given to Airtel on 24th of February 2017, for its fastest speed was wrong.
3. Complete details should be provided to Bharti Airtel
4. Ookla should give ads in all the leading newspapers that the award given to Airtel was wrong. It must be cancelled.
5. Should apologize on its website and also in leading newspapers, through an ad.
Clarifications will be sought from Airtel; let's see what happens!
RVCJ Video Of The Day
Share Your Views In Comments Below