News
Watch Shaadi Online & Get Food Delivered At Doorstep, Twitter Goes Crazy Over New Wedding Trend
Our lifestyle has changed a lot in the year 2020, all thanks to the coronavirus pandemic as we have to cover our faces with mask, maintain social distancing even if you want to hug someone whom you have met after a long time and a lot of other things. The style of organizing functions or marriages has also changed to a great extent as now the host can only invite limited persons due to the limit on the number of guests imposed by the authorities. Moreover, the guests should also wear masks and social distancing must be followed. We have already seen that some companies are coming up with designer masks, masks matching with dresses, etc. and if that was not enough, a jeweler from Surat came up with diamond embedded masks especially designed for marriages and their cost was around Rs. 4 lakhs.
People are also opting to invite guests online in their marriage in which the guests can view the whole ceremony live online and feel as if they are a part of the function. However in such a scenario, one thing that everyone misses is the delicious food of the wedding. Undoubtedly, food is one of the most important parts of the marriage ceremony if we view it from the perspective of guests but it is not available in online weddings.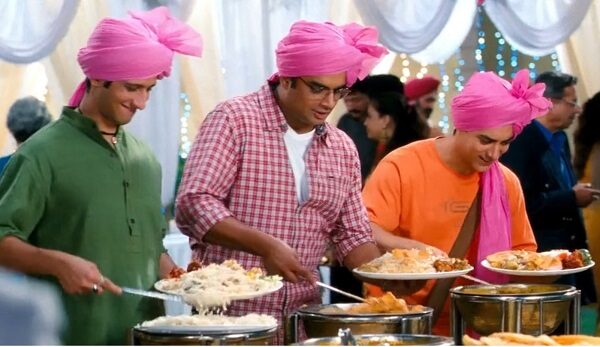 Now a Tamil family has come up with a superb idea which all the online guests will love and that is getting wedding food home delivered for the guests. The guests were provided with Kalyana Sappadu (wedding meal) at their doorsteps in four colorful bags with banana leaves. Each bag comprised of 4 tiffin boxes which contained 12 dishes in total and not just that, the family also provided with instruction manual in order to tell the guests about the place where each dish should be placed.
Check out the pics:
#1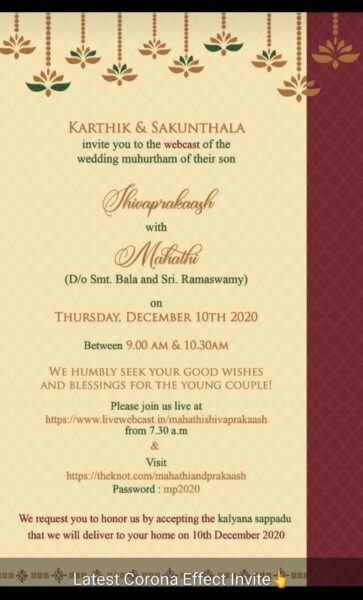 #2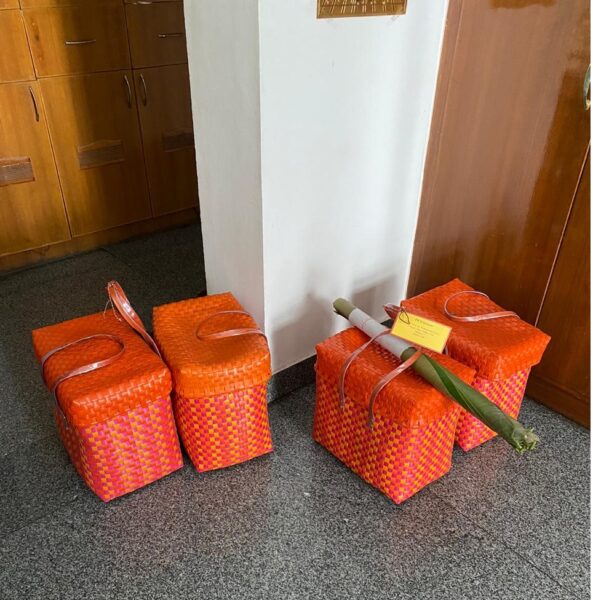 #3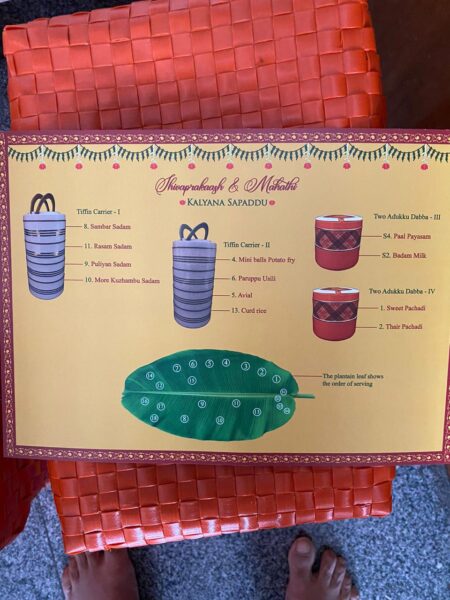 #4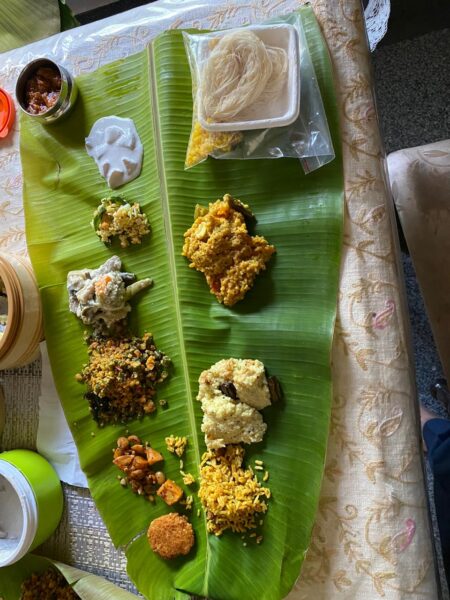 Here is the tweet:
New trend of marriage invitation. Marriage food will be delivered at your doorstep. pic.twitter.com/ooEz1qbsvP

— Shivani (@Astro_Healer_Sh) December 10, 2020
Twitter is loving this idea and this is how people react:
#1
Brilliant! My respects to the parents of the couple for their attention to detail!

— Ravi Blr🇮🇳 (@Raviblr15) December 11, 2020
#2
Love this different approach, the food menu and its parcel bags

— Jee↙️ (@gbalajindia) December 11, 2020
#3
Sending them @zomatoin @swiggy_in coupons would be even better. Everyone can order food of his/her choice.

— Modern Kabir (@VinayakSapre1) December 11, 2020
#4
Love the idea..one of the effective solution to avoid gatherings🙏

— Dr.SaM (@SarthakMahapat4) December 11, 2020
#5
Beautifully done! Classy too. Appropriate for the times.

— First Zinnia 🇮🇳 (@FirstZinnia) December 11, 2020
#6
Most practical solution. Hope all follow this and avoid getting infected till vaccine is approved.

— Durbeen Doctor (@doctorhitesh) December 11, 2020
#7
Looks like this is new model of advertising by Catering contractor. In what's app group I rec'd same wedding invitation but with different menu card, good description package etc pic.twitter.com/EJqlBs57jB

— Pandurang (@pandurangpai40) December 11, 2020
#8
Someone like me who gate crashes, random weddings for lunch…
How about us??
This isn't right…. 😭😭😭

— ತರ್ಲೆ 𝒯𝒽𝒾𝓂𝓂𝒶 (@BLRrocKS) December 11, 2020
#9
I can't believe the level of detail. I never knew that each item had a specific place on the banana leaf.

— Pawan Sahay (@pawansahay) December 11, 2020
#10
ज्यादातर लोगों की ब्लेजर पहनने, और बीवी की साड़ी में हेल्प करने की मशक्क्त भी खत्म…खाने से मतलब होता था, वो घर बैठे बिठाये🙏

— मनु शर्मा (@Bhargava5745) December 11, 2020
#11
Beautiful way of doing it!😀
Jokes apart, it would have been hilarious, if they would have also given UPI Ids for shagan transfer 😂

— Masakali 🕊 (@DanceAndMe) December 11, 2020
#12
Interesting! The reference to food placement is incredible level of detail 🙏

— Sunny Mattoo (@zerogravity67) December 11, 2020
#13
Innovative and budget friendly thought. @MaheshMKartha https://t.co/R0UJlui2RC

— Waseem Ali 🇮🇳 (@Wsm_Ali1) December 11, 2020
#14
So smart of the caterers and both the families to think of this system.
After all most of us used to attend weddings mainly for the kalyana sappadu😉 https://t.co/whP0rhgUru

— Curious Cat (@Curious_cat18) December 11, 2020
#15
Yes everyone could eat together and at a given time, open the packs and be present via zoom or similar app ,with some festive music playing in the background .'Sagan' could be transferred to the bank account indicated on the invitation .The times we live in. Flavourless !

— Manjot Singh Bindra (@BindraManjot) December 11, 2020
Now everyone can enjoy the wedding and the wedding meal as well! What an idea!
What do you think of this new arrangement? Will you prefer this if you are organizing any such function during the coronavirus pandemic?
Share Your Views In Comments Below