News
"We Are Tired," Doctor Writes Open Letter As Tamil Nadu Govt Allows 100% Occupancy In Theatres
The situation of the coronavirus pandemic may have improved a little in the country but there is no denying the fact that it is not under complete control and we just can't afford to be careless. The nation has unlocked completely and the cinema halls are also allowed to open but with 50 percent occupancy of the total capacity only.
However recently, the Tamil Nadu government decided to allow 100 percent occupancy and this has certainly divided the Internet. While some are saying that it will further increase the cases, several others are of the opinion that it is a person's choice to visit cinema halls so if you are very much concerned about your safety, don't go as nobody is forcing you.
It is being said that this decision was made by the TN government only after a request in this regard was made to the CM by the actor Thalapathy Vijay whose movie "Master" is all set to release soon.
After this decision of the TN government, a person named Aravinth Srinivas who is a doctor by profession took to the social media site Facebook and wrote an open letter, addressing the Tamil Nadu government, actor Vijay and actor Silambarasan whose movie "Eeswaran" is also releasing soon.
The doctor writes that he is tired and like him, many other doctors, medical staff, policemen, sanitary workers and all those who are working on the ground level to control the pandemic are exhausted too. He says that the pandemic is not over yet and till today, people are losing their lives. He goes on to call this 100 percent occupancy decision as an attempt of taking own life.
Here is the complete letter: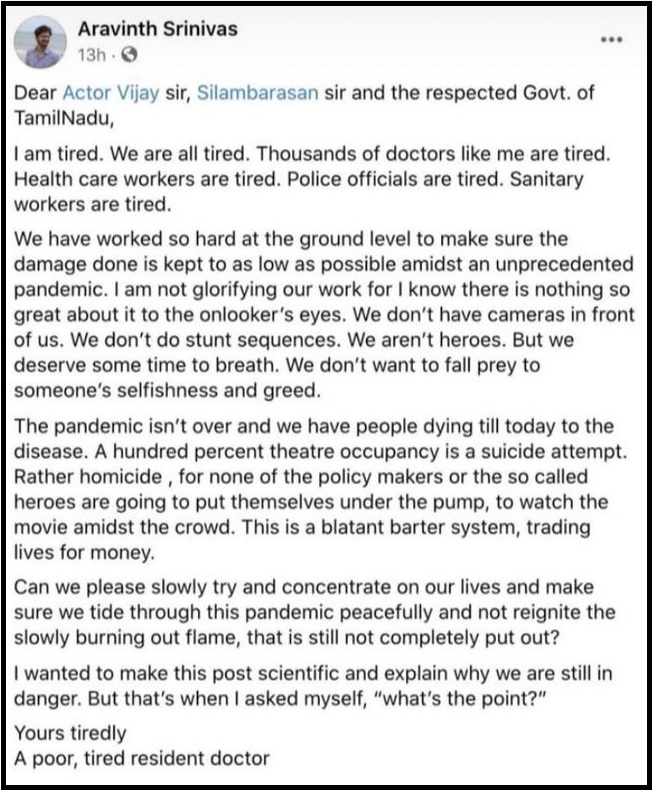 This is how Twitter reacted over the matter:
#1
India: Cinema theaters are poorly ventilated, indoor, crowded, prolonged exposure settings. I cringe at the thought of opening theaters without complete control over the viral spread.

Avoid. Avoid. Avoid. https://t.co/MhPcziMWgo

— Faheem Younus, MD (@FaheemYounus) January 5, 2021
#2
There are times when 50% is way better than a 100%. This is one of them.

— arvind swami (@thearvindswami) January 4, 2021
#3
This letter, being circulated on many groups deserves to be widely read. A resident doctor on the Tamil Nadu Govt's decision to allow 100% occupancy in movie theaters from the earlier 50%. Reel heroes have been pandered to but what about the real heroes? pic.twitter.com/oksxC9z5fL

— Chandra R. Srikanth (@chandrarsrikant) January 5, 2021
#4
50 or 100% occupancy is not important. No theatre should be allowed to reopen. Shut them all altogether for some more time. If people don't see movies nothing will happen. Human lives are paramount than opening n showing movies.

— S Raghavan (@Sriragh) January 5, 2021
#5
I would have allowed Vijay to screen his movies .. provided he agrees to watch the movie in 10 diff theaters along with the crowd. #skininthegame

— Nationfirst (@RamachandranGr) January 5, 2021
#6
The government should give more weight to health care workers than actors. We still have many months to go before universal vaccination.

— subadra (@subadra_vijay) January 5, 2021
#7
Should be 0%. Cinemas shouldn't open. Anyhow, greed prevails over humanity, period. #ThisIsIndia https://t.co/arDZXhgtSt

— Nidin (@CookieRaider221) January 5, 2021
#8
I hope better sense prevails and we show consideration towards our Covid Warriors i.e. Doctors, Policemen, Corporation officials etc..

Please reconsider the decision.. 🙏🙏🙏 https://t.co/lPa4Qj4Fmz

— GunduHuduga| ಗುಂಡು ಹುಡುಗ|🕉 (@GunduHuDuGa) January 5, 2021
What do you think of this decision taken by the Tamil Nadu government, especially in the context that 820 COVID-19 positive cases were recorded and 11 people lost their lives in the last 24 hrs in the state which takes the tally to 12,177 lives lost so far?
Share Your Views In Comments Below