Internet is a great place if you want to have some entertainment by watching funny videos and today we are going to tell you about one such video after watching which you will go ROFL.
Pakistan is celebrating its Defense Day today (September 6) by remembering the sacrifices made by the soldiers of the country. On this special occasion, a video is going viral on the Internet in which it is shown that the cricket teams of Pakistan and England are clashing against each other in the T20 World Cup 2025 and the match is being played at Srinagar stadium (although the spelling of Srinagar is written as "Sirinagar" in the video, ah they can't even write a spelling properly and they want….).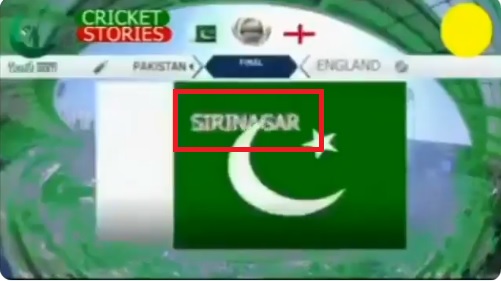 The commentator announces that the openers of Pakistan will be legendary Babar Azam and Virat Kohli. The scene then shifts to a house of a Pakistani family where the whole family is watching the cricket match. A young girl turns towards her family members and says, "Dekhna aaj toh Virat Kohli hi match jitwayega (Virat Kohli will win us this match today, you see)." Her father replies with, "Virat Kohli na pehle India ki team mein hota tha (Virat Kohli used to be in the team of India earlier)".
The kids give a bewildered look and the boy asks, "Kaun India? (Which India?)". The father gives a creepy smile in response while touching his beard with his hands.
Watch The Video:
Pakistan cricket team playing in Srinagar, Virat Kohli playing for Pakistan. Just some regular delusions, nothing else. pic.twitter.com/swBnUp3ShM

— Naila Inayat (@nailainayat) September 4, 2019
Click here to watch this video directly on Twitter
The video wants to convey that India and Pakistan got engaged in a war and the latter conquered the former because of which Virat Kohli, the Indian skipper, started playing for the Men in Green.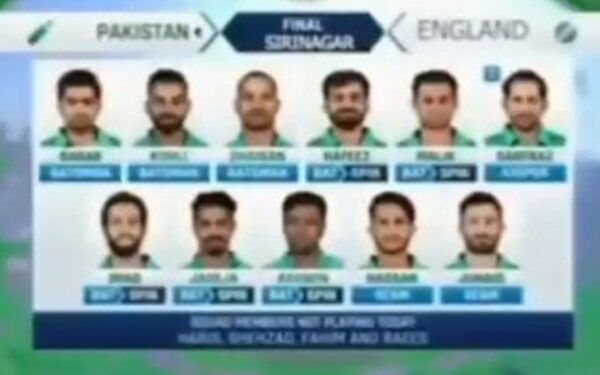 This video provided with more than enough fodder for Twitterati to have a field day and the micro-blogging site was flooded with damn hilarious reactions. Here are some of them:
#1
Mungeri Lal ke haseen sapne 😂😂😂

— Sanatani Bahan🚩 (@ta_in_making) September 4, 2019
#2
Pura Gazwa hind ke baad bhi virat kolhi chahiye inko kyun khud ki aukaat nahi😂
Kya chutiyapa chal raha hai. Aur mar bhi rahe hai ye iske liye😂😂🙏

— जग्गा (@JAGGA1313) September 4, 2019
#3
https://twitter.com/indiasoldier17/status/1169473943914156032
#4
Lol, i think this people drink acid for lunch and meth for dinner, even in parallel universe far far light years away it is not possible

— brijen bhavsar (@brijenbhavsar1) September 4, 2019
#5
https://twitter.com/bhishmanew/status/1169354384293031936
#6
https://twitter.com/Saubhik27/status/1169356424742227968
#7
Yaar maan gaye! Sabse asardaar gaanja Pakistan main hi milta hain!

— Raj 🇺🇸🇮🇳 (@thepatriotfiles) September 4, 2019
#8
Sirinagar, instead of Srinagar.

Kuchh bhi ho jae, Pakistanio ki English vaisi hi rahegi.

— Harshil Mehta (હર્ષિલ મહેતા) (@MehHarshil) September 5, 2019
#9
Pakistanis ke Wildest dreams mein bhi Kohli hi jitayega , Babar nahin !
😆https://t.co/XqDC1dyxM7

— Rudra Speaks⚡️ (@ShamesSpoke) September 5, 2019
#10
Regular delusions 👇 pic.twitter.com/wF7ST8GRD8

— Adi ツ (@Aditya_Kat0ch) September 5, 2019
#11
https://twitter.com/anita76962940/status/1169355385955708928
#12
Dear Pakistaniyo pic.twitter.com/KjcnZFGoUU

— Momo (@momo_classygirl) September 4, 2019
#13
Aap ne Meri neend barbad kar di aise funny video raat ko mat post kijiye please
😩😩😜🤣🤣🤣

— Donald Drunk (@kyahaibosdk) September 4, 2019
#14
— HIMANSHU JHA  (@himshu1710) September 5, 2019
#15
https://twitter.com/bhishmanew/status/1169355259166113792
Seriously, there should be a limit of imagination otherwise it is considered foolishness. What do you say?