Sports
"What Is This Sorcery?" Fans React To Viral Video Showing Joe Root's Bat Standing On Its Own
The new era of England cricket started with a win under the leadership of new skipper Ben Stokes but it won't be wrong to say that it was former skipper Joe Root who played an important role in this victory. The first match of the 3-match test series between England and New Zealand was played at Lord's and the hosts won the match by 5 wickets. Joe Root played an unbeaten innings of 115 runs and helped his team in achieving the target of 277 to win the match but other than his wonderful innings, he is making headlines because of his bat as well.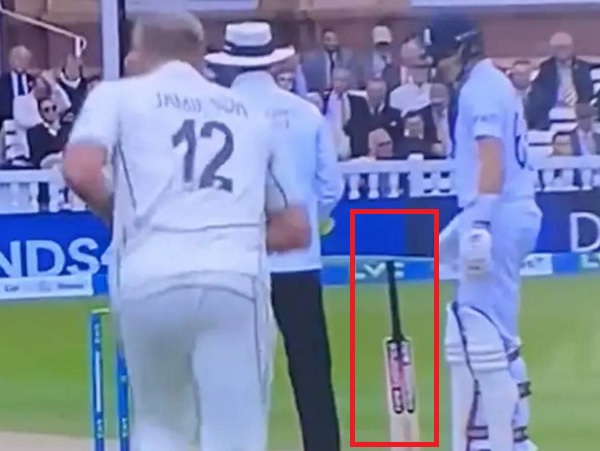 A video clip from the second innings of England is going viral for all the magical reasons. In this video, Joe Root is standing at the non-striker's end but what is making people go crazy is the fact that Root's bat is seen standing on its own. The clip was posted by a Twitter user with the caption, "I knew @root66 was talented but not as magic as this……. What is this sorcery? @SkyCricket #ENGvNZ"               
I knew @root66 was talented but not as magic as this……. What is this sorcery? @SkyCricket #ENGvNZ 🏏 pic.twitter.com/yXdhlb1VcF

— Ben Joseph (@Ben_Howitt) June 5, 2022
Soon Twitter was flooded with reactions and here are some of the selected ones:
#1
The wizard of England cricket with his magical NB bat creating magic in the cricket world👑@root66 pic.twitter.com/txwEb8Dxga

— Ayesha (@JoeRoot66Fan) June 6, 2022
#2
I thought @newbalance is just the company name.
Just Watch Root's Bat at Non-striker end. #JoeRoot #ENGvsNZ #testcricket #newbalance #pakvswi pic.twitter.com/7lwp2LBTq9

— Muhammad Yunus 🇵🇰 🇵🇸 (@Naveed_YounasPK) June 6, 2022
#3
Stokes has had it since CWC'19 final. Now Joe Root also has it.

"The Bat of God." 🔥 https://t.co/WZaAlNNJ6j

— Vinit (@DrVKGothi) June 6, 2022
#4
Joe Root has a bat, which in turn, has 'roots'. #Cricket https://t.co/8PFjfC1caM

— Seb (@sebas_cricket) June 6, 2022
#5
Sky Sports News marvelling at Joe root and the way his bat remained upright.
It's not like he pays a fortune for a balanced bat is it?

— Dibu es El Rey (@Ostia_Puta_) June 6, 2022
#6
It's official, Joe Root has magical powers. Straight out of Hogwarts. He can make his bat stand up on its own, and he presumably guides the ball into the middle of the bat. #BBCCricket https://t.co/XX0zLGKSGS

— Mark Everson 🇬🇧🇺🇦 (@MarkAEverson) June 6, 2022
#7
#JoeRoot can make his bat stand on its own.
Now I got it, how he had made scoring against any opposition look so easy.
If you had the power to freeze the moving ball for a fraction of second won't you take advantage? 😆 https://t.co/bQlxx6Wykw

— Jahir-ul (@Zuheb_786) June 6, 2022
#8
Seriously is that bat holding itself up or is Joe Root even more of a magician?? @BumbleCricket @root66 #ENGvsNZ #AK61 pic.twitter.com/QzluvZxIVF

— Koduvaa (@koduvaV) June 6, 2022
#9
PROOF, that Joe Root is using a Magic Bat#Crickettwitter #ENGvsNZ https://t.co/VfoGeT7W8A

— Chenul Wahalathanthri (@Imchenul) June 6, 2022
#10
The Lion, The witch and why is Joe Root's bat standing like a stick ? https://t.co/9kSWrtOBxe

— Shubh (@Vickster469) June 6, 2022
#11
The curious case of Joe Root's Bat 😱😳 pic.twitter.com/IdcHA9bb3m

— Taimoor Zaman (@taimoorze) June 6, 2022
The toss was won by the visitors and they decided to bat first but their decision backfired as the whole team got wrapped up at the meager score of 132. In response, England had a good start but then it lost wickets quickly and managed only 141 runs in its first innings. However in the second innings, Kiwi batters – Daryl Mitchell (108 runs) and Tom Blundell (96 runs) played beautiful knocks and helped their team in putting up 285 runs on the score board. England had to score 277 runs to win the match and with the help of Joe Root's century and Ben Stokes' 54, England successfully chased the target.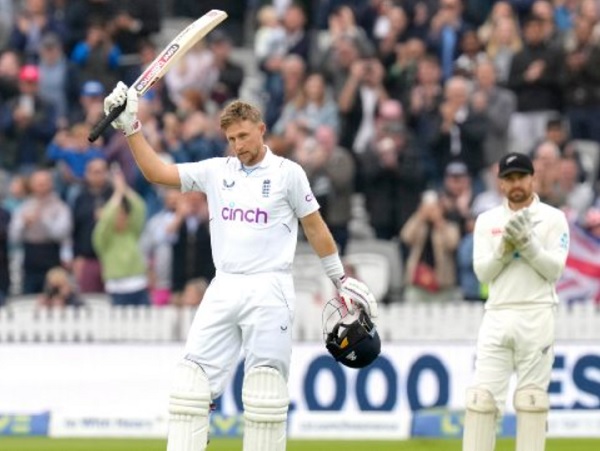 With this innings, Joe Root has also become the 14th batsman of the world to touch the mark of 10K runs in test matches. Surprisingly he is the second batsmen from England to achieve this milestone despite the fact that cricket originated from England only.
Share Your Views In Comments Below