Sports
"What Mistake Has He Committed?," Fans Are Upset With MI For Not Playing Arjun Tendulkar
The five times IPL champion Mumbai Indians will certainly like to forget the IPL 2022 as a nightmare because Rohit Sharma led team is at the bottom of the points table with just 3 wins the 13 matches that it played. What could be more disheartening for fans than the fact that the team which was considered as the favorite to win the IPL 2022 before the start of the tournament couldn't even enter the play-offs!
As MI is officially out of the race of the play-offs, it is quite obvious and sensible in their part to give chances to the youngsters and they did give chance to Mayank Markande and Sanjay Yadav in its last match against Sunrisers Hyderabad which it lost by 3 runs. Hitman has also stated that now they are looking at the future because of which they are giving chance to the young players of their side and he also gives a hint that changes will be made in their last league match as well which MI will play against Delhi Capitals.
However, cricket fans are a little aghast and surprised as to why MI is not giving a chance to Arjun Tendulkar who is with the Mumbai franchise for almost 2 seasons now and was purchased for Rs. 30 lakhs in the mega-auction of the IPL 2022. Arjun Tendulkar is an all-rounder who has performed well for Mumbai at the domestic level plus we can't overlook the fact that he is son of the legendary former Indian cricketer Sachin Tendulkar who is the mentor of MI.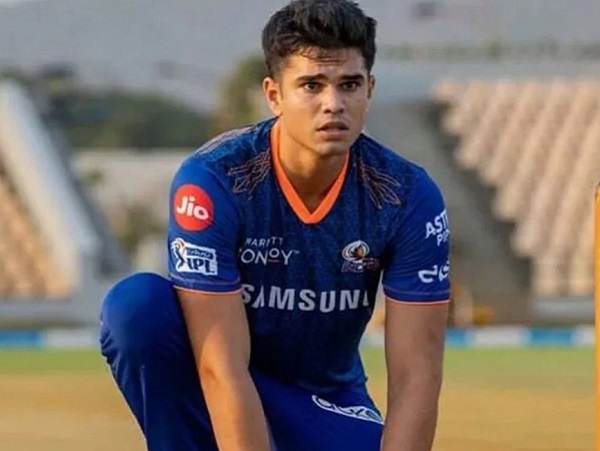 Twitter users are not able to understand as to what mistake has been committed by Arjun Tendulkar because of which everyone else is getting a chance to play excluding him and there were some who advised him to change his career choice if he is not yet ready to play a match in the IPL.
Here are some of the selected reactions:
#1
If ananya pandey is right side of nepotism..Thn Arjun Tendulkar is wrong side of nepotism…#MIvSRH

— Vaibhav (@vabby_16) May 17, 2022
#2
U gotta feel sad for Arjun Tendulkar! If he is that bad, why do U pick him then…? And if he is promising, then deserves at least 1-2 chance before coming to any conclusion! #IPL pic.twitter.com/fascUT723B

— Buddiprakash Meena (@Buddimeena93) May 17, 2022
#3
"Arjun Tendulkar" after not getting his debut match against SRH

Le Arjun** 👇🏻👇🏻 pic.twitter.com/IJudIn1GO8

— Vicky Jha (@MeriVaani1) May 17, 2022
#4
You search the globe for all rounder but ignore Mumbai all rounder #ArjunTendulkar. Why you bought him when you don't want to consider him in playing 11? He used to stay 24*7 with your team mentor @sachin_rt, pls consider him in playing 11

— Ajay Singh (@ajaytosingh) May 16, 2022
#5
Arjun Tendulkar is trending because everyone is waiting to see him in the ground. #MIvSRH
Meanwhile Arjun pic.twitter.com/boid1H0jFq

— Anushmita⁷ (@anushmita7) May 17, 2022
#6
#MIvSRH #MIvsSRH
Arjun Tendulkar on bench watching everyone getting debut for MI :- pic.twitter.com/X1RtpSAXjR

— 마륵 타망😷😷 (@_Marktamang) May 17, 2022
#7
What's the point of having Arjun Tendulkar in the squad if you're not going to give him 2 games?

— Kunal Gawli (@gawliist) May 17, 2022
#8
Arjun Tendulkar waiting for his MI debut in this season. pic.twitter.com/hDno9G7RIg

— Satyam  (@satyam_2044) May 17, 2022
#9
#unacademyAsktheExperts
How long Arjun Tendulkar has to wait. Inconsequential match. Why he was not included?

— Manohar Madhavan (@Manohar1223) May 17, 2022
#10
Saw so much lack of empathy and vitriol on my TL for Arjun Tendulkar when he got picked up at the auctions by MI, everyone outraging 'Nepotism' for obv reasons. I hope we can see some empathy for a youngster who isn't getting a chance despite MI merely playing for pride here.

— TheRandomCricketPhotosGuy (@RandomCricketP1) May 12, 2022
#11
Hope so Arjun Tendulkar in the last match😥 https://t.co/OahlDoelDL

— Roller_roller_T (@Kalakala_kalak) May 17, 2022
#12
Arjun Tendulkar is the only MI fan who gets paid to watch all their match. #MIvsSRH #ArjunTendulkar

— surya saxena (@surya056) May 17, 2022
#13
Don't know what type of mistake committed by #arjuntendulkar who is still warming the bench. Even though #Mumbaiindians have already out of the tournament. #IPL2022 #SRHvMI

— marcus (@nyalkalkars27) May 17, 2022
#14
@mipaltan For the bright future of promising youngsters Dewald Brevis and Arjun Tendulkar transfer them to other teams, anyhow you are not offering them enough games even after having no chance of qualifying. Arjun don't even deserve two games?! @sachin_rt @MahelaJay #mipaltan

— TAARAKESH K RUBY (@Tarakesh_K) May 17, 2022
#15
Will Arjun Tendulkar ever get his chance or is he just a glorified Net Bowling option ???

— OMK (-_•) (@OKbeingOK) May 17, 2022
Many fans were of the opinion that Arjun Tendulkar would play in the MI vs SRH encounter but that didn't happen and now it is being stated by some netizens that he will get a chance to play against DC in the final league match of MI as he will replace Jasprit Bumrah, though nothing can be said with confirmation.
However, this question is quite valid on the part of cricket fans as to why MI picked Arjun Tendulkar if they didn't want him to play in the IPL2022? Was he bought only as a net bowler?
What is your take in this regard? Share with us.
Share Your Views In Comments Below