News
What Uber Driver Did With This Woman Passenger Is Terrible & Shameful. Her Story Will Scare You
Many times we have heard about incidents in which passengers, especially women, are harassed by cab drivers and every time the authorities and the cab service providing app companies repeat their statements as per which a strong action will be taken to avoid such situation in the future. However, the reality is that these types of incidents are still taking place and they will happen in future as well if a strong mechanism is not developed to counter them.
One more time, a woman from Bengaluru has narrated her horrific experience on Twitter which she had in an Uber cab. She tweeted that while she was travelling in the cab, she got to hear that the driver was slamming the passengers while talking to one of his friends on the phone. He also talked about the woman passenger and said that she was an educated woman so she should not go out to drink with friends. When the woman passenger heard it, she asked the driver to mind his own business but the driver started behaving rudely and then he began to hurl abuses at her.
When the cab slowed down, the woman passenger pressed the emergency button but instead of calling her, the safety team of Uber called the driver. The driver accused the woman of being drunk and she had to scream in order to be heard by the safety team.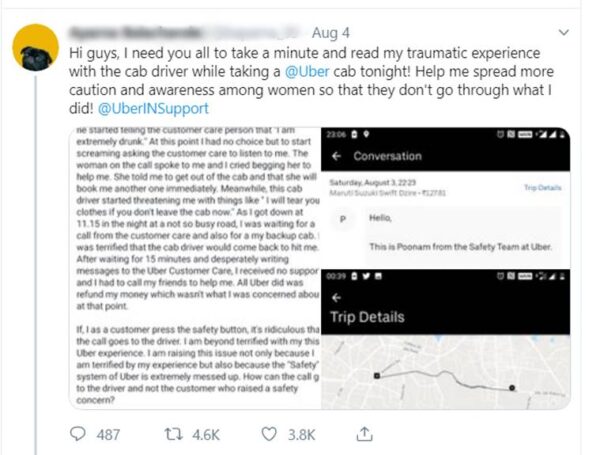 The driver threatened the woman passenger that if she didn't leave the cab, he would tear her clothes apart. After leaving the cab, the customer care executive of Uber promised her another cab which never turned up and she was left stranded at 11.15 pm on a road which was not much busy. She had to call her friends after waiting for 15 minutes and sending numerous messages to Uber.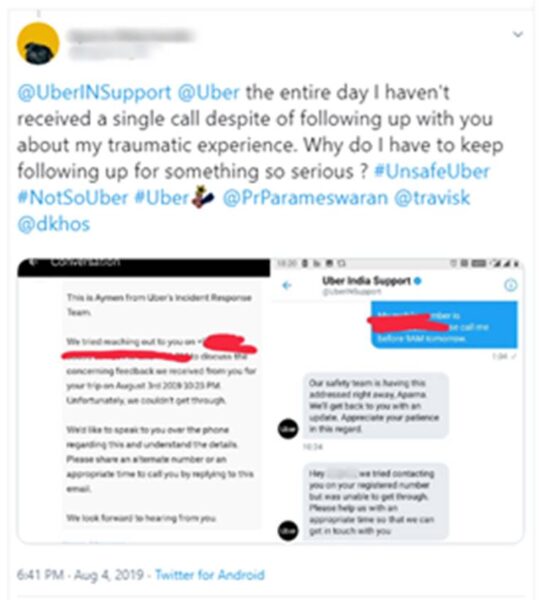 The woman has also claimed that she has not received a single call from Uber to talk about the incident and the only thing that they have done is to refund her money which she was not even thinking about at that moment.
On the other hand, the spokesperson of Uber has said that they are in touch with the passenger and the driver's access to the app has been revoked.
Do you really think that these cab service providing apps are doing enough for the safety of passengers? Have you ever come across or witnessed any such unpleasant incident? Share with us.