News
Wife Of IAF Pilot Wants Justice For Her Husband, Pens An Emotional Post On Facebook
When squadron leader Samir Abrol and Siddartha Negi passed away in the Mirage 2000 crash, the nation was shocked.They were test pilots with ASTE. The reason still unknown, political debates and accusations are still on point though.
After his brother wrote a poem to show the actual destiny of test pilots, Garima Abrol wife of late Squadron leader Samir Abrol, wrote a moving letter, where she demanded answers to why she has to lose her husband in such circumstances.
"I am Garima Abrol…..I am the wife of Martyr Squadron Leader Samir Abrol….whose tears are still not dry…It still hasn't sunk in that you are gone. No one has the answer to my questions. Why YOU ?
My husband was a proud Indian and I loved sending him off to serve the nation with a morning cup of tea and a head held high.
Every soldier's wife's biggest fear in life is when her husband would be called to the front line and serve in an active war. I too had this fear. Many a times I woke up crying after having one such bad dream…But Samir would hold me, console me and tell me…that is the ultimate purpose of his job…to be able to serve our nation when the call comes…He wanted me to be brave, as that's what he was, a brave soldier, patriot to the core.
Such is the job of a soldier…it does not bring you fame…no one cries when you leave but the family…It does not make you a celebrity…the media covers it for a day and drops it just like they have done for the pilots who have met the same untimely fate before Samir…Then everyone forgets about it.
How many more of these pilots have to give up their life to shake you up and make you realise there is something really wrong in the system?
A pilot is not made in a day, it takes a decade of training for their souls to get molded for the job…How many fighters have to give up their life for you to wake up
I do not want any other sister of the Armed Force family to suffer the pain that I am going through. Words can't describe how painful it is out here alone without my better half, my BATMAN.
I need answers…
Whilst its just another story and incident for some, i will keep fighting for the cause that took you away from me."
Read the full post here as well: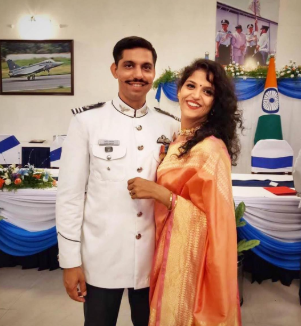 This letter moved the nation. People all over started tweeting for it, where condolences poured in. People are sending her support in her tough time. The love she needs during this hard time is rare to be found. This was even shared by journalist Shiv Aroor.
Have a look, how people are supporting her.
#1
Shiv if you can send my msg to her. Please say her we are her voice too and whatever it takes to change the system, we will do our every bit 🙏🙏@narendramodi we are very hopeful from you. I know it will take a lot but you have the power.

— Satyam Sriwastava (@codesattu) February 10, 2019
#2
Not to forget how this govt ill treated Lance Naik Hanumanthappa'wife by not offering her a job for year. Ill treated OROP protests, This country is not for the bravery. Ugh.

— Anand coming soon to Sennai (@sliceme) February 10, 2019
#3
It is hard to accept your absence now onwards. We will miss you Sqn Ldr Samir Abrol, Indian Air Force. May your soul will be in peace forever. https://t.co/i104vKe7Bn

— Ravi Mishra (@raviauh) February 10, 2019
#4
It is really sad. May GOD give u strength to bear the unrecoverable loss.

Test pilots r far more brave than fighter plane pilots.

Salutes to them.

2ndly, calm down & don't listen to adverse comments of anyone, be it a politician or someone else.

Jai Hind

— Malvinder Singh (@Minder_Dhanoa) February 10, 2019
#5
Heart rending unmitigating saga of sufferings of a widow of Martyr Squadron Leader Sami Abrol killed in Mirage crash should stir our collective national soul towards permanent solution for providing our valorous armed forces state of the art weapon systems rising above politics! https://t.co/Rp8vuJBNR9

— MOHD Yahya Ansari (@MOHDYahyaAnsar3) February 10, 2019
#6
God give her strength. My prayers. If I can be of any help to #garimaabrol to fight for her objective. I am always there. Jai Hind.

— Manish Mundra (@ManMundra) February 10, 2019
#7
"We give our pilots outdated machines to fight, They still deliver it with all their powers and might" these lines show how the politics made our nation's defense system weak and outdated. RIP Squadron Leader Samir Abrol… #GarimaAbrol nation is with you. pic.twitter.com/BnkNIPYl8G

— R O H A N (@Bhende_RO) February 6, 2019
#8
Heartbreaking. What an unfair way to lose a partner. Strength to you #GarimaAbrol. Hope you get your answers. You are already braver than most people in this country. https://t.co/LKPtV9hffM

— Siddharth (@Actor_Siddharth) February 11, 2019
#9
#LostPilots sad sad disheartening…more power to him and #garimaabrol and many others who lost their lives in the line of duty….can we now focus on upgrading our defence machinery…@nsitharaman
JAI HIND

— Shabri Prasad Singh (@Shabrip) February 5, 2019
#10
It broke my heart .. can't even imagine the pain a soldiers family goes through 🙏 wake up govt. Before it's too late https://t.co/C8JLQVGkDG

— Reader (@Reader02674693) February 10, 2019
#11
We all #indians stand by #garimaabrol & many other Martyrs #defence personal.@PMOIndia @narendramodi@nsitharaman Govt needs to explore ways to see that no more test pilots loose their life. Each & every defence & police personal are of great value to country, be it any country. https://t.co/tHOXsnFlbB

— Bhavin Purohit (@BhaavinPurohit) February 10, 2019
#12
No words
No comments.

We all have failed them . https://t.co/urJRsZAMUQ

— ThanosThata (@ThanosThata) February 10, 2019
When politicians under the cover of governance forms decisions they should realize that people trust them. Everyone out there is fighting for existence under many kinds of hardships so killing brave men due to diplomatic actions shouldn't be encouraged anymore.
At least we can end this row and stop corruption from invading our lives a little less, everyday.
Share Your Views In Comments Below