News
Wife of Pulwama Jawan Says "I Love You" To Husband One Last Time, Video Will Break Your Heart.
The nation was heartbroken when the day of love turned into the most tragic one, when in the Pulwama district of Jammu and Kashmir more than forty CRPF Jawans were martyred.
Later a video surfaced where Pakistan based militant group claimed responsibility of this incident. The car carrying more than 350kgs of explosives rammed into the CRPF convoy taking lives of so many.
After this tragic incident the whole nation declared war on Pakistan, they demanded another surgical strike even some opined a surgical strike on the whole nation called Pakistan.
To avenge the loss of his brothers, Major Vibhuti Shankar Dhondiyal along with his army team took the first major operation towards the Jaish-e-Mohammad militant group, who were hiding in Pingalan village of Pulwama district.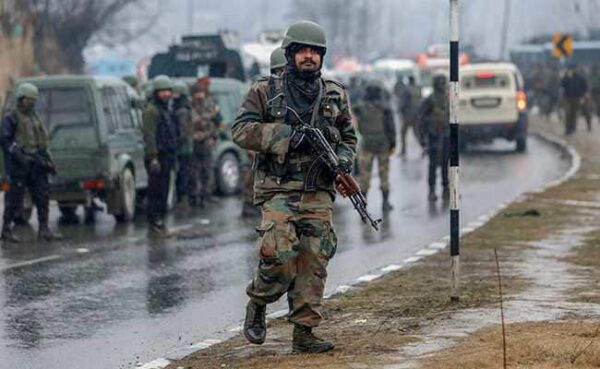 During the encounter he sustained severe injuries in his abdomen and neck.He was taken from the operation site to the Base Hospital in Srinagar, where they confirmed that he is no more. He was among the four army personnel martyred during this operation including a policeman.
Major Dhondiyal joined army in 2011. He was a native of Dangwal in Dehradun. He is survived by his mother, three sisters, grandmother and wife, whom he married in April 2018, less than a year ago.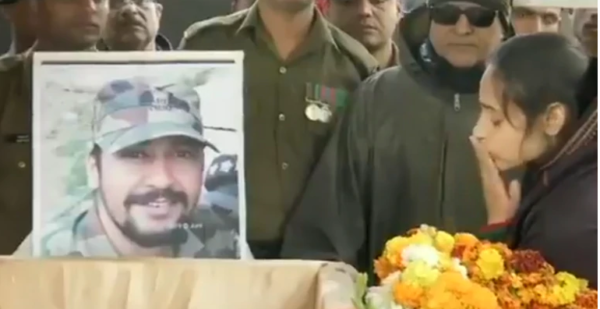 On Tuesday thousands of people gathered around Major Dhondiyal's home in Dehradun. They were there to pay their last respect to their Major who lost his life fighting the terrorists.
His wife, Nikita looked quietly but proudly inside the coffin, bearing the last remains of her husband, wrapped in the tricolor, whom she is seeing for the very last time.
She blew him a kiss and said 'I Love You' realizing it is indeed the last time. She saluted her late husband with "Vande Mataram'. While his body was being taken away, Nikita tearfully screamed Jai Hind three times and lastly said "I love you Vibhu"
Cries of 'Vande Mataram' and 'Shaheed Dhoundiyal Amar Rahein' pierced the sky. Chief Minister of Uttarakhand, Trivendra Singh Rawat also came to pay his last homage.
Share Your Views In Comments Below