Sports
I Will Walk Around Shirtless In Oxford Street If We Win 2019 World Cup, Says Virat Kohli
The final match of Natwest Trophy will remain alive forever in the memories of Indian cricket fans as it is one of the biggest chases done by team India and the manner in which Sourav Ganguly celebrated the win left everyone shocked and surprised. Till today, the former Indian captain is asked what was going through his mind when he took his shirt off in the Lord's balcony.
However, the Indian skipper Virat Kohli has stated that if India wins the World Cup in 2019 which is going to be played in England, he would walk in Oxford Street without his shirt.
Virat Kohli and Sourav Ganguly were present at the launch event of Boria Majumdar's book, "Eleven Gods and a Billion Indians" and this is what Sourav said,
"He will take his shirt off in Oxford street… We better get our cameras ready. Kohli has his six packs. I won't be surprised if he takes his shirt off."
In response to former Indian captain's statement, Kohli said,
"I don't think it will only be me. For sure, Hardik will be following me. 120 per cent. Bumrah is there as well because he has six packs too. He is there in the game. There will be a few candidates."
It was on July 13, 2002, when India clashed with England in the finals of Natwest Series. England was batting first and gave a target of 325 to Indians. Sourav and Sehwag gave a good start and when Sourav got out, India's score was 106/1 in 14.2 overs but then they lost wickets quickly and when Sachin Tendulkar departed, India was 146/5.
Virat, who was just 13 at the time, decided to go to sleep as he lost hope of India's win. He recalled,
"I clearly remember that night. The game started brilliantly. Those totals were very difficult to get. I slept off when we were five down. I went off to sleep. My brother woke me up and he said we were winning. I was like: 'what are you talking about?'"
Yuvraj Singh and Mohammed Kaif made sure that Indian team goes home with trophy as they batted brilliantly and scored 121 runs for the sixth wicket partnership. Yuvraj got out at 87 when India was little far from the victory but Mohammed Kaif made sure that he remains till the end.  After India won, the Indian fans went crazy and Sourav Ganguly who was leading the team at that time pulled of his shirt.
Kohli talked about that moment and said,
"You are not worried about being judged. You cannot be a robot. You have to be honest to yourself. If you are not yourself, you will sleep with regrets. I am sure that moment was very organic – he did not care whether he was at the Lord's balcony. He could have been anywhere in the world. That was just pure human emotion coming out. That moment was organic, that is how he wanted to enjoy himself after the win. It was just pure joy. It is very important to be honest to yourself."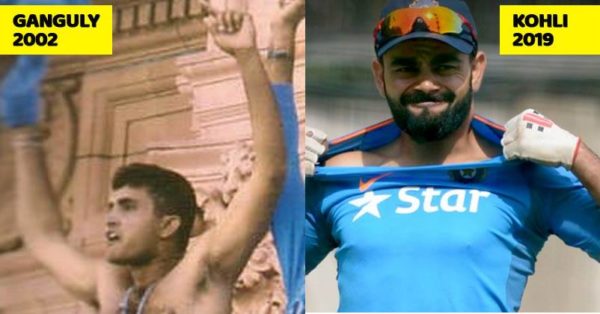 When Sourav told that Laxman tried to stop him from removing his shirt, Kohli started laughing.
Click here to watch the video on YouTube
We will definitely like to see Kohli and his players shirtless as we will love to see them winning World Cup. What about you?
Share Your Views In Comments Below