Career
Working From Home Made Simple: Easy Ways To Adjust
Working from home had become more popular before the pandemic but in the last year, millions of people all over the world have left offices, call centers and communal work facilities to stem the spread of Covid-19. As remote work looks set to become more commonplace in the future, it's essential for employees to adjust to a new environment. In this guide, we'll explore some simple steps you can take to make working from home stress-free.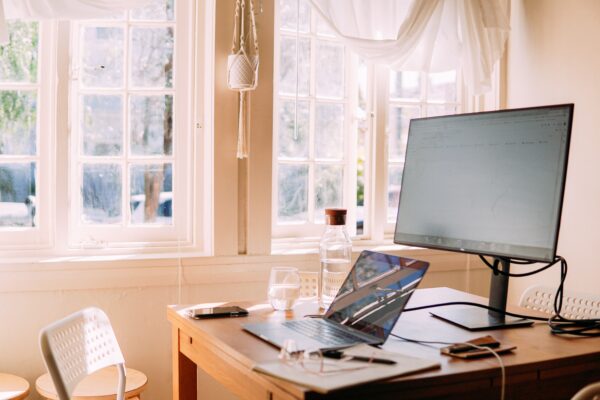 Image source: https://www.pexels.com/photo/wood-coffee-desk-working-5155218/
Creating a dedicated workspace
It may be possible to balance a laptop on your knee on the sofa or make a few calls from the kitchen table for a few days but if you're working from home long-term, it's crucial to create a dedicated workspace. You need peace and quiet to be able to concentrate and you need space to sit comfortably and work without distractions. There are many options when it comes to setting up a new workspace. Firstly, you could consider converting a spare bedroom or a reception room you don't use frequently, for example, a formal dining room or a second living room. You can design more versatile rooms by using extendable furniture, adding pieces like sofa beds or changing the use of your furniture. If you have a side table in a bedroom, for example, you could use it as a desk while working.
The second option, which may be viable if you don't have a room you can turn into an office, is sectioning off part of your main living area. You can do this using screens, partitions or curtains or by adding a desk and chair and asking other members of the household to stay out of that particular room during working hours. Another idea you could consider is using attic or basement space to set up a studio or an office.
For those who are short on space inside, adding an extra room in the garden may be an option worth exploring. Summer houses, sheds, log cabins and garden rooms have become increasingly popular since the start of the pandemic. Not only do they allow you extra space to create an office but they also add value and free up room indoors.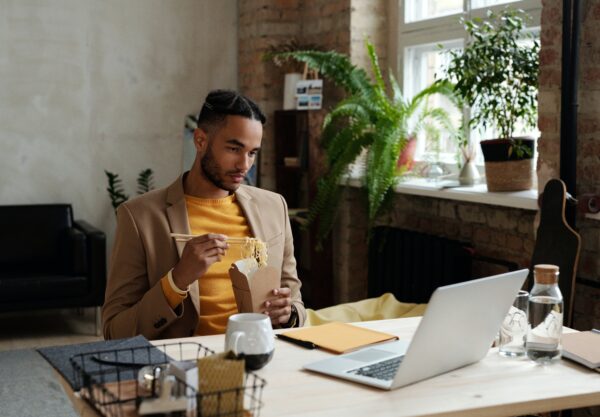 Picture from https://www.pexels.com/photo/woman-in-brown-long-sleeve-shirt-sitting-on-chair-5588479/
Making the most of technology
Technology has played a crucial role in keeping the world moving during the pandemic. Businesses have been able to keep going, we have been able to stay connected with friends and family and we have used tech to access health information and news updates. If you are working from home, it's critical to have access to the technology you need to be able to do your job. There is nothing more frustrating than trying to speak to a client or a colleague and the signal dropping, or trying to work on a project and being slowed down by pages that won't load or connections that are unreliable.
Your employer will probably provide you with the equipment you need to work from home but you might want to think about investing in additional devices or accessories or utilizing alternative ways of communicating. If you can't rely on your phone to have meetings with clients, there are other options, such as Wi-Fi calling, video conferences and instant messaging. Wi-Fi calling has become more popular but what is Wi-Fi calling and could it benefit you? An excellent option for people who work on the go and those that don't have good signal at home, Wi-Fi calling enables you to make calls and send text messages by connecting to a wireless network. Video conferencing and calling are also effective solutions, particularly for hosting and participating in group meetings. If you spend a lot of time on the phone, or you regularly join virtual conferences, you may wish to use headphones and to use a laptop stand to ensure you are comfortable and you have the best view of the screen.
Picture credit: https://www.pexels.com/photo/man-using-3-computers-4974914/
Establishing a routine
Many of us are used to a set routine, which involves getting up at the same time every morning, getting ready and going to work. We spend a set amount of time at work and then return home. When you work from home, it can be difficult to maintain a routine and you might find that you start to get out of the habit of having a pattern to your day. Establishing a routine is hugely beneficial for homeworkers. If you have a regime, this can boost efficiency and productivity, help you manage your time and ensure you have a healthy work-life balance.
Try to start and finish your working day at a similar time each day and manage your diary as you would if you were at the office. Many people assume that working from home is easier than being at work but studies show that most people actually work longer hours when they are based at home. Establish core hours in line with your employer's requests or guidance and make time for other pursuits. Working all day every day doesn't necessarily mean that you get more done, and there is a lot to be said for condensing hours and making time for hobbies, relaxation and exercise. Improving your work-life balancecan make you happier, healthier and more productive.
When you manage your diary, play to your strengths. Some people are more alert and energetic in the mornings while others take a while to get going. If you have core hours of 10am until 3pm, for example, and you're a morning person, you might want to start at 6am and finish at 3pm.
Getting away from your desk
Usually, when you work in an office, you take breaks to have a drink, stretch your legs, go to meetings, talk to colleagues and walk to and from the car or bus or train station. When you're at home, you might find that you're stuck in the same spot for hours, tapping away at a keyboard and staring at a screen. Try to ensure you take regular breaks when you're at home. Stretch, go for a walk, rest your eyes and enjoy a change of scenery. Move your body, get some fresh air and break the day up.
It is hugely beneficial to make time for daily exercise when you're working from home. Depending on your schedule, you can work out at home, go for a bike ride, a hike or a jog, attend exercise classes either in-person or virtually or take part in sports. You don't need to have a huge amount of time available to stay in shape and enjoy the health benefits of being active. Short bursts of exercise can help to increase energy levels, make you feel good and improve your fitness. It's also incredibly beneficial to spend time outside. If you have a packed schedule and you can't get out during the day, go for a long walk or a bike ride in the evening or get up early and go first thing before you start work. Spending time in the open air works wonders for your body and mind and it can reduce stress and enhance mental health.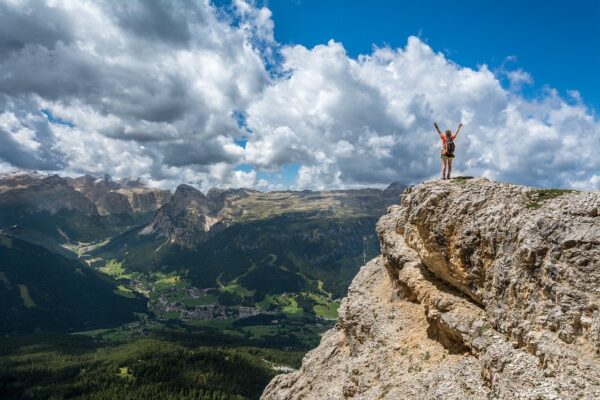 Image via https://pixabay.com/photos/person-mountain-top-achieve-1245959/
Socialising
One of the things people miss most about not being at work is the loss of social interaction. When you're at home, you can't just plan a meeting spontaneously or walk over to a colleague's desk for a catch-up, you can't have lunch together or talk about what happened in the latest box set everyone is bingeing on the way to the water cooler. Despite this, there are ways to keep in touch and be sociable. Take advantage of technology. Suggest organising social events and fun things to do outside of meetings and make time to see your friends and family virtually if you can't see them in the flesh. Human beings are sociable creatures, and most of us feel better when we've had a chat with a family member or we've spent a Friday night doing a quiz or catching up with friends online. Keep in touch, reach out if you want to talk or you feel stressed or lonely and manage your schedule to allow for downtime and social activities.
Rest
Your body needs rest and ideally, you should be getting around 7 hours of sleep per night. If you're struggling to adapt to working from home, it's essential to try and get into a routine. Set your alarm for the same time every morning and resist the temptation to go to bed late because you don't have to commute or be at the office for a certain time. Keep set hours. If you get up and go to bed at the same time, your body clock will adjust and this will help you sleep. Take time to unwind, rest and relax before you go to bed. Switch off your computer when you've finished your working day, don't check emails and avoid scrolling on your phone late at night. Read, run a bath, listen to music, watch TV or go for a gentle stroll. If you feel relaxed and calm when you get into bed, you should be able to drift off to sleep.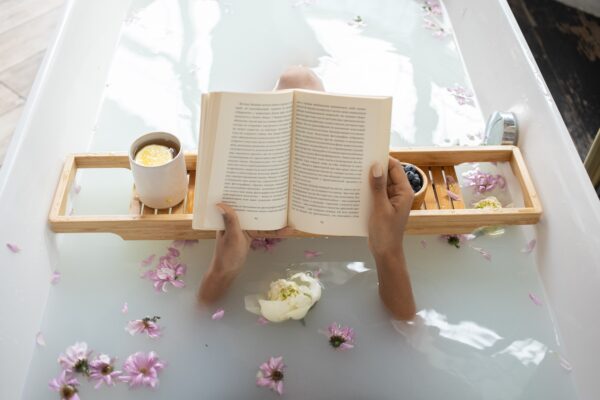 Picture by https://www.pexels.com/photo/woman-reading-book-while-resting-in-bathtub-6621191/
Millions of people all over the world are working from home. While there are benefits of being at home more, not everyone finds it easy to adjust. If you're going to be at home for the foreseeable future, take these tips on board to reduce stress, boost productivity and find a healthy work-life balance.
Share Your Views In Comments Below