Sports
World Cup 2019 : People Are Not Happy With ICC Rule And Slammed Them Left & Right
ICC World Cup 2019 final was nothing apart from a breathtaking heart-stopping drama. People present at the lords and globally could feel the tremors of agitation. This was by far the most mind-boggling World Cup ever. Keeping everyone on the edge of their seats.

The final match was played between England and New Zealand at the Lords, England. The 50 overs match ended in a tie New Zealand chased 241 runs as set by England. For the first time in the World Cup history, Super Over was conducted in the World Cup finals but still both the teams ended on a tie as both scored 15 runs each. Later the winner of World Cup 2019 was decided as per the ICC rules which led to the count of boundaries, which team hit the number of boundaries.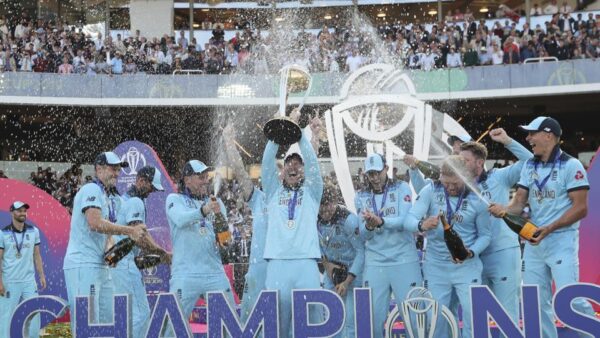 The country (
England
) which invented the game of cricket emerged as the winner of
ICC World Cup 2019
for the first time ever in history. England hit 26 boundaries and the kiwi's hit 17 boundaries.
The people were definitely not pleased with the decision taken by ICC as the match was awarded to England for hitting 8 more boundaries as compared to New Zealand.
ICC was brutally slammed by twitteratis for their boundary count rule:
#1
#ICCRules need to be relooked reg overthrow which n fact cost NZ trophy and also if super over is tied. England declared winner bcoz they scored more boundaries. If this is so, why go through super over?

— Chandrashekar (@kcshekar) July 15, 2019
#2
At least don't give any overthrow runs if ball has hit the batsman @ICC#CWC19Final#ENGvNZ #ICCRules

— Radhika ✪ (@MeRadhiika) July 15, 2019
#3
ICC rules are very disappointing… what is the hell.. this is not fair..how result declare by boundaries…newszeeland real champion….from india 💝🇮🇳🇮🇳
#ICCRules

— Rachit Dev (@RachitDev5) July 15, 2019
#4
WTF #ICCRules NEWZEALAND have 2 wickets in hand where ENGLAND lose all the wickets..This rule is not a fair rule at all NEWZEALAND-the true champion

— ம க கார்த்திக் (@theGK31) July 15, 2019
#5
We play 50 over cricket but decide winner as the number of boundaries hit..!!
Though England won the cup.. but New Zealand won the world for sure.!
Feeling sad for u man. U well deserved..#ENGvsNZ#ICCRules#CWC19Final pic.twitter.com/pTv5I8QnI7

— Akshay Sharma (@akshayhimself) July 15, 2019
#6
Surprising end of thrilling world cup final. @ICC should learn it from football where if penalty shoot ends in tie then sudden death happens, After super over tie in #ENGvsNZ final, another super over should have happend, @englandcricket won but @BLACKCAPS didn't lose. #ICCRules pic.twitter.com/oRQ8Nrn8vY

— Abhishek Pandey (@abhishekpnd63) July 15, 2019
#7
Very very poor #ICCRUles One and only won for New zealand team only cool captain @BLACKCAPS pic.twitter.com/fjcnUTIQBw

— Rabiee Zev Raash (@ZevRaash) July 15, 2019
#8
Some rules in cricket definitely needs a serious look in.

— Rohit Sharma (@ImRo45) July 15, 2019
#9
The worst performers in this World Cup :

4. Bangladesh
3. West Indies
2. Afghanistan
1. ICC#CWC19Final #Iccrules

— Bollywood Gandu (@BollywoodGandu) July 15, 2019
#10
Teacher: England is first
NZ: but I had the same marks.
Teacher: But see he answered a 4-mark question, and u answered two 2-mark questions. So, he's the winner.
NZ: What the… #ICCRules

— Chetan Bhagat (@chetan_bhagat) July 15, 2019
#11
Don't understand how the game of such proportions, the #CWC19Final, is finally decided on who scored the most boundaries. A ridiculous rule @ICC. Should have been a tie. I want to congratulate both @BLACKCAPS & @englandcricket on playing out a nail biting Final. Both winners imo.

— Gautam Gambhir (@GautamGambhir) July 14, 2019
#12
Call this Shameless body as "Intentional Cheaters Council" from here on! 😀😀😀#Shameonicc pic.twitter.com/GmEgGhQE6Z

— Thiruvalluvan1969 (@Thiruva09112489) July 15, 2019
#13
#shameonicc
Very poor #ICCRules
1. In 50 over matches they imposed 20 overs rule. Why not Test match rule of declaring it draw?
2. Superover must be at least 3 overs each in 50 over matches.
3. Why only more no. of boundaries & not no. of dot balls and wickets considered?

— Shiva (@saclines) July 15, 2019
#14
They r using #shameonicc bcz of those fucking rules of super over. This is ODI , everyteam aims to play full 50 overs by rotating strike and preserving wickets. So d one with less fall of wickets should be a winner. If it is a 20 over match then no. Of boundary can be considered

— Prashanth (@pacific0016) July 15, 2019
#15
If a world cup winner is decided by who hits more boundaries, then cricket coaches will teach the young kids to hit fours and sixes only. Running between the wickets, taking a risky single, converting ones to two, stealing a run off misfield is irrelevant @cricketaakash #ICCRules

— damojipant (@damojipant) July 15, 2019
ICC needs to rewrite the rules of ICC rule book. Congratulations to both the teams for a brilliant nail-biting match!
Share Your Views In Comments Below